Best Blackjack Apps for iPhone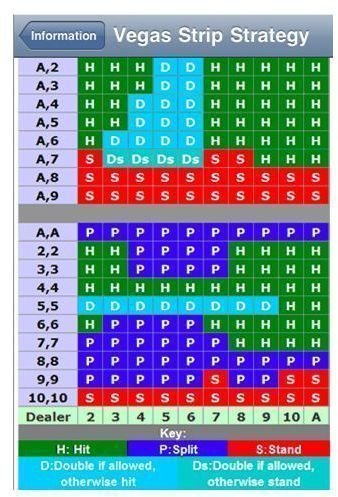 Whether you want to learn how to play blackjack, brush up on your skills or just have some fun, this selection of blackjack apps will give you that fix. Get the best games and training materials to help transform you into a pro in no time. These apps are jam packed with tremendous features to give users a realistic playing experience and the tools needed to learn the craft of this complicated game. While there is a long list of apps you can use for these purposes, this round up gives you the best blackjack apps for the iPhone. Take a look at what we have and explore the download links at the end of the page (see references).
BlackJack aka 21 Trainer
BlackJack 21 Trainer is a tool to train you in simple, as well as complex, blackjack strategies
and teach you how to play the game according to the Atlantic City and Las Vegas Strip rules. During each game the app guides you in making the correct plays so as to ensure that you are playing along with the respective rules. It incorporates friendly chimes and reminders to alert you if your bet does not follow the strategy selected. These alerts can be disabled at any time for your pleasure of course.
The application's interface gives you a realistic playing experience, you can use your fingers to push chips across the betting station, touch under cards, slide under cards, push chips up and so on. For each of these moves there are designated functions. In no time, you will have the confidence to take what you have learned to a real casino table. There are no clustered buttons and while playing, the app allows you to win, which makes learning and playing this 21 Trainer BlackJack app very enjoyable.
Perfect Play Blackjack Card Counter
While card counting is illegal in casinos, there seems to be a long list of iPhone applications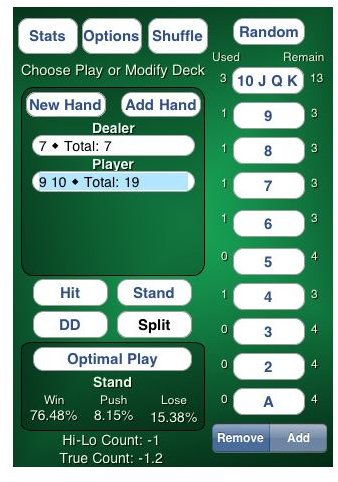 out there developed for the sole purpose of perfecting the task. This BlackJack Card Counter app is one of the top runners. It provides users with precise, real time blackjack situational odds and analysis. It also employs the raw computing power of the iPhone with combinational techniques to provide the ultimate blackjack strategies in any situation. Whereas other similar apps employ inexpert card counting strategies that only give crude estimates of how to play.
Additionally, you are able to track all aspects of a blackjack game including player cards, dealer cards and other cards used at the table. You can calculate the best plays and odds based on the cards remaining in the deck. Track the current card counts using hi-lo, hi-opt I/II, Zen, and Omega II systems. This app chooses the cards randomly, supports 1-8 decks, employs a comprehensive simulator to find exact statistical odds, and it offers many more fantastic features.
Blackjack 88
Blackjack 88 is considered one of the best blackjack apps for iPhone users. Each playing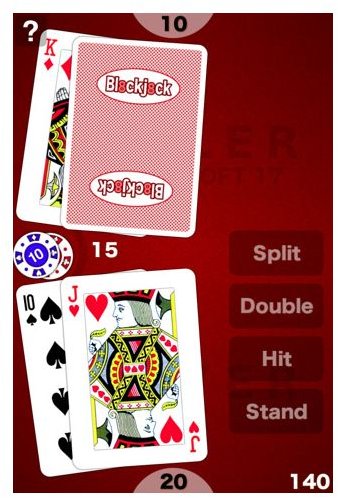 experience will be unique thanks to a realistic and intelligent algorithm and card shuffle system as well as customizable background audio and a wide playing arena. You can play as quickly as you like, get full support for splitting hands, change the color on the back of the cards and table, access the rules while playing, and get game support and large, practical playing cards.
The animations and graphics are clear to see and have terrific resolution plus the sound effects during the games are quite enjoyable. Blackjack 88 offers free chips for each game and increases the amount to 200 after 30 minutes of playing. It's a great app to play the game and improve your blackjack skills.
BlackJack – Multi-Hand
This super blackjack app is packed with features to get any player excited. Users can play up to
12 hands at a time and even learn how to count cards with the app's blackjack game simulator (see BlackJack 21 Professional Simulator below). The game itself allows you to bet multiple hands at a time and split them up three times. Those of you who have used live Internet casinos, can expect the same experience with this app running on your iPhone. It can be a learning tool for those wanting to brush up on their skills, to eventually head out to the casinos and win big.
It is quite an interactive application, plus there are built-in bet cards, card counting systems, multi player games, a bank borrowing system, full game log, customizable game rules, worldwide online leader board, continuous shuffle machine, built-in help guide, fluid animation, sound effects and the list goes on.
BlackJack 21 - Professional Simulator
With this BlackJack Simulator app you can play blackjack and learn to count cards as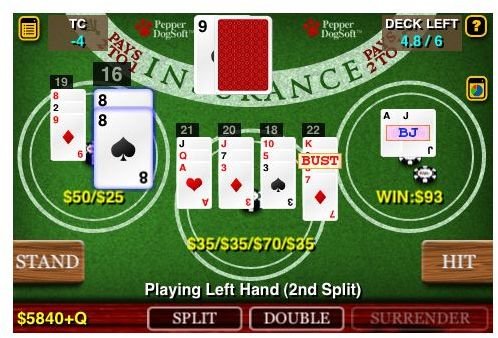 well as play up to 28 hands at a time. You can choose to play alone or with simulated players to better prepare you for real-life blackjack casino playing.
With the combination of the BlackJack Multi-Hand app (above), this professional simulator can extend the features to include a multi-count information screen, which shows you how all the count systems work. You can play in practice mode, which allows you to try new game styles without affecting your 'career mode' data. Access over 10 side bets such as Perfect Pairs, Match the Dealer, plus more. There are over 40 achievements to unlock ranging from simple to diabolical. Additionally, the app has a number of card counting systems so you can learn to count utilizing True Count and Count Action Card.
References
Image Credit - Screenshots courtesy of the respective app developer.