Unlock iPhone 4 with Baseband 1.59, 2.10.1, 3.10.01, 4.10.01 & 4.11.04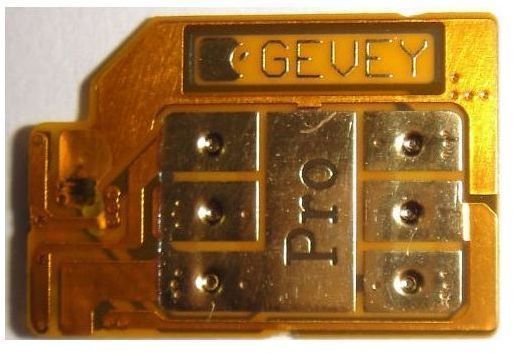 Ever since iPhone was launched, DEV Team have been helping out iPhone users in unlocking their iPhones, whether it was an iPhone 2G, 3G, 3GS or iPhone 4 and Apple seemed to be helpless. However, with the increasing pressure on Apple from AT&T, it was forced to launch a fix that would stop the un-lockers and the DEV team from unlocking iPhones any further and Apple did win this time.
With the launch of the newer iOS 4.0, Apple did stop the DEV team from helping out iPhone users to unlock their iPhones. However, to some extent DEV team was able to help, but only a limited number of people that had supported basebands on their iPhones. The rest of the iPhone users with unsupported basebands were left in the dark and told to wait for a couple of months. Now, it has been more than 6 months since DEV team spoke a word about it.
However, behind the scenes there was another group working hard to defeat Apple. It was the Gevey SIM group lead by ApplenBerry that provided a perfect solution to unlock an iPhone 4 with the following basebands – 1.59, 2.10.1, 3.10.01, 4.10 and 4.10.01 and firmware version ranging from 4.0 to 5.0.
The present market seems to be flooded with multiple Gevey SIM products, each one claiming to be the best. Here, I will provide you with a list of Gevey SIM products for iPhone 4 along with their pros and cons.
GEVEY SIM
The first ever SIM launched by ApplenBerry was called the Gevey SIM. The strategy used by ApplenBerry was quite effective and I am sure Apple wouldn't have thought of the loophole used.
In order to unlock iPhone 4, the Gevey SIM made use of emergency number 112 or 911 in order to get the IFSI number. To prevent the service provider from detecting it as a fake iPhone, turning off the airplane mode for a few seconds did the trick. Finally, the provider thought that it was a legit iPhone and you were then able to send and receive calls, messages, etc.
PROS
First ever unlocking mechanism for iPhone 4.
CONS
Had to dial 112 or 911 and hang up after few seconds (illegal in most countries).
Had too many bugs.
Unstable signal.
Data network issues.
Tethered unlock – if you reboot or your iPhone loses signal, the entire process has to be repeated.
Very costly.
GEVEY SIM PRO
Gevey SIM PRO is an enhanced version of Gevey SIM, although it was not released by ApplenBerry. This new Gevey SIM PRO contained several bug fixes and had better signal reception.
Since, ApplenBerry was charging a very hefty price for their product; the Chinese market provided a cheap solution to the people. They used an F300 chip that was 1 mm thicker in size in comparison to the F981 chip that was only 0.5 mm in size. However, it did the same function with an extra power consumption of only 1 volt.
You may find an article on the Internet that tells you about the differences between original Gevey SIM that uses the F981 chip and the fake Gevey SIM that uses the F300 chip. Well, everyone knows the truth! ApplenBerry sales were declining and it had to do something.
However, I believe that if you are getting a cheap solution for only $5 - $10, then why pay $35 - $50 for the same, when it is not causing any harm to your iPhone? Also, it is well known that Apple releases new firmware every year creating hope for iPhone users to go for a software unlock provided by DEV team.
To purchase GEVEY SIM PRO, use this link: https://myworld.ebay.in/hemant.gupta
PROS
Several bug fixes.
Faster signal search.
More stable signal.
Cheap.
CONS
Still need to dial 112 or 911.
Tethered unlock.
GEVEY SUPREME
This time there was a major improvement over the predecessors with this new product called Gevey Supreme. With Gevey Supreme there was no need to dial 112 or 911 again and again. You just need to dial 112 or 911 once and then whenever the iPhone reboots or the signal is lost, this process is carried out automatically without user intervention. Also, the data network issue present in the earlier Gevey SIM was resolved with Gevey Supreme.
To purchase Gevey Sim PRO and Gevey Supreme, visit the following link: GEVEY PRO & SUPREME
PROS
No dial 112 or 911.
Faster signal search.
Few bug fixes.
No data network issues.
Untethered unlock.
Supports iPhone iO.S 5.0 b1.
CONS
Dialing 112 or 911 without a legitimate reason is illegal in some countries.
GEVEY PASS
Gevey Pass is the same as Gevey Supreme with the only difference being that it uses the F981 chip to provide a better experience to the user. Also, it comes in a very nice package consisting of a SIM adapter, Gevey SIM, a SIM ejector and a Gevey SIM tray.
To purchase Gevey Pass, visit the following link: GEVEY PASS
PROS
F981 chip that consumes low power and is smaller in size.
Minor bug fixes.
Stable signal.
Untethered unlock.
CONS
Dialing 112 or 911 without a legitimate reason is illegal in some countries.
Costly - price can be comprised for originality.
To purchase GEVEY SIM PRO, GEVEY SUPREME and GEVEY PASS, use this link: https://myworld.ebay.in/hemant.gupta
The seller also provides multiple quantity discount and international shipping for bulk orders.
If you are desperate for an unlock then you might consider these products but proceed with caution and use at your own risk.
References
Author's own knowledge.
Images Credit: Images provided by author.