Apple iPhone 4S iOS 5 Features Highlighted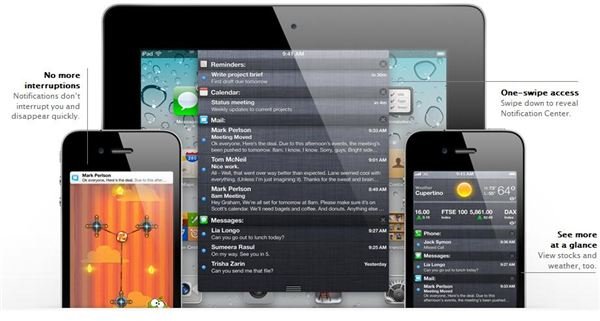 This world is an amazing place full of miracles. One such miracle happened when Mr. Steve Jobs ruled out all the speculation about being ill and leaving Apple Inc. and came out to introduce the new Apple iOS 5.0 to this world. I am glad that Mr. Steve Jobs is well and I pray to GOD to keep him healthy forever. I really appreciate this man for bringing out a whole new revolution in the Information Technology world.
Hats-Off to you Mr. Steve Jobs!
The iOS 5.0 platform is really amazing with new features like Notification Center, Newsstand, iMessage, Improved Reminders, Twittering Capability, New Camera App, Photos, Faster Safari Browser, Wi-Fi Synchronization and a lot more features. Let's get an insight on these features one by one.
Notification Center
The new iOS 5.0 includes a notification center right on the screen that allows a user to view all sorts of notifications like unread mails, text messages, calendar events, reminders, weather reports, and many other notifications. This new notification center feature was inspired by the IntelliSense application available on Cydia that allowed users to view such notifications on the lock screen.
To add more features to Notification Center in comparison to IntelliSense, Apple added notification messages on the top of the iPhone or iPad allowing the user to work uninterrupted. It also allows user to choose the type of notifications that should appear and where they should appear. With the new notification center, notification messages are just a swipe away. You may even choose to see the notifications on the lock screen itself.
Newsstand
Newsstand allows you to add, remove or manage all the subscriptions and magazines you have in one single folder called Newsstand. With this new app in place, user can quickly and easily access all the publications. The best part about Newsstand is that it runs in the background updating your subscriptions, as and when they become available. You can even shop for subscriptions directly from the Newsstand app, saving you time looking for new publications over the Internet.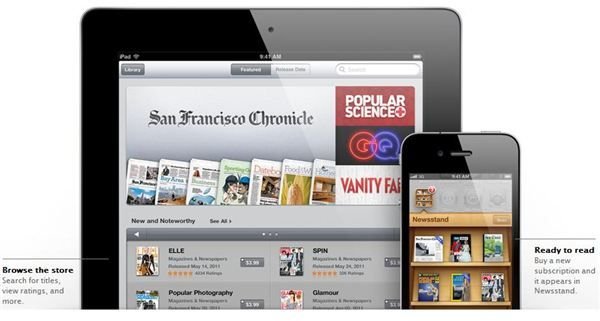 As far as I remember, the Newsstand app has been inspired by a similar app that's available for Android. Of course, the features available in the Newsstand application offer more in comparison to the Android app.
iMessage
Ah! This is the feature I have been wanting the most, for a long time. Finally, it is here. You know what, with this new iMessage app, you can actually send messages, emails, photos, locations, videos and even chat with your friends over the air, without even paying a single penny.
Not a single penny? Yes! You read correctly.
With the iMessage app in new iOS 5.0, you can do all the above just using Wi-Fi or 3G. iMessage allows iPhone or iPad users to communicate with one another. You can even see the other person typing a message and all of this is done over a secure connection, keeping in mind your privacy and security. You can even call for delivery receipts of your messages. Isn't that cool?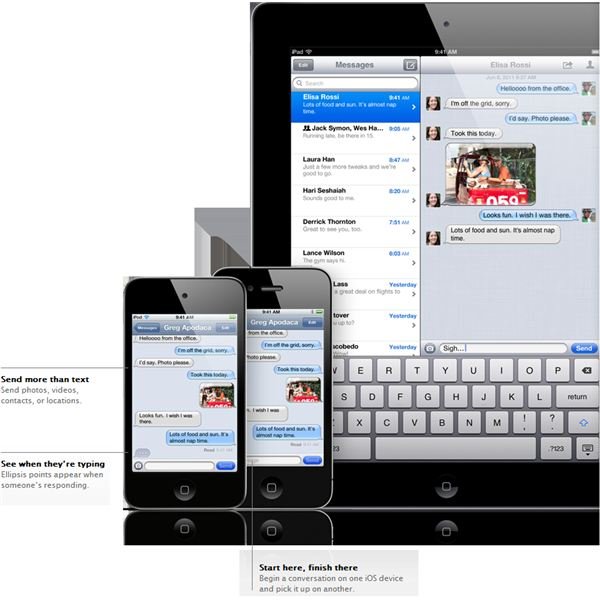 I have heard there are applications for this purpose on Cydia. But, you know what. They come with a hefty price and without the security and privacy you'll get with iMessage.
Improved Reminders
Reminders, as the name suggests, lets you create to-do lists so that you can remember important tasks in your day-to-day life. What is more important is that with iCloud integration, the updates are automatically synchronized over all your iDevices. The new Reminders app lets you remember your friend's birthday. Just create a new entry in Reminders and set the reminder to repeat every year and you are all set.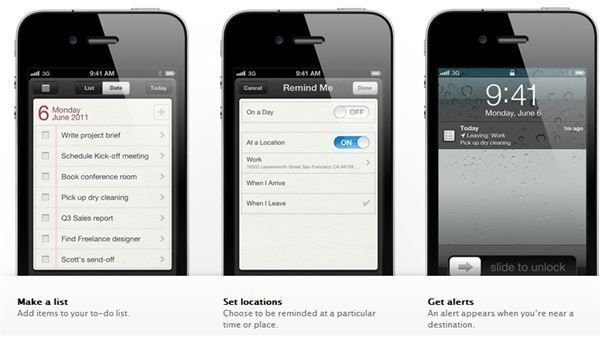 What's new is that it also allows you to create location reminders that make you remember things, which you never want to forget at a certain location. It also reminds you to present your wife with a beautiful present when your anniversary comes round.
I am just kidding. But, this is what location reminder is for.
Twittering Capability
There is a saying, "If you don't know Twitter, then you don't know Twitter." by John Doe.
I don't need to describe what Twitter is. We all have been tweeting a lot and know about the real power of Twitter. You know, when the U.S. Army was about to capture Osama Bin Laden, a guy nearby the area was tweeting about the operation, hearing the loud sound of gun shots and helicopters.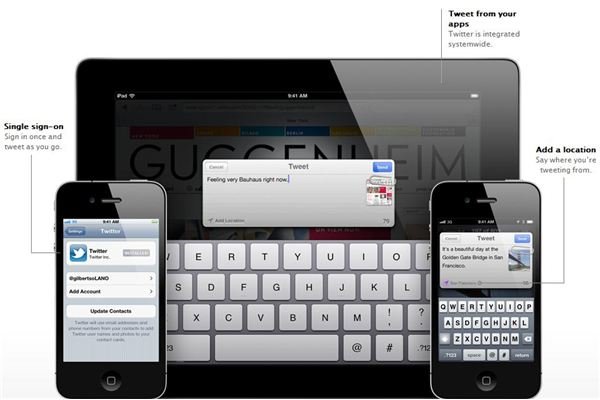 With the Twitter App in iOS 5.0, you can tweet from any place you want, whether it's the Camera app, iMessage, Safari browser, Photos, Mail or any other application on your iPhone or iPad. You can even add a location to your tweet message. Only the Apple iOS 5.0 gives you the real power to tweet from any place you want.
New Camera App
An iPhone or iPad with a Camera app that doesn't let you capture unexpected moments is useless. Most people want to be able to capture spontaneous photos. The new camera app in iOS 5.0 lets you capture whatever you want with the click of a button. Now, you can access the Camera app directly from the lock screen and capture instant moments by pressing the volume up button.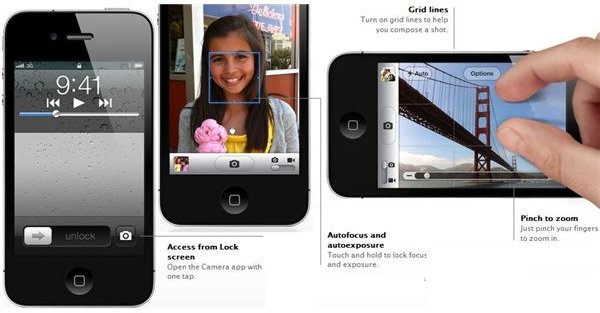 What's new is that if you are using iCloud (new revolutionary product by Mr. Steve Jobs and Apple Inc.), your photos are automatically updated and synchronized to all your iDevices.
More features introduced in the Camera app are auto-exposure, auto-focus, grid lines to you help with a perfect shot, and the ability to zoom images even before you capture them.
Photos
The new Photos app lets you play around with the photos captured through the Camera app. With this new app in place, you can enhance your existing photos, crop them, rotate them and even remove the red-eye effect. The Photos app lets you enhance the photos before you share them with your friends and if you are connected with iCloud, you can easily update and synchronize all your photos to other iDevices.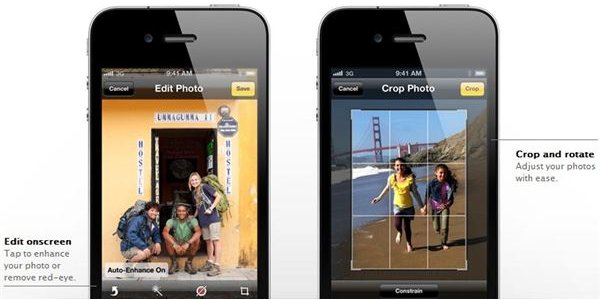 The auto-enhance feature automatically enhances an image by auto adjusting the brightness level, contrast level and removing the red-eye effect. One of the must have features missing from Photos is that you can't tag the photos.
Faster Safari Browser
With the new faster and better Safari browser, you are sure to enjoy your improved web browsing experience. The new Safari browser lets you read articles without a clutter and without being distracted by ads or other custom pop-ups. The new Reader allows you to add links and other articles to your reading list to be viewed later.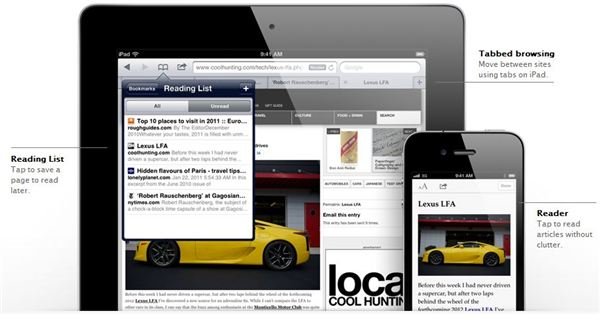 The Safari browser in iOS 5.0 is a lot faster in comparison to earlier versions, in that it has improved support for JavaScript and an enhanced mechanism that caches the frequently visited web pages. Tabbed browsing lets you view multiple pages in a single window, without switching between windows as it was earlier. With tabbed browsing you can ensure that multiple pages are loaded at a time, which was not available until iOS 4.3.3.
Wi-Fi Sync
The new iCloud feature is really amazing and after finding out its real power, I am starting to like it. Mr. Steve Jobs is looking to wipe out the need for computers with new iCloud. Do you really think he will be able to kick off such a big revolution?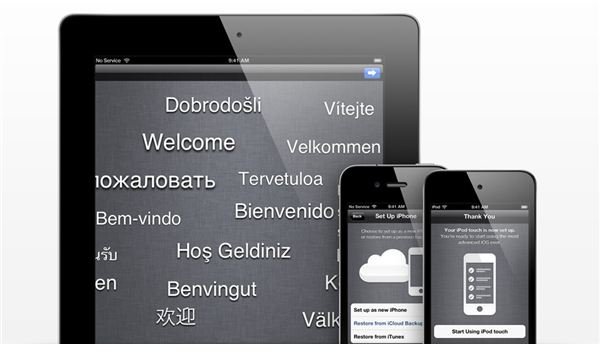 The new iOS 5.0 lets you wirelessly synchronize your iPhone, iPad or iPod to a Mac or a PC over a Wi-Fi connection. Still not amazed by the new feature? There's more to it.
With iCloud and iOS 5.0, you no longer need a computer to synchronize your iPad or iPhone. You can now even restore or update your iPhone using iCloud. This means you no longer need iTunes and a computer to connect your iPhone every now and then. iCloud helps in automatic synchronizing and backing up of all your iDevices without user intervention.
Accessibility Features, Game Center & Others
The new iOS 5.0 accessibility features allow you to do more with your iPhone or iPad. With new accessibility features, you can make complete use of hardware like the flashing LED or the vibrator that alerts you someone is calling without disturbing others.
The new Game Center is a one stop platform for all the gamers around the world. Game Center allows you to connect with players on other iPhones or iPads, giving you the ability to choose opponents, post profile pictures and do lots of other stuff.
References
Author's own knowledge.
Images Credit: Images provided by Apple.com.