Backing Up Your iPhone with SugarSync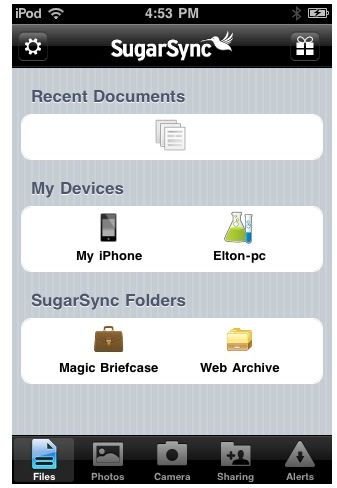 Anyone who has used a computer regularly has learned the importance of backing up their information. Whether it is a virus, a hardware problem or simply forgetting to save something, data loss is a part of computer use. Even after having learned this lesson, people sometimes forget about the computer that they are carrying around in their pocket. Yet, in many cases the iPhone will have even more vital information and is more likely to be broken, stolen or lost. So make sure you avoid losing your photos, notes and more.
Sugarsync is one option for backing up your data so that you don't have to worry about losing valuable information to a computer failure.
What is SugarSync?
Sugarsync is a backup, syncing and file sharing service that has been praised by organizations such as Bloomberg and The Wall Street Journal. It makes it easy to not only backup your data but move it from multiple devices. This second part adds a lot of value because it makes it very easy for someone who has a computer at work or home to move files around. That is also true of the iPhone.
In addition, if you are moving data back and forth so that you can work on it in different places, you are far more likely to remember to back that data up. There are also a lot of other basic backup features which are very valuable.
Setting It Up

In order to backup your iPhone there are a couple of basic steps that you will need to take. The first and most basic of them is that you need to download the SugarSync app. This is a free app which can be found in the iTunes store.
This is only the first step though, because in order to use the app, you will need to also sign up for a SugarSync account. There are a number of different options, the most hidden of them being the free trial. In order to find this you will want to go to sugarsync.com and then go to the Try SugarSync Free button. This will show you all of the plans, but to find the free 5 GB plan you'll need to scroll down past those and look for the single line of text that reads '5 GB Free Plan - Not a trial but a free account with no credit cards and no monthly payment'. You won't need to give up too much information to do this.
If you also want to sync information from your computer you will need to download the SugarSync desktop app. You will be given the option to do this when you sign up, so make sure to sign up on the computer that you want to download it on.
Learning Curve
Once you have signed up for the service and logged in then you'll want to learn how to update information. The easiest way to do this is to go into the service and find the small present in the top right hand corner. This will give you two options, the first is to invite people, the second is Play the Game. Play the Game is effectively a tutorial, though they do try to make it fun and even succeed on a couple of minor occasions. Complete this and you'll actually get 250 MB more so it is worth doing. This will show you how to share a document, share a picture, upload a photo and stream music. These aren't as easy as they probably should be, but by going through this you will learn how it works.
If you'd rather not use the game tutorial to learn you can begin to learn pretty easily. From the main screen you'll have a couple of choices. To save things from your iPhone click on the iPhone option and from there you can find pictures and other files you want to sync. Once you have them there is an oval made of arrows in the top right hand corner. That tells the iPhone to sync with SugarSync.
Finally, in order to access more specific options for images look for the blue arrow next to each file. Click on that and it will take you to options such as share, which lets you email it, copy it to clipboard and view the file.
Moving Files to the iPhone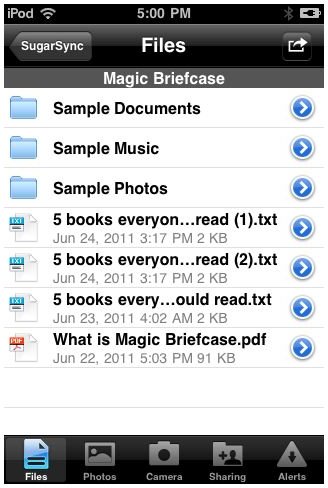 One of the frustrating things about the iPhone for many people is the difficulty in using files from other devices on the iPhone. SugarSync can help with that.
In order to move a file from your computer or other device onto the iPhone you will first need to have the software on both devices. They should both be connected to the same account. You can then easily use the magic briefcase. Simply put the file you want to move into the magic briefcase and once it has uploaded it will be available to download in the iPhone app.
If you want to do anything more than read text or look at a picture you will still need a way to use it or move it later, but at least you'll have access to the information you want. This is great for photos you want to show or notes for a meeting that you didn't write on your iPhone.
The layout of the SugarSync app does not make it as easy to use as you might like and the options don't cover everything you would like backed up on your iPhone, but if you want to move data between the iPhone and your computer it is still a good choice. Once you learn how to do it, this app is quick and, with some practice, reasonably easy to use. So, if you have information on the iPhone you can't afford to lose, or just don't want to lose, then consider SugarSync.
References
Source, author's own experience.
Images, iPhone screen capture.
Images, Screen Capture of Sugarsync.com