Baseball Card Apps for iPhone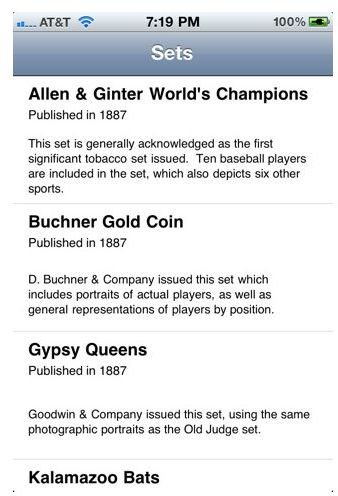 Batter Up!
So you're into baseball, are you? And you have an iPhone, you say? Well, my good man and/or woman, you have come to the right place! Everyone knows that being a baseball fan means you get really into the sport, learning all the stats, following all the teams, and encompassing yourself within the lifestyle of America's sport; but what about baseball cards? Ever since they died out in the last few decades, most people have forgotten what it means to collect cards as they were once collected, which is a shame considering how cool the hobby could become.
Fear not, however, because there is a solution – many iPhone developers are creating baseball card programs for iPhone, so you can still have access to all those vintage card sets, without needing to spend hundreds of dollars getting them yourself.
'Baseball Cards'
Let's say you're an absolute fanatic when it comes to baseball cards. You don't just collect them, and you haven't just collected them your whole life: You have cards from long before you were born featuring players that would be considered the A-Rod's of their respective days. You live and breathe baseball and baseball cards, but I have one question for you, mogul of cards – what about cards from as far back as 1887? Did you even know that they made them that far back? If not, then you may want to check out "Baseball Cards", an iPhone app from Binary Buccaneers.
'Baseball Cards' is a comprehensive and easy way to get your hands on all of these cards from back in the day (meaning 1887!) all the way up until 1914 when cards began to gain mainstream popularity. Famous players featured on the cards include Ty Cobb, Tris Speaker, and Cy Young among others, and all of the cards are copied from their exact originals taken (temporarily) from their resting place in the Library of Congress. The best part about this app? If you pick it up soon, it's 50% off, which leaves its price at the lowest possible 99 cents. Sounds like a great deal to me, especially if you're a baseball card fanatic!
'Ty Cobb Baseball Card'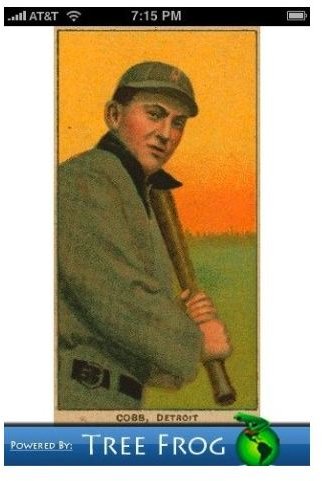 Speaking of Ty Cobb, how about the Ty Cobb guy? Am I right? Do you like him enough to just plain buy an app that is all about him and absolutely nothing else? If so, then boy, do I have a deal for you. For the measly price of just 99 cents, you can get an app for the iPhone called "Ty Cobb Baseball Card" that is exactly what it sounds like – a baseball card of Ty Cobb, complete with stats and information that would make any Cobb fan incredibly happy.
Let's be honest for a second here, though, this app really isn't all that great. You're literally paying a dollar for a virtual copy of ONE baseball card, and unless you're a really hardcore collector of these virtual items, you're really not going to get much use out of it. On the other hand, some people really do just want more and more ways to enjoy their favorite classic baseball players, and in that sense, this actually could end up being a great deal for some of you. That being said, ultimately I'd give "Ty Cobb Baseball Card" a poor review, simply because it doesn't offer all that much in light of other baseball card apps on the market today.
'Vintage Baseball Cards'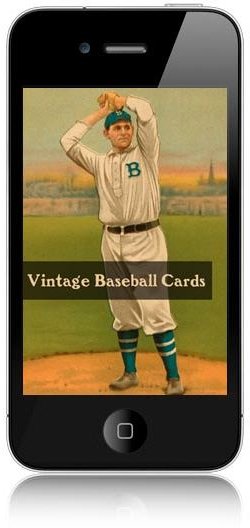 One of the coolest features of phones these days is that they let you use pretty much any image, a photo taken by you, or something downloaded from the Internet, as your background. If you're a baseball fanatic, chances are you have some sort of picture of a player hitting a home run as your iPhone background, but what if you want to go a little more vintage? It's hard to find drawings and photos of older players, so what's a person to do?
'Vintage Baseball Cards' is a baseball card program for iPhone that has a catalog of tons and tons of old school cards, all full images so you can download the app and then use them as backgrounds, not to mention they're high-resolution so no matter how close you get, they always look great. On top of that, while scrolling through the cards you can tap the "i" button and get information on the player as well as things like when the card was printed, and just so you never get bored, the developer adds brand new cards regularly. As far as I'm concerned this is one of the best baseball apps for iPhone hands down.
References/Purchase Links
All images and information comes from apps' respective purchase links.
Purchase Links