Save Your Money with an iPhone Coupon App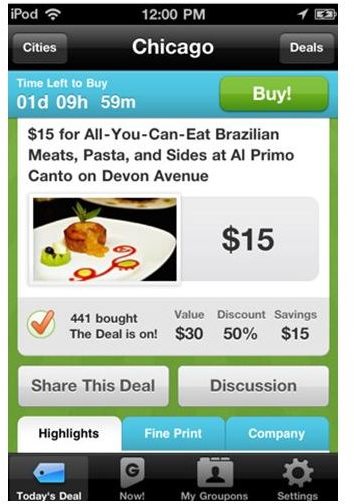 Groupon
**
What, you may ask, is a Groupon? It is a free service that provides you with a discount on a variety of different things in your city. It can range from spa services to gym memberships. It co-ordinates deals with different vendors all around your city to provide you with a discount. When a certain number of people (this is where they get the "group" part from) buy the specified object, the "deal is on" and no one is billed until the specified quota is met. Once the quota is met everyone is charged.
How does it work? First you select your city. Then it brings you to the "Today's Deal" page which has the current deal that is featured. On that page it shows you the time left to buy, the value of the deal, the discount and the savings. You also have the option to share the deal via, email, Facebook or Twitter or discuss the deal in the discussions section of the app. I always go straight to the section where they tell you all of the information about the company. This is also organized into 3 sections, Highlights, Fine Print and Company. Here is where you can find out exactly when the groupon expires and the limits of it. In the top right hand corner there is a "Deals" tab that provides you with more nearby deals to choose from.
Groupon is a great free coupon app for those of you seeking a good deal in your city. The only downside to this app is that it does not have enough cities yet. So not all of you can get these amazing deals.
GeoQpons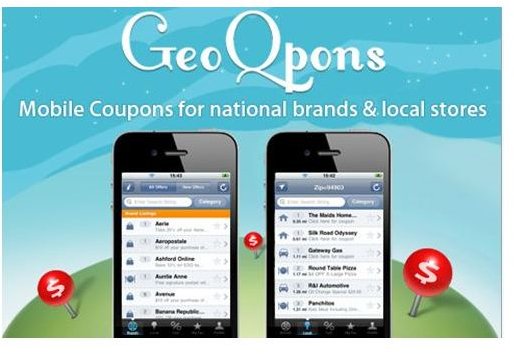 What is it? GeoQpons is an app that provides you with offers and deals from Brand Name and Local Businesses. You can find hundreds of coupons and offers, calculate your savings, share via email, Facebook or Twitter, add to your calendar or mark coupons to your favorites for easy access.
Let's get started. When you open the app you first have to read the terms and conditions and select agree before you can even enter the app. I found this a bit annoying. Then you are required to enter your zip code and it provides helpful hints for using the app. Next you click "Let's Get Started" and you're ready to start searching for coupons. On the first page it provides you with all of the "Brand Name" business coupons. You can also search for "Local Deals" by clicking the local tab. If you are looking for a particular coupon or offer you can search by using the search button.
One feature I particularly liked, was when I pressed the locate button to see where I could use the coupon. It showed me a map and provided an address and phone number. I was impressed at how specific they were. My only gripe is that when I went to the store to use the coupon and showed them my iPhone, the cashier said that she couldn't accept it. This only happened to me at one store, so far, so I hope that they will accept them everywhere else.
A Full Cup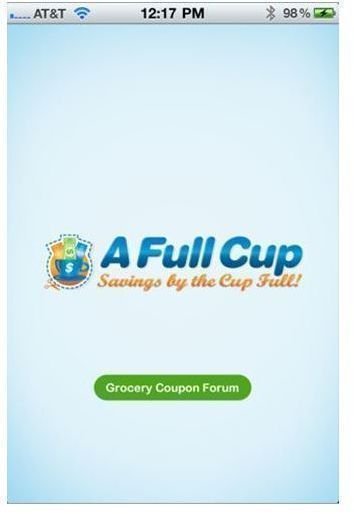 What is it? This app is a grocery coupon forum. You search through threads that people have posted about what the current deals are at the places you love to shop at. You can get access to hundreds of deals and make new friends while you're at it.
Using the app. As soon as I opened the app for the first time I was surprised to see a long letter I had to read before I could even enter the app. It explained all about the settings and push notifications. Then I was on to the forums. This is where it provides you with a list of categories and subcategories, such as Supercenters as the first category and subcategories like, Target, Walmart, K-Mart etc. Then if you click Target you are off to another set of categories such as "Target clearance" or "My Target Trip Today." Once you press one of those, there is a long list of threads from the forum which tell you about the deals at Target. At the bottom of the screen there are some icons such as current, messages, profile etc. so you can access them quickly.
Although this is a free app, and it provides great deals, there are a few downsides. It is confusing! I like that everything is in a category but there are too many categories. I would prefer to have it simple and to the point. Also, when reading the forums not everyone is nice. They should have a coupon moderator so people can be a little nicer. Who knew coupon clippers could be so nasty! Overall this app provides you with a lot of great deals so it is worth overlooking some of the bad.
The Best of the Best Goes To…
GeoQpons! I find that I use this app the most, because it provides you with actual coupons that you can show the cashier at the store or type in the code online. Groupon is a great app for local deals and offers, and A Full Cup is great for learning where to go for the best deals. If you're tired of clipping coupons then check out these iPhone coupon apps.
References
All screenshots remain the property of the respective developers.