Using iPhone Abroad: Helpful Tips for All iPhone Travelers
1. Unlock Your iPhone
Before you leave your country, you need to unlock your iPhone, otherwise it might not work in the country you are traveling to. If your iPhone is not unlocked, you may not be able to use that country's SIM in your iPhone, and if you try to stick in another SIM, you will only be greeted with the "invalid SIM" message, and won't be able to make or receive a call. So, it is very important to unlock your phone.
Unlocking the iPhone 3G is more difficult than unlocking the first-generation iPhone, but with a little effort and expense, you will be able to keep the lines open while overseas.
2. Download Travel Apps
You can't enjoy your trip without iPhone travel apps. There are tons of travel apps available for the iPhone that will help you with anything from finding a restaurant to booking a flight, or even finding your way to a tourist site to keep yourself entertained. There are websites that offer free iPhone apps but you generally have to pay for good apps. Here are some apps that you will surely like.
**LondonTube**: This is a great app if you are traveling to London. It displays the London underground's route map and provides direction to stations. The app is very cheap -- it costs only $1 to download.

Currency: It is a free app that does currency calculations.
Hilton Time Out Abu Dhabi: It is a great application for anyone traveling to Abu Dhabi. It contains Abu Dhabi maps, list of restaurants, hotels, places to visit, etc. The app is downloadable free of cost.
Metro Paris: This $1 app displays the routes of the Paris Metro, as well as giving you directions to different stations.
Pano: Pano is a great app if you want to create panoramas when you are sightseeing. It costs $3 and is worth the money.
JiWire Global Wi-Fi Finder: This app lets you find free and paid hotspots anywhere in the world.
You can find links to download all of these apps in the references section at the end of this article.
3. Power Adapter
The most common problem travelers face when reaching another country is that they can't find a compatible outlet to charge their mobile phone. In Australia flat 3-pin sockets are used, the UK also uses 3-pin sockets, but the pins are thicker. In Asian countries you will find 2-pin sockets.
In different countries you will find different types of power outlet. This becomes a big problem, especially for frequent travelers, because they can't charge their iPhone. So, if you are traveling with your iPhone make sure that you take different travel adapters with you to use in the country you are traveling to. You never know what type of power outlet you will find there.
4. Find Hotspots
Before you leave find free and paid hotspots in the country you are traveling to. Hotspots are widely available and you can find free ones at many restaurants, tourist places, and, if you are lucky, in the place where you will be staying. Hotspots are the best way of connecting to the Internet quickly, as you don't need to register for an Internet account or visit an Internet service provider's shop in order to get a connection.
There are services for finding free and paid hotspots. JiWire is a very good one as it has a database of over 562,173 hotspots in different places around the world. Furthermore, you can also find free access to hotspots in libraries, cafes, b&bs, and even international brand cafes like Starbucks.
5. Buy or Rent a SIM Card
Depending on your usage you have three options:
Buy a local SIM that offers the best roaming tariff.

Rent a SIM. There are services like iPhoneTrip that offer AT&T customers SIMs on rent, which allows unlimited data usage per day, starting at $15/day.
Buy a SIM card abroad. You may prefer buying a SIM card in the country you are traveling to, if that offers better call and data rates.
You can look at different mobile phone operator's websites to find out who is offering the best rates and whether you need to buy a local or international SIM card, or just rent one.
6. Avoiding Roaming Charges
Any application that uses the Internet uses roaming data, this includes email, YouTube, Facebook, Twitter, etc.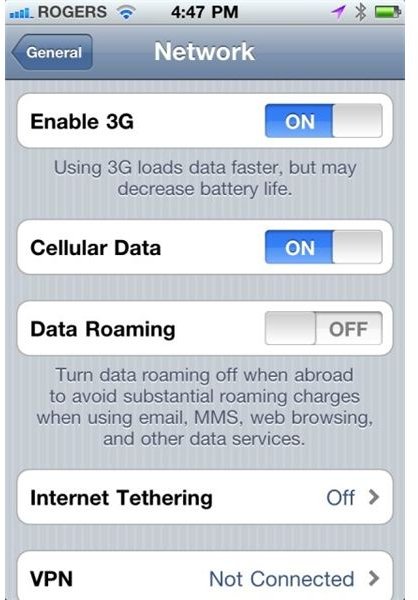 If you are going to use the same SIM card that you are using now in the country you are traveling to, you may incur heavy roaming charges for off-network cellular service and when traveling between several cross boundary routes. It is possible to avoid roaming charges by turning off the following iPhone setting:
Settings -> General -> Network -> Data Roaming (or Enable Cellular Data in iOS 4 or later).
Note: When you need to send an email, or use any app that requires an Internet connection while abroad you must turn on roaming.
7. Visual Voicemail Problem
You may have Visual Voicemail problems while in another country. If that happens, try calling standard voicemail. Also try dialing your voicemail number using an international prefix or contact your network service provider for help.
References