How Does the Nike App Work on an iPhone? Nike +GPS Reviewed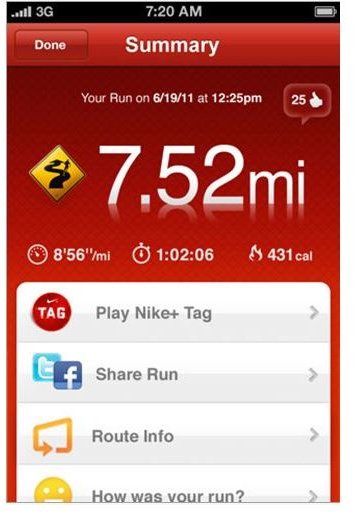 Getting Started
After I downloaded Nike + GPS from iTunes I first had to set my preferences, height, weight, gender, etc. Then I needed to decide my feedback options, do I want a male or female voice to tell me my time, distance and pace and to cheer me on. If you don't want any feedback then you just switch it to off. After watching the short tour they offered, I was ready to start my run. The next step was to select which run type I was going on. They offer, basic, time and distance. Once you choose your type you are ready to run.
On the Run
A breakdown of the run type options follows:
Basic, is where you run with no set time or distance, you tell the app if you will be running outdoors or on the treadmill and you choose to run to music or no music.
Time, is where you run against the clock, you can either choose a set time or customize your time.
Distance, is where you run for a few miles or kilometers, you can set 1 mile or even a marathon. You can also customize your distance with their handy mile marker dialer.
After you are finished you are given your "summary" of your run. In this section you are given the miles you ran, distance, time and calories you burned. Then you can choose to play tag with your friends, share your run on Facebook or Twitter, set new goals on Nikeplus.com, check out your route info on the map feature or input how your run was and add notes.
The next time you open your Nike + GPS app you can choose to start a new run, outrun your friends, or challenge me. I tried the challenge me option where I could take on my last run by going longer. They give you other options as well, such as challenging you to go farther or faster. I found this to be very rewarding because it pushed me even harder in my workout.
Map it Out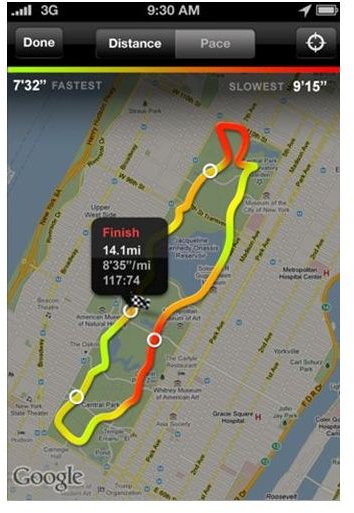 This is my favorite feature of the app. There are two options you can choose to look at in the route info section. The first is your distance. I took a short run around my neighborhood when I first got this app, just to see how the GPS and map worked and I was thoroughly impressed. It shows where you started and where you finished with a checkered flag. The second option is your pace. It will pinpoint where you ran the fastest and slowest on the map. For my neighborhood test jog it showed my pace at its slowest when I stopped running when I got to my house.
Tag, You're It!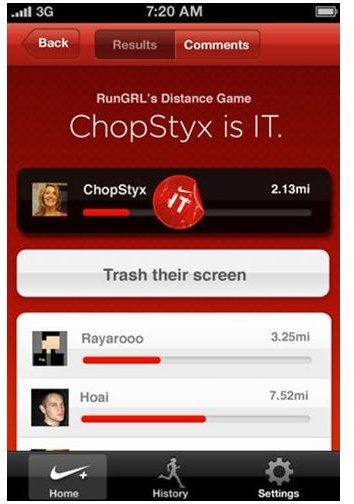 A fun feature Nike added was the option to "outrun your friends". You invite your friends from Facebook, Twitter or Nike+ and challenge them to a game of tag. It's a grown up version of the beloved game we all played as kids. How does it work? It's really simple – you can either invite or tag as many friends as you choose then you set the game based on your preferences. When I played it I chose whoever had the shortest time was "it". You can also choose other versions such as, the person who runs the shortest distance or the person who runs last is "it". The game will last three days and then expire. It's a fun way to get exercise and have a little competition among friends.
A Few Downsides
Although Nike made a fantastic app that allows you to track your run, there are a few shortcomings. If you plan on taking a run in the morning and being able to have enough battery life for the rest of the day, sadly that is not going to happen. I took an hour jog in the morning and my battery life was almost half gone after because the app is using your GPS and it remains open.
Another downside is that you have to keep the app open in order to get better usage of the GPS. Also, if I get a text during my walk on the treadmill I cannot text back without having to pause the app. I would prefer to continue my workout and text at the same time.
One thing I don't like is that you have to carry the phone around with you when you use this app. They did come out with an armband for the iPhone 4 so I would recommend buying it to use with this app.
Overall Rating (4 out of 5)
Overall, I give the Nike + GPS iPhone app 4 stars out of 5. It has a nice interface, the usability is great, you press a button and start running, and it provides motivation by cheering you on while you run. For the budget price of $1.99, it is definitely worth the purchase. I was lucky enough to get it for free during a promotion, but it still beats similar running apps that cost as much as $9.99. If you like to track your runs on the treadmill, outside or even train for a marathon, then this app is for you.
Download Nike + GPS from iTunes ($1.99)
References
All screenshots remain the property of the developer.