iOS 5 Beta Preview on iPhone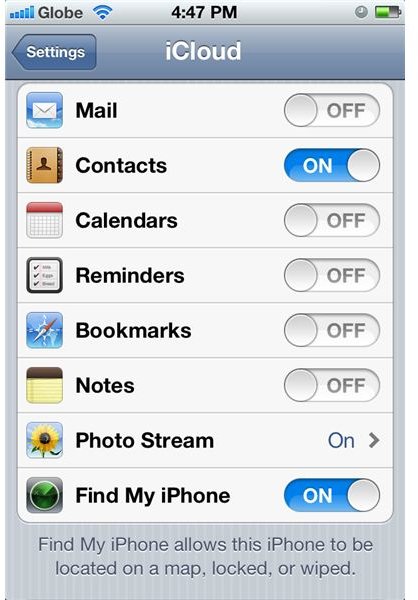 What Does this iOS Beta Mean for the iPhone?
Right after announcing iOS 5, Apple immediately seeded the beta version of the OS to developers. I've managed to get a hold of the beta software, got into the beta development program and boom! - I was able to run iOS 5 on my iPhone 4. My immediate reaction? It was indeed a huge change; starting from the way you setup your iPhone to every new feature that the OS brings.
So, what are the new features of iOS 5 that you should all be excited about? We discuss 10 of them, including: iCloud integration, Notification Center, Twitter Integration, Safari Reader, iBookstore on iTunes, Reminders, iMessage, Newsstand, Camera, and PC free set-up.
1. iCloud integration
For Apple this is the major, new feature of iOS 5. Your iPhone, once it runs iOS 5, will have several new features in relation to the iCloud. For the uninitiated, iCloud is Apple's latest innovative cloud service. With iCloud integrated on your iPhone, you can now sync contacts, calendar, reminders, bookmarks, notes, and stream photos to the iCloud server. iCloud then pushes these contents to your iPhone and other iOS devices wirelessly. This means that you'll have instant access to your music, apps, latest photos and more as well as keep your email, contacts, and calendars updated on all your iDevices.
When you sign up with iCloud, using your existing Apple ID tied up to your iPhone, you'll have up to 5GB of storage for free. You can always increase this by purchasing more storage capacity. The good thing about iCloud is that the music, apps, books and your photo stream, does not count against your free storage; leaving you more room for your camera roll, mail, documents, settings and app data.
2. Notification Center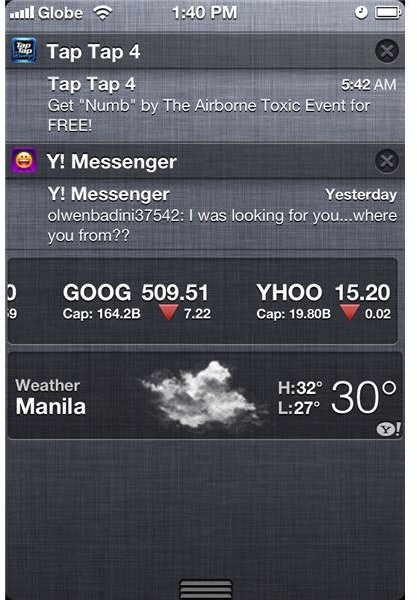 This for me is the major new feature that iOS 5 is bringing in to the iPhone. It's simply putting all your alerts, all in one place. All notification alerts that your iPhone receives, be it for text messages, emails, friend requests, missed calls, Twitter mentions and more, will now go at the top of your screen, without interrupting whatever you are doing. You can then select which alerts you'll want to be included in the Notification Center.
Once you're settled, you can access the Notification Center by simply doing a swipe gesture to pull it down from your iPhone's homescreen. In addition, you can also set it to display notifications on the lock screen. Alright, many are saying that Apple copied this from Android. The concept and placement of the notification center might be similar, but Apple really made it cooler – you can even see a stock ticker and weather widget on this notification center.
3. Twitter Integration
Here is another new and major feature that iOS 5 is bringing to your iPhone. With integration, Apple means deep integration with Twitter and your iPhone, and not just your usual and standard app integration. So when you are browsing the web using your iPhone's Safari browser, you can now directly tweet a particular web page you are using from the web browser. Now, here's the cool thing, when composing a tweet, iOS 5 attaches a cool thumbnail of the image with a clipping icon. This feature also lets you tweet a photo from your iPhone's camera roll directly to Twitter. It also lets you tweet directly from YouTube, Maps and other integrated apps. Heavy Twitter users will definitely love this feature.
4. Safari Reader (Reading List)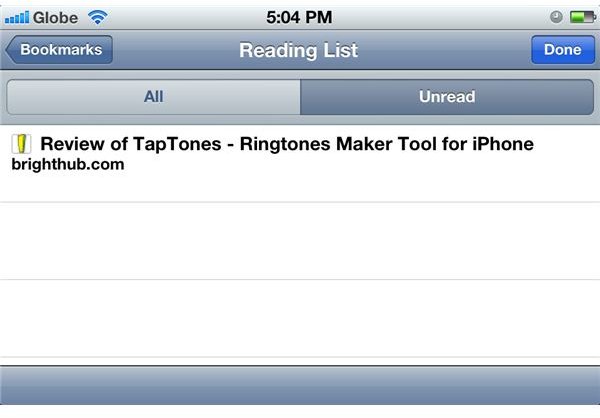 Your iPhone's Safari browser is also getting some nice features courtesy of iOS 5. Specifically, Safari Reader now displays web articles minus the ads or clutter - giving you distraction-free reading. Another nice feature is the Reading List which basically lets you save web articles or blog posts for reading later. Safari also now has a very good tabbed browsing feature - something which we've all been waiting for, for so long. Reading List is synchronized across all your iDevices.
5. Reminders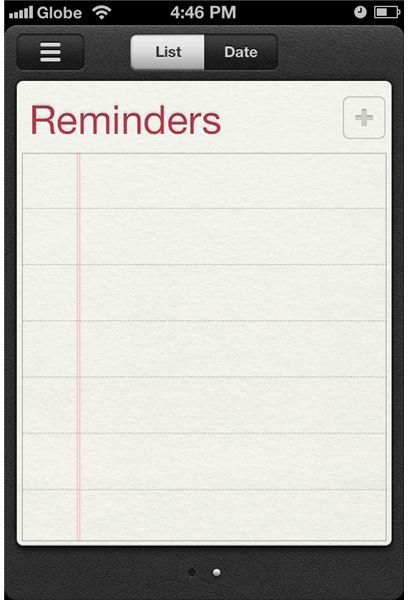 Although the iPhone already allows you to set reminders using the Calendar app, iOS 5 is taking this to a new level by way of a new native app - Reminders. This is simply a to-do list, fully integrated with your iPhone. Reminders is location-based so you can create a reminder and be reminded once you've reached the specific location where you are supposed to do a specific task. Reminders also works with iCal, Outlook and of course iCloud. For those who just can't keep tab of important things do in their lives, this feature is definitely a must-have.
6. iMessage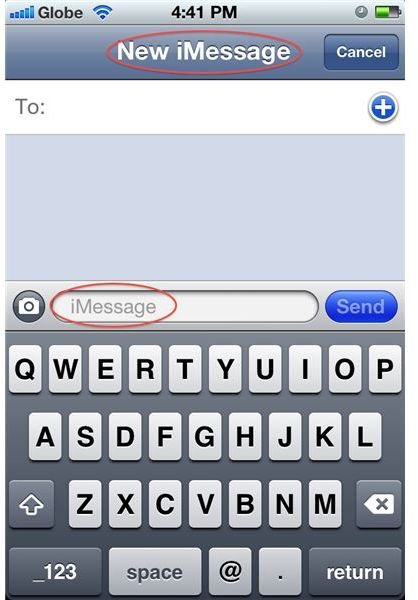 Here's a rather controversial new feature of iOS 5. Many have called it a BBM for iPhone, and even went as far as saying that Apple copied RIM's BlackBerry Messenger app. iMessage is built into your iPhone's Messaging app and it's pretty cool once you get to experience this new feature. It works with other iDevices including the iPad and iPod Touch and lets you send messages via Wi-Fi or 3G to another iPhone user using the phone number or their Apple ID. iMessage allows you to send text messages, photos or videos. It also features group messaging, delivery receipts and the ability to see when your contact is typing a message. In short, it's just like your desktop chat session.
7. Newsstand
This is simply the counterpart of iBooks for magazines and newspapers that you subscribe to on your iPhone. All your subscriptions go directly to the newsstands' virtual shelf and displays covers similar to the iBooks app. The Newsstand app also has a link to the magazine and newspaper section of the App Store - allowing you to purchase magazines and newspapers directly. This section is currently not available yet though.
8. Camera
iOS 5 is also bringing in some nice new feature to your iPhone's camera. Specifically, you can now use the volume plus button to trigger the camera shutter instead of tapping the camera icon on your iPhone's screen. This makes it easier and quicker to snap photos. You can also now access the camera app from your iPhone's lockscreen. Speaking of snapping photos, the iOS 5 camera app is also making it easier to compose a shot, lock focus and exposure, and zoom-in using multi-touch gesture, pinch-to-zoom, and single tap.
9. PC Free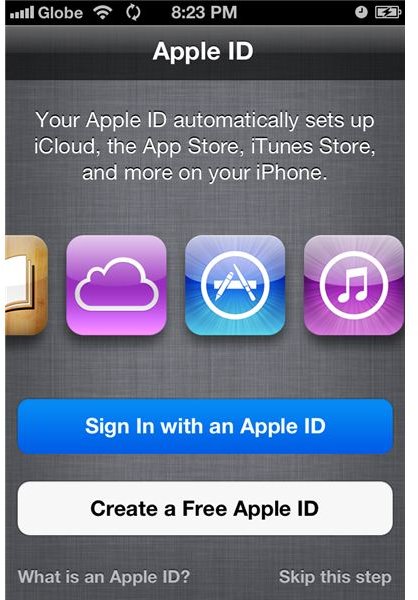 For those who don't own a PC but would like to get an iPhone (and are worried that they may not be able to setup and maintain their phone), iOS 5 is making PC-free setup enabled. What this feature does is to let you set up new iPhone units without having to connect your phone to a PC via USB cable. Yes, say goodbye to that process. With iOS 5 setting up of new devices is done on the device itself. Likewise, software updates will also be carried out over-the-air or "over the iCloud". So, you can immediately update an app no matter where you are, no matter how big the update file is.
10. Photo Enhancements
iOS 5 is also bringing in a couple of in-camera app photo editing features. You can now crop, rotate, enhance, and remove red-eye inside the iPhone's Photo app. You can use to enhance photos manually by tap and touch gesture, or automatically using auto-enhance on.
iOS 5 is Going to Rock your World
What I have just listed are just 10 of the killer features that iOS 5 is going to give the iPhone. Apple announced more than 200 new features in iOS 5. Some of these are specific to iPhone while some are exclusive to the iPad. Apple knows that it is lagging behind the Android OS when it comes advanced functionality and Android phones are threatening the stronghold that the iPhone has on the smartphone market. So, Apple definitely needs to come up with these new iOS 5 features. Truth be told, the past couple of days that I've been using the iOS 5 beta on my iPhone, I could already feel the some of these features being appreciated and loved by current iPhone owners once iOS 5 is made available to the public.
Yes folks, iOS 5 is going to rock your world pretty soon.
References