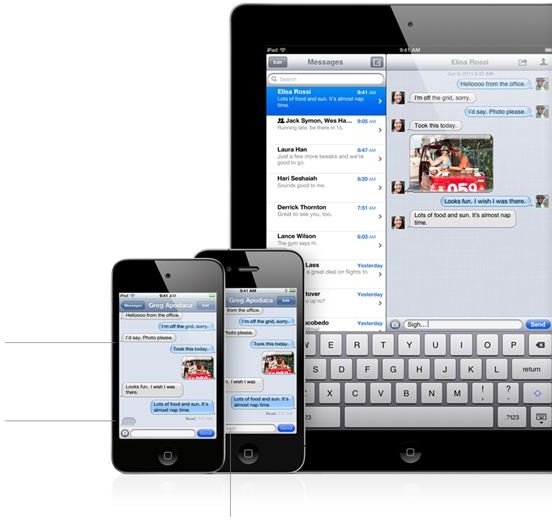 New, Free Instant Messaging for iPhone
Despite knowing that there are already several third-party apps that give the iPhone a free, instant messaging feature, Apple still wanted to have its very own iMessaging feature. I would like to believe that this feature was created more for the benefit of iPad and iPod Touch users since these iDevices do not have default instant messaging functionality. But then RIM's BlackBerry has both instant messaging and text messaging features so there's really nothing wrong with Apple's decision to launch iMessage. But the question really is - can iMessage compete against RIM's BlackBerry Messenger app? Can iMessage convince BlackBerry users who are addicted to BBM to finally shift to iPhone? We have yet to see this. And we will only find out once iOS 5 is rolled out to the public and iPhone users start using iMessage.
What is it Really?
According to Apple, iMessage is a new messaging service for iPhone, iPod Touch and iPad. Unlike on the iPad and iPod, iMessage will become part of your iPhone's messaging app. iMessage will let you send unlimited text messages to anyone using iOS 5 on any iDevices via 3G or Wi-Fi. This new messaging service works via an Internet connection - 3G or Wi-Fi so it won't be considered as a text message if your iPhone is connected online via 3G. In terms of costing, you will not be charged per text message sent but for the Internet data consumption. So, if you have an unlimited 3G data connection, your iMessage texting capability is practically free as well.
How Does it Work?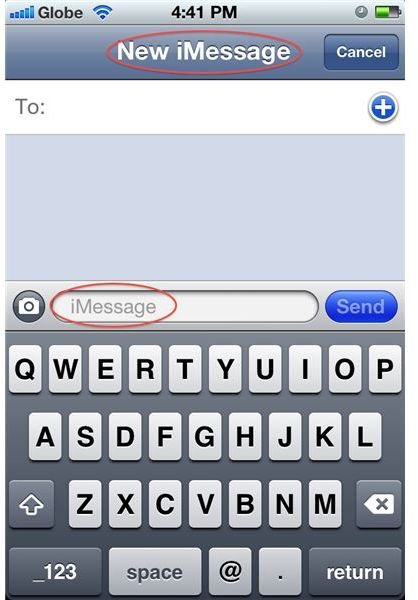 What's really cool about iMessage lies in the way it works. Sitting inside the messaging app of your iPhone, iMessage detects whether your contact is registered as an iMessage user. You can either use your contact's phone number or Apple ID to send IM messages. When the iMessage reads that your contact has iMessage on his or her iPhone, it will convert the message into "iMessage." You'll see this on the text composition window before typing your message. If you are sending a message to a phone number on another platform the message is instantly regarded as a regular SMS. So if you worry about sending a regular SMS instead of iMessage text, you can keep an eye on this label in the message composition box.
What are its Features?
As mentioned, iMessage is built into the iPhone's messaging app. This will allow you to send not only text messages but photos, videos, contacts and locations as well. This will also allow you to easily send messages to a group of contacts using any iDevices. iMessage will also let you track your messages with delivery receipts, receive optional read receipts and message encryption. But its killer feature has got to be the fact that you can use it when in the middle of a conversation. You can pick up the next message on any one of your iDevices as well as send the next message using another iDevice.
When in an iMessage conversation with a contact, you can also see whether your contact is typing a message or not. This is similar to chat sessions on your desktop IM client. Again another feature of iMessage that makes it a pretty cool iPhone development.
Is it Inferior to BBM?
There is now an ongoing debate as to whether iMessage is better than BlackBerry Messenger. Some say, it will kill the popularity of BBM because of its simple approach to instant messaging on a smartphone. Some say that its simplicity and lack of more robust and complicated features will be its downfall - and ultimately it won't compare with BBM. My take on this is that iMessage is a very functional feature for what it says it can actually do. There's no point in comparing these two instant messaging features since one is already an established app while the other is still in its infancy stage. One thing is for sure, BBM has far more, better and advanced features than iMessage. Yes it is inferior to BBM when it comes to this. But who says the inferior can not bring down the superior? In time, perhaps if iMessage becomes pretty popular, I'm sure Apple will have no second thoughts about bringing in more advanced features to iMessage.
A Good Start with More Room for Improvement
The bottom line is - iMessage is a pretty good start for Apple's desire to introduce a proprietary instant messaging service for its iDevices. It simply does what it says it can do and that is send text messages, photos, videos, locations and contacts to other iDevices using iMessage. One thing that could probably catapult iMessage into the upper echelons of the instant messaging niche is when it becomes a cross-platform instant messaging mobile app. Meaning, if iMessage could allow you to send instant messages to other smartphones using another platform. If that happens then RIM should start shaping up and improving its BBM service.
References
Image credit: Screenshots provided by author.
Image credit: Apple.com.