Top 10 iPhone Apps for Students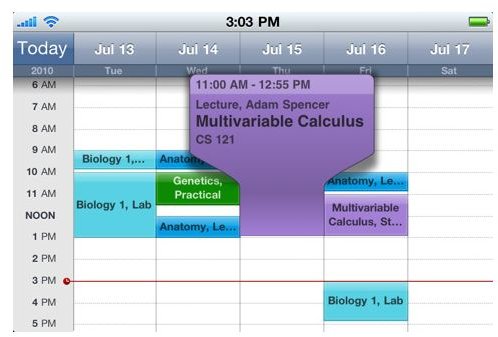 iStudiez Pro
With its slightly wacky sounding name, iStudiez Pro ($2.99) is an award winning, must-have app for any student and it's easy to see why. Giving you everything you need to stay organised with a user-friendly interface and a college diary on your iPhone with a colour coded schedule for easy reference. You can add further details to each class such as; lecturer, email address, contact number and office hours. Assignments can be listed with due dates, pending and completed and linked to each class, exams planned in, as well as different views of day to day, week and month calendar and course view.
What I love about this app, aside from the added back-up option and different push notifications, is the ability to add grades to each assignment, allowing total tracking of every aspect of college work. Still not convinced? Try the lite version with most of the functionality for a semester and it will make you wonder how you managed without it.
Evernote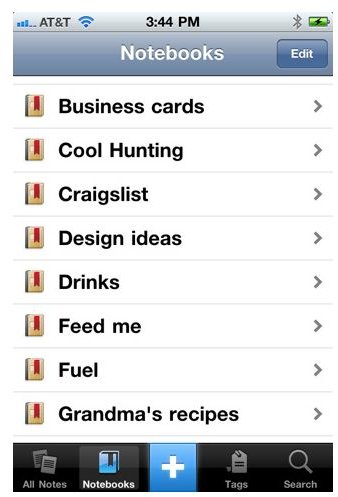 The benefits of Evernote for students are immense. Just a few ways this genius app can be used is by using the iPhone camera (or an actual scanner as the app will sync online so you can access everything from a PC) to scan in paper handouts, class notes, text books and the like, eliminating the need to carry a huge backpack back and forth. PDF files, which are now commonplace in libraries, can be scanned in and Evernote will use recognition technology to complete text, clear the text up if it's bad quality and all of your information can be stored in seperate notebooks. It's easy to keep different subjects or classes apart, but the information together, in one place.
The audio feature is useful for capturing lectures and there is an option to share information between classmates. Overall, the absolute must-have free iPhone app for any student wanting to stay ahead at school!
Check List App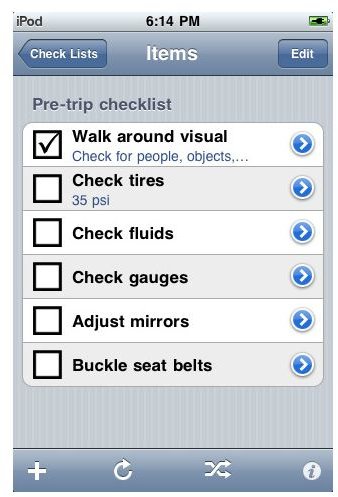 If all you're wanting is a simple checklist app to get you through each day then look no further than Check List App. It has one of the most user-friendly menus I've seen and does its job with absolutely no dissappointment. Simply start the app, tap the checklist and add new or tap to complete.
When you've got so much on your mind the last thing you want is a complicated app for a simple process so Check List App ticks all the boxes here.
Rate my Profs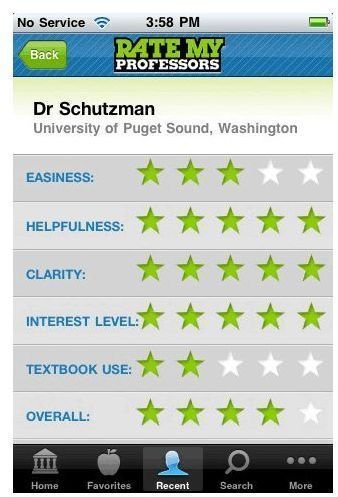 To help you get an idea of what to expect with your professors the free Rate my Profs app features student feedback on over one million professors in over six thousand schools across the US. With star ratings and comments for more detailed information you too have the option to rate professors you've had.
A light hearted, yet informative app to give you a head start on preparing for the new school year.
Flashcards Deluxe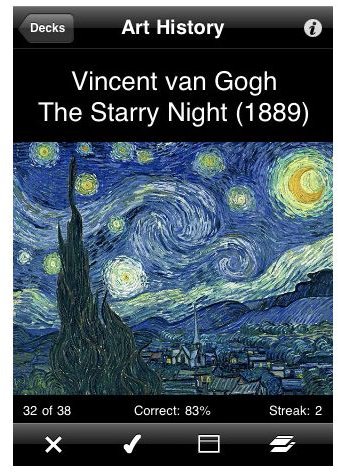 With the Deluxe or lite version available, Flashcards Deluxe ($3.99) is hands down the best flash card app available for studying, well, anything. With over 4 million flashcard sets and the ability to add your own 3 sided flashcards with pictures and sound options and Dropbox, Google Docs and USB transfers supported, you can organise and merge folders and download to your PC in addition to changing design.
Aside from the sheer number of subjects covered, what makes this flash card experience so much better than any others is the three response types being wrong, I kind of know, I know really well vs the standard correct/wrong and the option to take out cards you know by the percentage you have correct. On top of this, the level of support when problems do occur makes this app well worth its price tag, in fact many users would be willing to pay more for the level of success they are seeing with this multi-function, clean little app.
Dictionary.com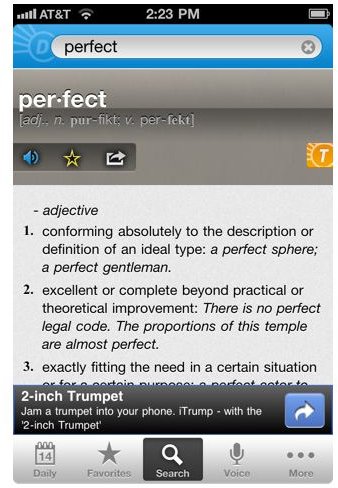 There are some great dictionary apps out there, and for cash-strapped students none fares better than the free Dictionary.com which doubles up as a thesaurus and provides full access to information on almost a million words from Dictionary.com and Thesaurus.com at your fingertips, on and offline. As you'd expect, there is full alphabetical indexing, phonetic and audio pronunciation and example sentences in addition to a hot word blog and word of the day. Another little bonus of this dictionary app is revealed when you give your iPhone a quick shake – you'll activate the 'random word application' which basically does what it says on the tin. An easy, quick reference app ideal for assignments, essays and general use.
Many dictionary apps in this league charge up to $30 but don't be fooled, you can get all their benefits here.
Pageonce – Money & Bills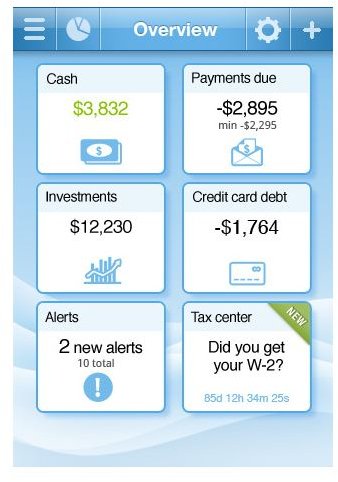 Pageonce is a great app to keep track of your finances in real time. It records financial data such as bank accounts, credit cards, investment data and bills and sends push alerts to let you know when bills are due and what you need to pay. Real time alerts let you protect your money and view bill and account details via the app itself. If having all of your financial information isn't enough, another handy feature is it tracks your mobile minutes and alerts you when you're running low. Everything is displayed on one menu which makes it easy to navigate and check everything at a glance.
Overall a brilliant, safe and reliable iPhone app for students not wanting to clutter valuable pages with different financial and bill management apps – this is all you need!
Quickpedia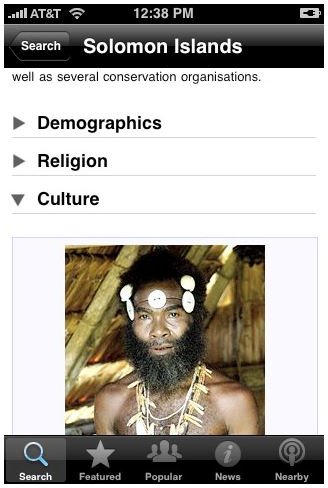 Quickpedia is a free, quick reference to Wikipedia articles which cover a huge range of topics and information, very useful with assignments and finding just about anything you need to know whether it be current events, TV, subject specific material or world news.
What is much more useful than simply browsing Wikipedia on Safari is that the app remembers your browsing history which is stored on the home page, and saves it to the iPhone for reading at a later date.This teamed with a 'popular searches' option, integrated headline archive which links top news to Wikipedia articles and the options to find articles on your nearby location, all make Quickpedia the top reference guide when it comes to apps.
Free WiFi Finder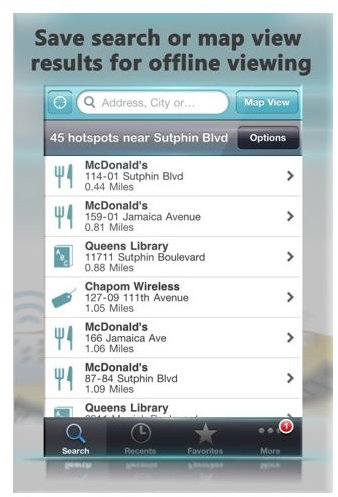 With everything being digital and text book studying fast becoming a thing of the past it's vital for students to be able to get online. The Free WiFi Finder does exactly that - gets you online. Using your iPhone's GPS and network triangulation capabilities it will locate the areas of free Wi-Fi and show you on a map or list view, with the distance from your current location so you can view the closest, or what's available on the way of a journey.
The search options are ideal for students, filter by location type and view anywhere you can get online at a cafe or library and even bookmark your favourite locations. Definitely a keeper app!
Sleep Cycle Alarm Clock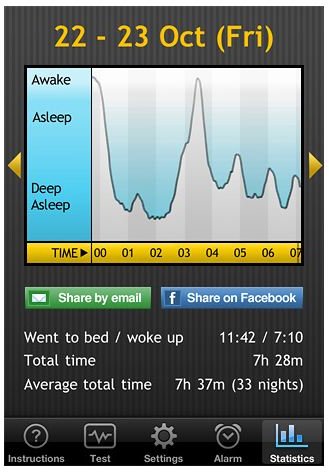 When you're a student it's the quality, rather than quantity, of sleep that will make a difference to your learning state. By being woken from a deep sleep you can feel 'groggy' and sleepy for hours after waking up. Sleep Cycle Alarm Clock ($0.99) wakes you over half an hour, with the end being your set alarm time, whilst you're in a light sleep. Simply put you start the day feeling refreshed and ready for the day ahead.
In addition, if you place it on the bed next to your pillow while you sleep it analyses your movement and gives you results as you drift in and out of different phases that range from deep sleep to light sleep, charted in a sleep graph with statistics of ranges over time.
Know of any other great iPhone apps for students? Post a comment.
References
Picture Credits, Screenshots supplied by iTunes – copyright remains property of the respective developers.