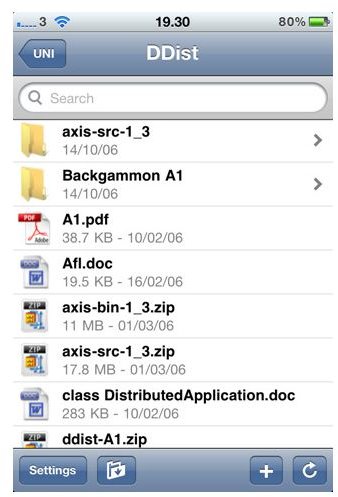 FTP Client Pro
Although this iPhone app doesn't have many reviews yet (below the app's description on the App Store) I've decided to include it because I really found it pretty useful and it does what it claims that it can do. You'll love how this iPhone app handles the whole FTP process the professional way. This app does what usual FTP clients let you do, such as view text files, edit simple text files, play audio and video files and image files. You'll also appreciate how this app lets you create new folders and files easily using your iPhone. Of course, there are still other useful features that this app offers. The app is currently available for $1.99 and for that price you'll enjoy the core features of a useful FTP client such as connecting to an FTP site and navigating through the directory structure. One review of this app mentions how the developer responds well to feedback. So, that's another plus for this app. (Price: $1.99)
FTP Command Line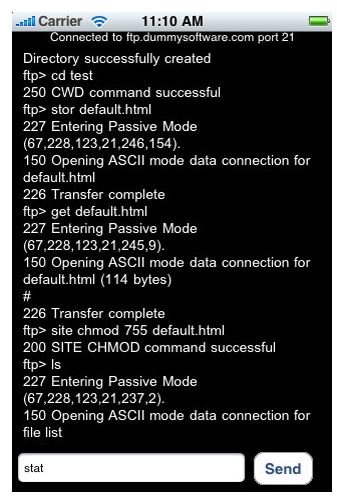 What's the popular saying? - "works like a charm." Yes, this iPhone FTP app works like a charm in providing you with a powerful FTP client for your iPhone. It's a pretty interesting app as well, giving you a fully featured command line interface to FTP servers. And once you get that command line, you can pretty much execute basic FTP commands. You can upload, download, edit, rename, delete, create directories, delete directories, list directories and files. You can also change chmod permissions. If you manage a web site this app is also useful and will allow you to make changes to your site via the back-end. You can edit HTML files, script or text files using your iPhone. What's good about this app is that it allows you to choose various FTP connection types such as PASV and FTPS for added security when connecting to FTP servers. (Price: $4.99)
FTP On the Go PRO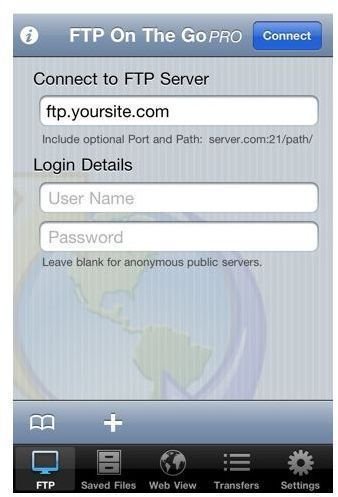 Being the most expensive of the three iPhone FTP apps on our list, this app also happens to be the most powerful and feature-rich FTP app. I mean, this app wouldn't be featured as one of the best iPhone business apps and Information Weeks Top iPhone Business apps if it was not really useful. Basically, the app lets you view and edit HTML/CSS/JS/PHP/ASP and other files on your server using the built-in editor. Of course it also lets you view images and documents. In short, this app lets you do all the things that you can do on a desktop FTP client. The only difference is the fact that you can do all those things even while you're on the move. While I'm all praises for this app and found no issue with it when I was testing the app, do take note of two comments from this app's reviews on the App Store. In particular, according to the comment, the app won't let you upload a whole folder or sub-folder. Meaning you have to upload the files one by one. I have yet to try this one out but if you do, please share your experience via the comments below. (Price: $9.99)
Best iPhone App for FTP?
Obviously, I would have to choose FTP On the Go Pro as the best among the apps on this list. The good news is that this app has more features in store for you than the other two, which more than justifies the app's price. Usage-wise, the app has a solid and effective work flow. It's easy-to-use and yet very effective when performing various FTP commands.
References
Image credit: Screenshots courtesy of the apps' respective developers.