Best Human Anatomy iPhone App Options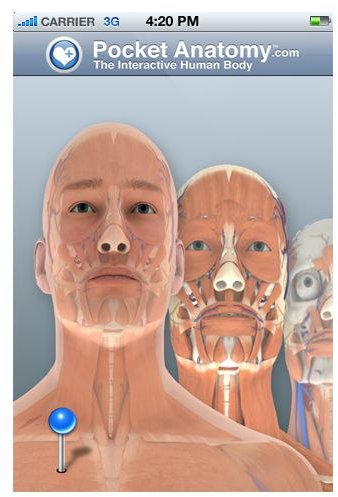 Pocket Body - Musculoskeletal
If you're a medical, nursing or health care student, this iPhone app will definitely be very useful for you. You'll find it pretty amazing that such a wealth of information about the human body can fit into your iPhone. What's even better is the fact that this app's nine layers of musculoskeletal content and more than 30,000 words of learning content are seachable via the app's sleek and easy-to-use interface.You can even use the app to write notes as you study human anatomy, as well as check out how much you have learned through the app's quizzes. Having this app is like having a pocketable encylopedia of human anatomy that you can bring anywhere. And I haven't even mentioned that the app has a cool intuitive interface with intuitive navigation that lets you go through skin layer, musculature, and ligaments to find out exactly what composes each of them. (Price: $19.99)
Learn Muscles : Anatomy Quiz & Reference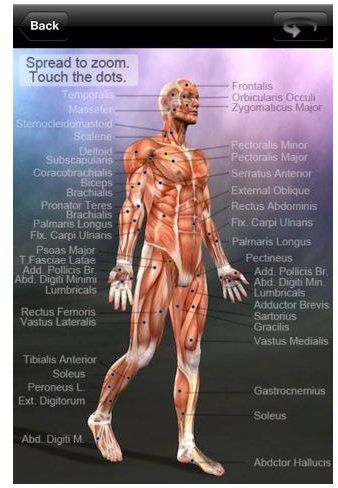 What could be a better teaching and learning tool suitable for students, educators and healthcare practitioners than something that provides you with around 138 muscle images? Not only images but full descriptions about each of these muscles are provided, including name, action, origin, insertion, and even comments. You'll also learn how to pronounce each of these muscle types. Of course, the app will also help you gauge how much you know about the muscular system through its quiz maker. You can also watch 6 videos related to human anatomy embedded in the app. If the basic features of this app are not enough to pique your interest, well you can always purchase an extension pack for $0.99. This will give you 3D models of the muscular system which you can control. Pretty neat, right? (Price: $2.99)
Anatomy on the Go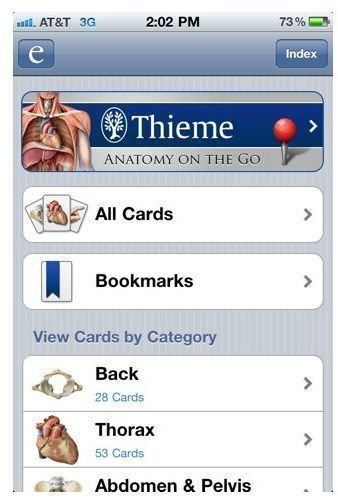 This iPhone app was created by Epocrates, famous for their drug reference app for iPhone. For this app, Epocrates transformed flash cards containing various information related to human anatomy to come up with a highly customizable and interactive iPhone app. On your iPhone, this app lets you navigate through more than 350 fully annotated images, view comments and clinical applications where appropriate, and create your own pinpoints and labels to mark the structures you need to know. That is in addition to other human anatomy information that you'll find in this app. The only issue that we have with this app is that it requires an Epocrates account. It's not a big deal but it would have been better if the app did not require the Epocrates account. (Price: $19.99)
Miniatlas Anatomy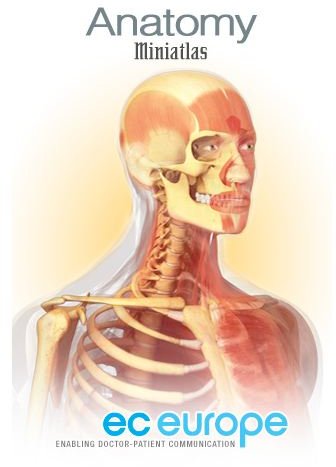 If you're a doctor, this iPhone app suits you perfectly. I mean, wouldn't you want to talk to your patients and show them parts of the body using your iPhone? That would be cool, right? Miniatlas Anatomy contains tons of images of the human body. It's no wonder that the app is well loved by those who already use it. Who doesn't like a portable and convenient solution, always at the ready on your iPhone? One comment about this app highlights what we also like about it - details. The app provides with you the most detailed information about human anatomy - making it a very reliable resource for physicians and other health practitioners. If you have an iPad, you might also want to get this app, as it is great to see those images on a larger display. (Price: $2.99)
Anatomy Glossary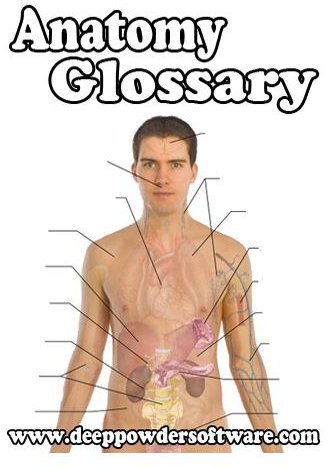 This glossary app for human anatomy offers a straightforward, easy-to-use interface. You won't find anything fancy here. Just the information you need about the human body. And that's what makes this app a pretty strong contender for our choice of the best human anatomy iPhone app. The app is very easy to use and will help you find what you're looking for quickly. It has a nice search function to help you find the right information, at the right time, as well. (Price: $1.99)
Best Human Anatomy App for Your iPhone?
Wrapping up our list of the best iPhone apps covering human anatomy, we must choose which is really the best and most useful app. My top choice will have to be Miniatlas Anatomy for the simple reason that nothing beats images in trying to learn so many things. And this app features tons of those human anatomy images with full descriptions about each of them. Of course, the other four iPhone apps are powerful and useful as well. Hopefully, by this time you're already downloading the app you like the look of.
References
Image credit: Screenshots provided by the apps' respective developers.