Best Audio Recorder App for iPhone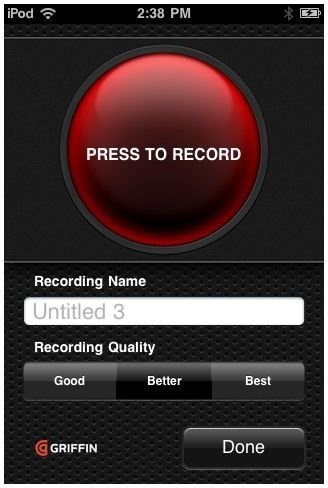 One of the biggest advantages of smartphones in general, and the iPhone in particular, is the ability to replace other devices with them. Whether it is just a calculator, daily planner or a tape recorder for tracking meetings and school, with the right apps the iPhone can be better than the devices made for those singular purposes a few years ago. These audio recorder apps for the iPhone cover a variety of ways you may want to record your voice, other people and potentially even music.
iTalk Recorder (4 out of 5)
iTalk Recorder lets you use the built in microphone on the iPhone to record sound from a good distance away. This is the most downloaded of the audio recorder apps iPhone has in its library. The recording with this app is very simple. You have a single button to begin and the only option is the quality of the recording. Once you have the audio recorded the other nice part of this app is the ability to find your recordings. As simple as using the search function of the iPhone seems, it is something that many of the other audio recording apps have overlooked. The free version is ad supported, but if that bothers you there is a premium version that costs $1.99.
(Cost: Free)
Voice Changer Plus (3 out of 5)
While this doesn't record with quite the quality of some of the other voice recorder apps it does allow you to play with the voice. This can be a lot of fun as there are a quite a few different options for how to make your voice sound including mouse, guitar, warped and more. There are a few limitations which require an in app purchase, the major one being that you are limited to what you can save. This in app purchase costs $1.99 and lets you save these recordings as ringtones as well. Not likely what you will use for taking notes, but it can be easy to use and there is an option for normal voices as well.
(Cost: Free)
Voice Record (4 out of 5)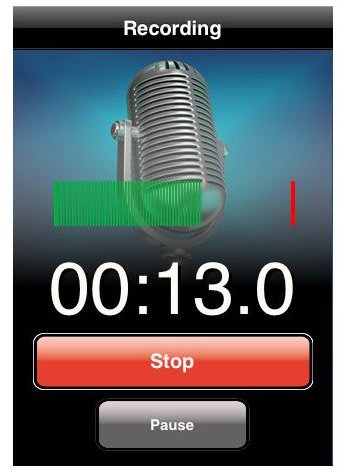 The main advantage of Voice Record is that it has one button recording. This is worthwhile if you want to record voice memos rather than record meetings or longer audio clips. If all you're doing is leaving yourself a note you don't want to bother with setting quality and more. This is also just fine for all the other types of audio recording, with good quality audio, pause and start functions and it may be a good alternative to the in app purchase on iTalk Recorder. Although, I still wouldn't try this unless iTalk doesn't do what you want.
(Cost: $1.99)
Audio Memos 2 (3 out of 5)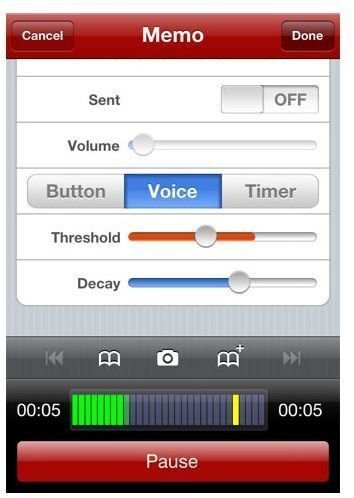 Similar to many of the other apps, but with a few less features for those who only want to do memos, Audio Memos 2 could be the choice for you. It makes the interface a lot easier and it can still do everything that most people are really going to need such as recording a meeting, keeping notes, helping with school notes and more. In addition it costs a bit less than many of the others and while the difference in price won't make up for features you need, if you don't need them you might as well save the cash. There are still a number of in app purchases to unlock further options so it can add up to much more than a dollar if you buy them all.
(Cost: $0.99)
Audio Note (5 out of 5)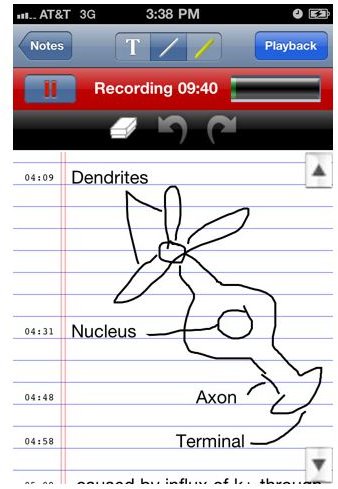 The main advantage of AudioNote is that it is not simply an audio app. You can keep text notes, draw pictures and more and sync them to the audio note. This is a great option for students who want to keep a record of their lectures but don't always want to listen to the entire class again. You can also go back to an audio recording and set up notes. This app has the potential to save a lot of time as it will save you from re-listening to hours of audio to find a single point in a recording. This is a bit more expensive than most of the other audio recording apps, but if you need text notes as well this is your best option.
(Cost: $4.99)
RecordStudio Free (4 out of 5)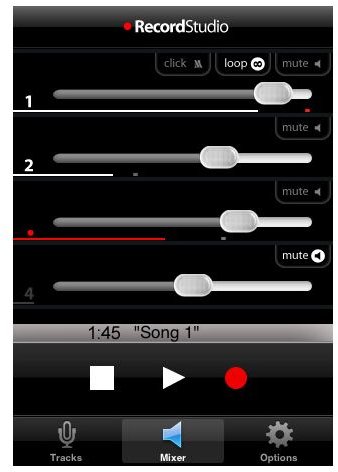 While the microphone of the iPhone may not be up to the standards of modern musicians, the iPhone itself is a far more powerful computer than many computers used for audio mixing a few years ago. RecordStudio Free lets you record on four tracks and mix them. Moving the audio off the device is a bit tricky and it won't be for everyone, but the free version allows a lot of functionality and should be enough for most people. There is also a pro version which allows you to work on more songs.
(Cost: Free, Pro version $3.99)
References