The Best iPhone App Car Diagnostics Choices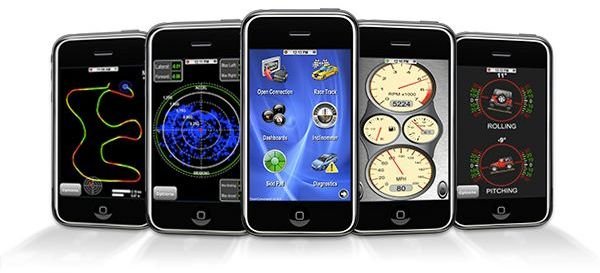 How can I connect my iPhone to my car?
There are hardware requirements that you have to meet in order to connect the iPhone to your car. These apps communicate with your vehicle via its OBD-II port which is standard for all cars sold in the United States after 1996 and in Canada after 1998. This port is used by service garages for car diagnostics and troubleshooting defects on vehicles. There are OBD-II hardware devices that use the 802.11/Wi-Fi interface to communicate between the car's computer and the diagnostics tool, which in this case is your iPhone. First thing you have to do is to check that your car has an OBD-II port, if your car was made before 1996 check with your dealer or with your service garage. The next step is to buy the hardware. Links to hardware manufacturers are included in the reference section of this article. The final step is to get the best iPhone app for car diagnostics. Here are the top two choices.
DashCommand
This is truly a great app for any petrol head. Here are the main features of this app:
Virtual Dashboard compatible with both landscape and portrait modes.
Skid Pad for real-time lateral acceleration, braking G forces with indicators for maximum left, right and braking forces.
Race Track shows a visual map of the traveled path with colored parts red for braking and green for accelerating.
Inclinometer shows the pitch and roll attitude of your car acting as a tilt and slope meter which is a very useful feature for off-road vehicles.
With the DashCommand iPhone app you can find out why your check-engine light is on and troubleshoot diagnostics trouble codes or DTCs. This app supports over 220 OBD-II parameters and can display data from the car's factory computer directly to the iPhone screen. This makes it a great iPhone app for car diagnostics. You can find more information and learn how to get this app by following this link to its homepage.
Rev iPhone app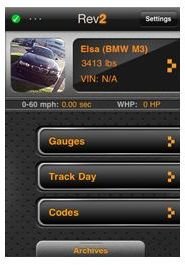 This app is probably the best iPhone tool for car diagnostics. It features a great visual design that enhances the user experience. Also the list of features and monitoring options is huge. You can watch in graph your accelerating, braking and cornering forces and, combined with the GPS tracking, you can view a visual map that displays your acceleration data in relation to your location on the road.
With this app you can monitor RPM, Vehicle Speed, Fuel Consumption, Engine Temperature, Fuel Pressure, Engine Load, Throttle Position, Intake Manifold Pressure, Air Intake Temp, Timing Advance, Fuel Level, Mass Air Flow, Barometric Pressure, EVAP System Vapor Pressure, Fuel Trim and Boost. Depending on your vehicle, some of these parameters can't be shown.
You can even record your performance and compare it later with the data gathered after a tune up or after adding a new part or different set of tires. You can also check your engine codes and even perform a one-button reset of your codes and Check Engine light. You can find out more about this app from its developer by following this link here.
References
All screenshots and information are gathered from developer's website.
OBD-II Hardware links: