iPhone Dive Log and Other Useful Applications for Scuba Divers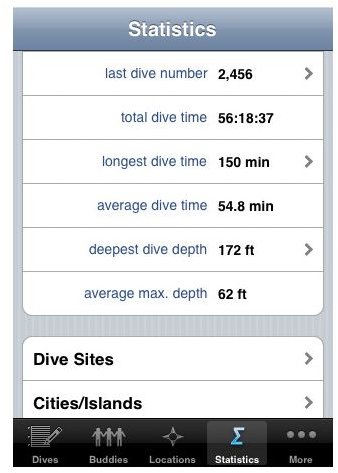 Dive Log
iPhone Dive Log is an application that allows you to maintain a log of your personal dives. Despite being expensive at $11.99, the application has become a regular fixture in any diver's dive kit. It's basically a transferable scuba logbook application that synchronizes with your desktop and Mac. Dive Log allows you to make a separate profile for every dive and add detailed information regarding each dive or location. Additionally, you can add dive buddies from your contact list, dive locations with pictures, and dive statistics such as time, depth, GPS coordinates, conditions and gear used to each profile. The application then displays all your dive statistics on one page; average depth, overall dive time, deepest dive, etc. It's a great tool for referencing your own adventures.
iScuba Plan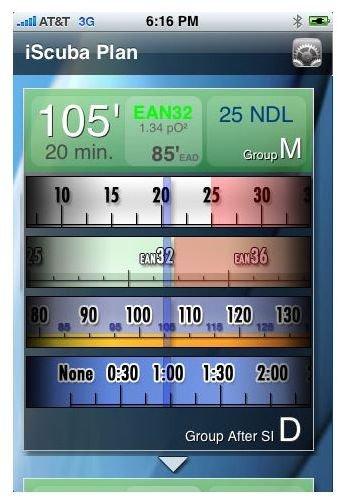 iScuba Plan is an easy to use and accurate Scuba dive planner that calculates dive profiles based on PADI's Recreational Dive Planner tables. This application allows divers to plan repetitive dives and also supports Nitrox. iScuba Plan is an extremely handy app that clearly highlights time, gas, and NDL through the use of red/green indicators with warnings via yellow colored indicators. Another helpful feature of this app is its ability to switch between Metric and Imperial. iScuba Plan is available at the iTunes store for $7.99
iScuba Plan Lite is the free version of this app that supports up to two Air dives.
Divetime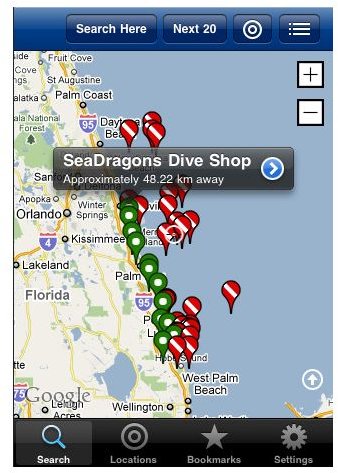 Divetime is a mobile application based on the popular website divetime.com that hosts the largest database of diving locations and sites on the Internet. It allows you to access 12,500 dive sites worldwide and over 8,500 dive shops directly from your iPhone. Being fully integrated with Google Maps, it allows you to find dive site anywhere in the world as well as the ones closest to your current location. Divetime provides detailed information regarding the diving site like its description, depth and average visibility. It is available at the iTunes store for $3.99 and is perfect for traveling divers and locals who seek variations in their dives.
iDeco Pro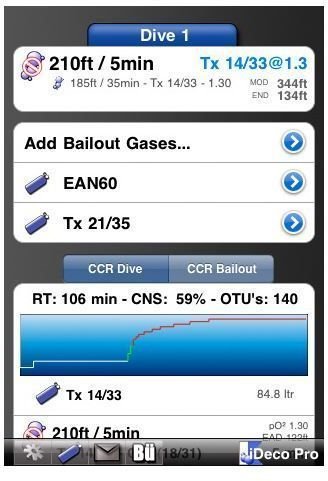 The iDeco Pro app with multi-level dive planner is aimed at advanced and technical divers. The application makes use of the Buhlmann's ZH-L16/C model along with Erik Baker's GF algorithm for calculating dive profiles. iDeco Pro also supports Open Circuit Diving in addition to Closed Circuit Rebreathers (CCR) and highlights gas usage, decompression stops, OTU tracking, CNS tracking, Surface Interval tracking along with several other features.
Price: $7.99
Nitrox Tools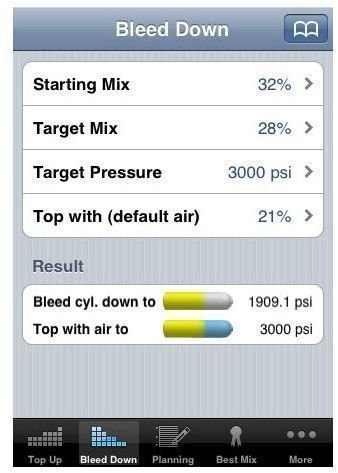 Nitrox Tools is a specialized diving app for serious scuba divers, who intend to mix their own tanks. It can be used at the dive site to plan your EAN (Enriched Air Nitrox) blended dives or at the gas fill station to compute blends. Nitrox Tools also allows you to bleed down or top up an existing mix, calculate EAD and maximum depth, prepare for both fresh as well as salt water dives in either imperial or metric systems of measurement. It provides you with everything that you require for planning a Nitrox Dive.
Price: $5.99
References