Best Disney App for iPhone: Magical Options for Disney Fans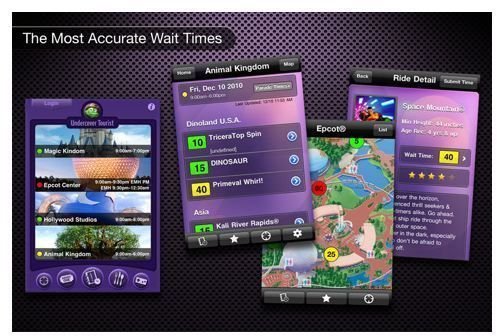 Get a Load of Disney Facts and Info on your iPhone
Hopefully, our previous article on top Disney World iPhone apps helped you a lot during your trip to Disney World. If it did, then well and good. Speaking of visiting Disney World, if you have come back from the happiest place on earth, chances are you're still coming back down to earth and you might need a Disney fix. So, we've rounded of five of the best Disney apps for your iPhone, similar to what we did previously. But this time around we centered on iPhone apps for anything and everything about Walt Disney rather than apps for visiting Disney World. Check out our top five Disney apps for iPhone and see whether one or two are interesting enough for you to download.
Mouse Trivia: Disney Edition
Are you such a huge Disney fan that you think you know everything about it already? Can you answer more than 1,000 trivia questions related to the world of Walt Disney? If you love all things Disney, then this app is for you. Get a load of information by answering more than 1,000 questions about Disney movies, characters, songs, theme parks and more. This Disney-inspired trivia game will definitely test your knowledge as well as help you to learn new fun facts about Walt Disney. There are two modes of play namely, free play and timed play. Unfortunately, after attempting the first few questions of this app, I realized that I'm not a big fan of Walt Disney because I could barely answer the trivia questions correctly. How about you?
(Price: Free)
"Disney at Work" Magic Kingdom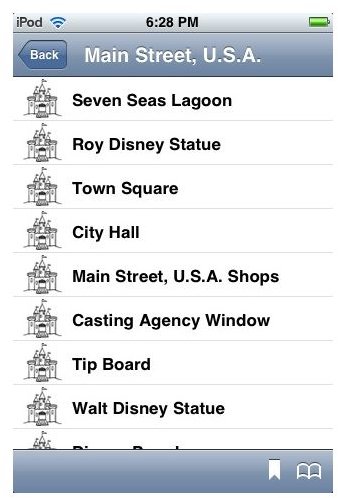 From the economics point of view, Walt Disney World, aside from giving us the "happiest place on earth", is also a huge business. Walt Disney as a business employs thousands of competent employees who ensure that all the Disney World resorts are working properly and well-maintained. Want to get some insight on how Disney World is run as a business? How workers are treated and managed? This iPhone app holds the answers. The insights that you can find in this app were from a former leader at the Disney Institute. This iPhone app reveals valuable and proven techniques that Disney uses at Walt Disney World's Magic Kingdom. You will definitely learn a thing or two about running a theme park from this app. It even contains countless examples throughout the park, and also provides you with more than 230 photos.
(Price: $4.99)
Disney Facts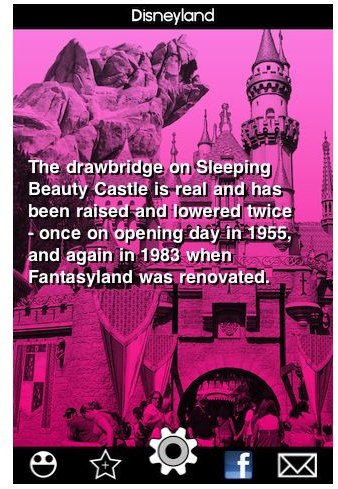 Aptly titled, this iPhone app will give you loads of Disney Facts and information with its comprehensive database of random Disney-related knowledge and statistics. Whether you are looking for information about Disneyland resorts in the U.S. or Paris, or the different Disney feature films, both classic and new - this app has it for you. You'll also love the app's bits and pieces of informative facts about PIXAR movies such as Toy Store, Finding Nemo and more. It includes information about the Disney studio as well. In this regard, the app is continously being updated. In fact, it already has info about the upcoming Cars 2 movie. In addition, if you want some words of wisdom from the man himself, you can check out some famous quotes from Walt Disney. There are more than 70 quotes from Walt Disney in this app and countless facts and figures about Walt Disney the company.
(Price: $2.99)
Talk Disney Community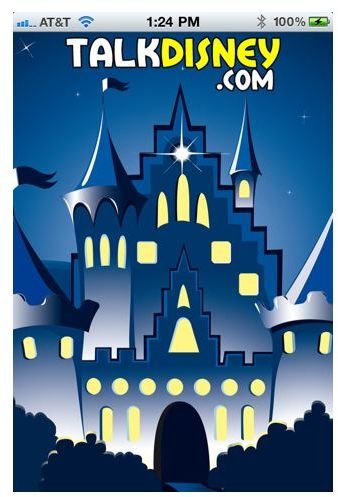 If you're really a Walt Disney fan, chances are you're already a member of the TalkDisney.com online community. If not, you might want to check out what this online community can provide you with. It's a social community of Disney fans where you can talk about anything related to Walt Disney. While you're at it, you might also want to get this iPhone app, as it serves as a mobile companion to the social community. I'm pretty sure that once you're a member of TalkDisney.com, you'll get hooked by the mountain of Disney information that you'll get from it. So much so that you will want to check out the site more and more often, even while you're on the go - and that's where this useful iPhone app comes in.
(Price: Free)
Disney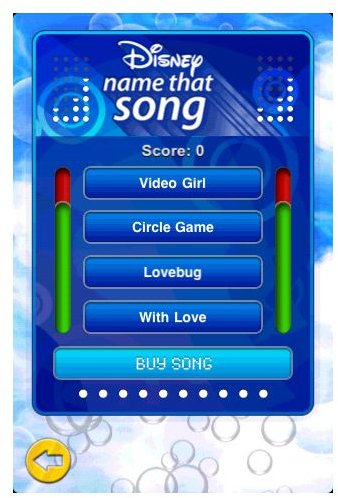 Ironically, this iPhone Disney app is receiving several not so nice remarks in the App Store. But this won't stop me from including the app on this list with the hope that the developers will take note of the comments from users and make some improvement to the app. Anyway, this Disney app for iPhone released by Walt Disney provides you with information about Disney characters, lets you play games, and offers several other nice time-wasters that will be appreciated by Disney fans. If you can bear the occasional crash and the slow loading of the app, it can be quite good. Otherwise you might want to wait until the next update of this app before downloading it. But hey, the app is free anyway.
(Price: Free)
So What's The Best App for Disney Fans?
So which of these apps is the best Disney app for iPhone? All of them are quite good and will definitely give you your Disney fix. What's good about these apps is that they are different from each other. If you're the trivia-kind of person, you'll either get Disney Facts or Mouse Trivia. If you're inspired by the way Walt Disney the corporation has been managed and you're into business you will definitely get Disney at Work. Or if you want to meet fellow Disney fans online, Talk Disney is the app for you. If you don't mind paying for the two paid apps, you might want to check them out as well. Both are well worthy of the money you'll spend for them, especially if you're a true blue Disney fan.
References