Great iPhone Arabic App Software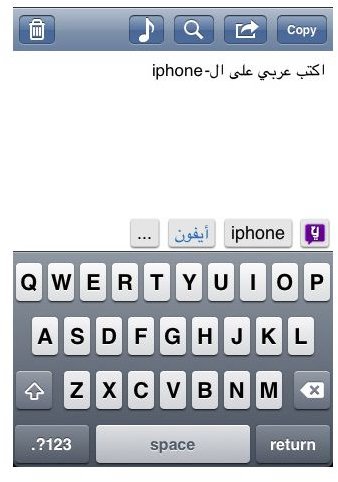 Yamli
Yamli is the first online web service in the wo
rld to provide an Arabic transliteration tool for iPhone users. This software enriches your iPhone's messaging application with a text editor that translates English letters and words into Arabic letters and words phonetically. The Arabic translation of your message can then be sent directly to others via SMS or email. This software makes it very easy for non-Arabic people to communicate with the Arabic world in just a few seconds. Also, as the service does not require any Internet connection, it can be used anytime, anywhere, offline. The app can be downloaded from the Apple App Store.
Hilton Time Out Abu Dhabi
This Hilton & Time Out app for Abu Dhabi is a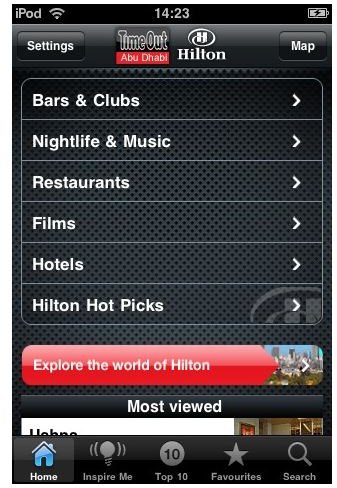 nother great option for iPhone users. It is an essential application for anyone visiting Abu Dhabi. This app contains a lot of information about Abu Dhabi such as maps, recent happenings like events, concerts, shopping places, restaurants, hotels, clubs, night life, film releases and everything else.
So if you have this application with you, planning a visit to Abu Dhabi can be easily and effectively managed, and the amount of money that tour guide would take stays safely in your pocket.
Al-Mawrid Al-Qareeb
It's a talking dictionary that can translat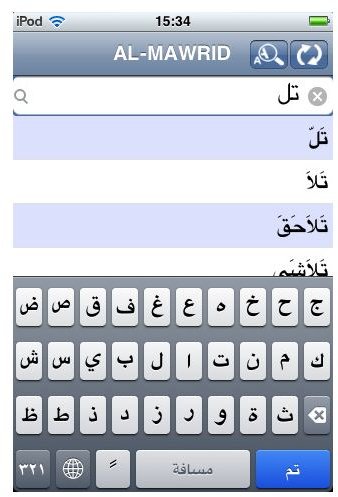 e from Arabic to English and English to Arabic, based on the oldest and largest publication house of Arabic books and other educational papers called the Dar El Ilm Lilmalayin. This translating dictionary is among the best selling iPhone applications, and it proves to be an easy and convenient way to learn the language. If this app is installed on your iPhone you will not find it hard staying in the Middle East. The app will help you any time that you need to translate a word or words into Arabic so you can communicate with an Arabic speaker. It could also prove useful for Arabic speakers looking to communicate in English.
Free Pocket Arabic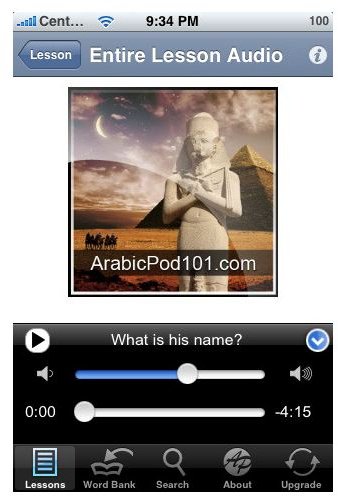 This is a cool iPhone application that enables iPhone users to download a new language lesson as soon as it's published. The application makes Arabic learning easy and fun. It helps you to learn Arabic listening, reading, and speaking skills as well as Arabic pronunciations, vocabulary, phrases and grammar with ease. Free Pocket Arabic is available for download from the Apple App Store. It is easy to use and completely free.
iQuran
This is a very useful application for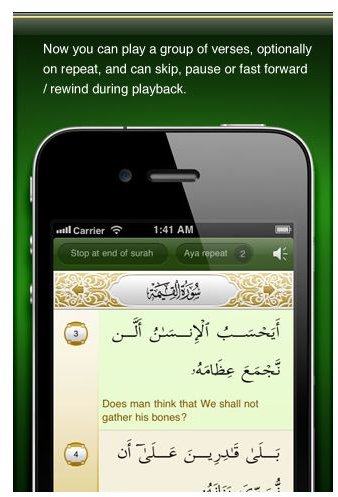 Muslims, especially when traveling to perform Hajj or Umrah in Saudi Arabia. This interactive Quran software includes the complete Quran in Arabic along with its translations into different languages including English, French, German, Spanish and Turkish. In this application users can navigate to different Quran surah and have verse by verse recitation with repetition of every Ayah for up to five times. The surah recitations have six different reading styles so you can choose the one you like the best. The application provides Hezb portion shortcuts as well as Juz shortcuts on its multicolumn screen for quick jumping to different sections of the Quran. This is a must have item for people who recite the Quran regularly or who are traveling to perform religious pilgrimage.
MyWords Arabic
This is a cool iPhone Arabic app, designed to help users le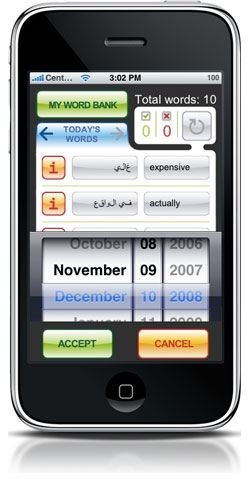 arn Arabic in a short span of time. With this application you can master at least ten Arabic words a day. With regular use of the app, you can build your vocabulary and improve your pronunciations of Arabic words. Each day the application presents ten new words along with their definitions, meanings and voice audio of a native Arabic speaker who pronounces the words again and again. Upon listening to the words you can pronounce them and record them in your own voice so that you can listen to your pronunciation and compare it with the announcer's voices, when you are offline. How well you are doing with Arabic learning can be determined by quizzing yourself on the preinstalled matching game. My Words Arabic is a fun filled and very easy to use application for anyone to use, without getting bored. To download My Words Arabic visit the Apple App Store.
References