Simply the Best iPhone Apps for Couples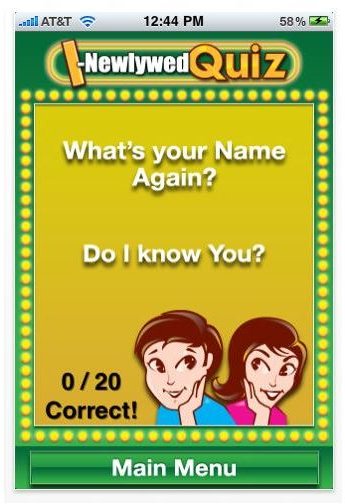 The I-Newlywed Quiz
I used to love watching the Newlywed game when I was younger, so when my husband and I were looking for a fun game to play together we decided to give it a try. For $0.99 you get six quizzes, three for the guys and three for the girls, with each quiz being twenty questions long. Some questions are fun like, when you first met him would you say you were more of a…, while other questions try to see how well you know your partner such as, what do you like to eat the most or what do you prefer to drink out of. This app is a great way to test your knowledge of your partner, you get to know them better while laughing and having fun.
The only downside to this app is the amount of categories. Once we finished the game we wanted to play more but we went through all of the categories, and then it seemed useless to save the app on my phone. Overall for $0.99 we had a lot of fun and it brought us closer together as a couple, so I would definitely give it a thumbs up.
Talk About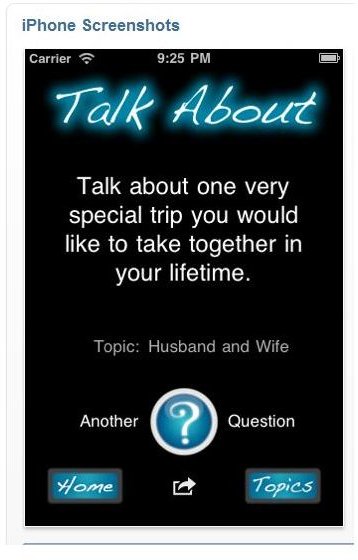 Have you ever had a lull in conversation and you think what can we possibly talk about? Well the Talk About app is a great catalyst to get you to talk about different things with the people you talk to everyday. How well do you really know your partner? There are over 450 conversation starters about topics from relationships to books and movies. You can choose a single topic to talk about or choose multiple topics.
I liked this app because it forced me to talk about things I normally wouldn't talk about. For only $0.99 It gives you the opportunity to really get to know the people you care about.
Him & Her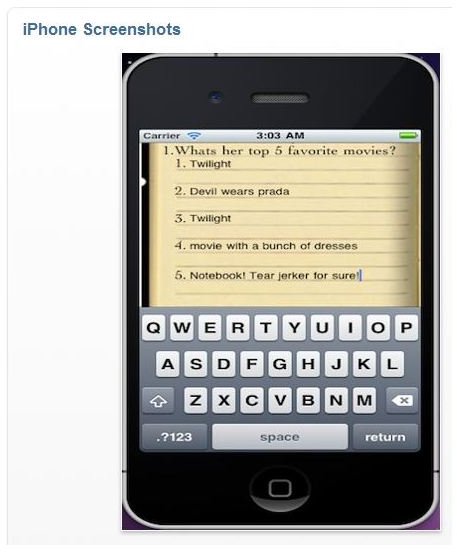 I found this app when I was searching for the newlywed app and after reading the reviews I had to try it. For $1.99 it has over 110 questions to answer about your significant other and every two weeks H & H will update their question list. This is what turned me on to buying the app, because after playing the newlywed app I had to remove it from my phone because we completed the game.
Some features of this app are 150 random facts, you can save your answers and look them up at a later date, and you tally up the scores at the end of the game to see who did better.
Overall this app was worth the $1.99 I spent because I can play this game again when they update the topics every two weeks.
Fun with Your Partner
I would give the best iPhone app for couples title to the I-Newlywed Quiz app. Even though there are only six categories, it was a lot of fun and well worth the $0.99. Every couple, whether just starting out or married for decades, can benefit from learning new things about their significant other.
References