Real Estate iPhone App Round Up: For House Hunters and Brokers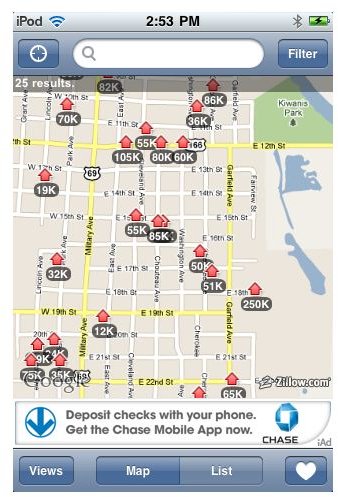 While the job of a real estate agent is important and useful, the truth is that, especially when you are beginning to look, it is far easier to not have to deal with someone you don't really know. The iPhone can help a lot with that because it is filled with apps to find houses, see pictures, understand prices and more. These apps won't eliminate the need for the agent, but they can help streamline their job and make buying a house both easier and more pleasant by allowing you to discover far more about the houses and neighborhoods you are looking at before you begin.
Zillow Real Estate Search (5 out of 5)
Having used other apps for quite some time finding Zillow was exciting because it brought several features in that I had not seen in the past. The first thing that I noticed was that it had the approximate price of the houses on the map. This saves a lot of time. Even more interesting it has estimated prices of other houses in the neighborhood. I don't know how this is determined, but having at least a rough idea of the value of the houses in the neighborhood is useful.
One of the very valuable features that Zillow has is that it tells you how long every house has been listed on Zillow and allows you to sort them that way. If you are spending a while looking for homes this can help you find something new that has just appeared on the market. There are ads in this app but it also gives you more information than many of the others and is probably the one you will come back to most often.
(Cost: Free)
Homes.com (4 out of 5)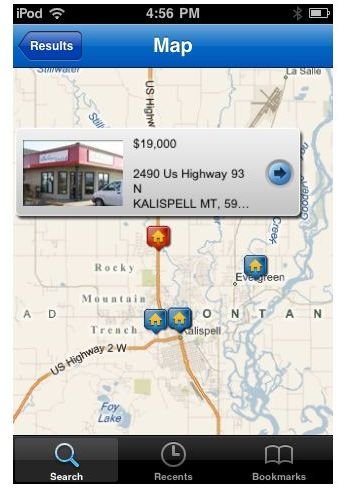 Homes.com is one of the biggest real estate websites around and the homes.com app is a great way to search for a house. This real estate iPhone app is largely designed to mirror the website but the advantage of being able to take it with you is important because it saves you having to look up or print out pages with addresses and locations. It also has the ability to search for apartments to rent or by MLS number so you can find what you want easily. Some users have had issues with this app crashing, but I never had that issue so cannot speak to it. So, while this won't have every listing, if you're going out house hunting for the day this can be useful for finding places to look at.
(Cost: Free)
Real Estate Search: Blue Atlas Broker Version 3 (3 out of 5)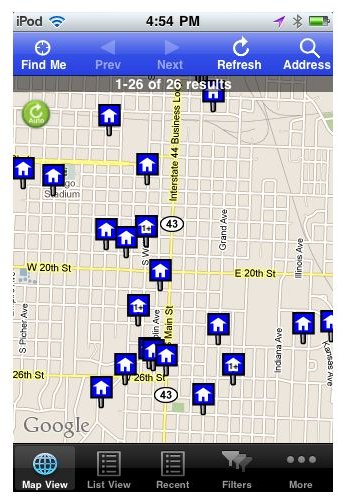 The problem with almost any location based app is that locations outside of large cities are often ignored. The Blue Atlas app overcomes that very well, and while it does not have every house listed it does show almost all of them. Since they are mapped it is easy to search an area you can go and look at them yourself, or visit the website and see descriptions and pictures of the house. If you prefer a list to the map you can sort by price, bedrooms, size or distance as well. There are some complaints that the houses are out of date. In my area that does not appear to be the case, but as the housing market is slow those I saw may simply have not yet sold. So, while for me this app worked great and was updated recently, the likelihood of it not working in other places makes it hard to recommend.
(Cost: Free)
Craigslist Housing Maps (3 out of 5)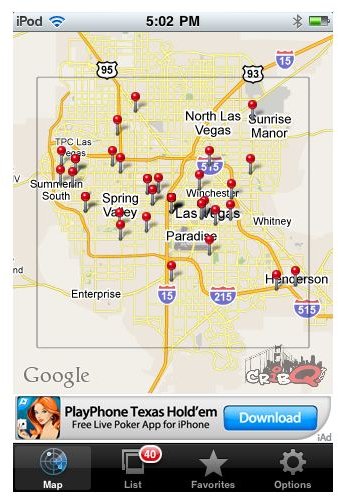 One of the major places that has changed the real estate market is Craigslist. While you can certainly find things without any apps, the Craigslist Housing Maps app can be useful. Using mostly large cities, and a limited number of them, this doesn't show as many houses as other real estate apps because it only uses information from Craigslist, but these are almost all houses that are not in other apps or houses that have owners who are desperate to sell. Either way this has the potential to find some very interesting results and is worth trying if it covers your area.
(Cost: Free)
HomeScore (3 out of 5)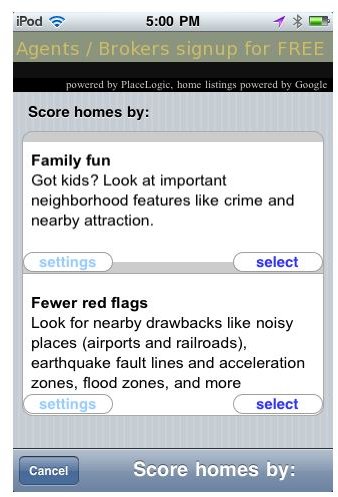 Finding the right house is often as much about finding the right neighborhood as the right house. HomeScore is one of the few apps that really focuses on the neighborhood. Looking at positives such as schools and entertainment as well as negatives such as airports, or loud traffic. The greatest weakness of this real estate iPhone app is that it won't have information about everywhere which keeps it a three star app. If it works in your area it's very useful so it is certainly worth checking to see if it has information on the area you are interested in. This is especially useful if you are moving some place you do not know well and want a better idea of the neighborhood you are moving into.
Mortgage Calculator (4 out of 5)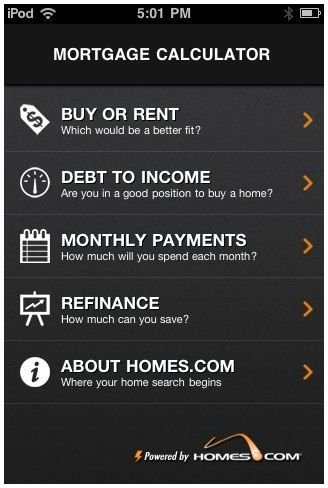 Whether trying to figure out your price range, if you should buy a house at all, or what your monthly payments would be, the Mortgage Calculator is a great simple app for making decisions. This is an app that anyone looking to buy a house should have on their phone when looking, that way when you hear the price you can figure out easily what the monthly payment would be and by having it on the iPhone you can make a decision quickly. This one also doesn't need Internet access to be useful, which is an advantage, and unlike several other mortgage calculators available this one is free.
(Cost: Free)
PMZ Mobile (3 out of 5)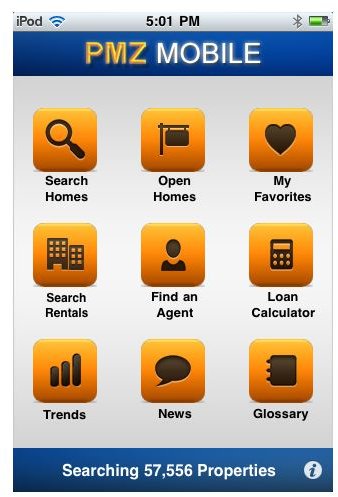 For the vast majority of people PMZ mobile is not going to be of very much use. It is an app for a large agency in central California, but it is still worth looking at because it does such a good job and there are many local apps that are similar. This app has trends, news, a glossary of real estate terms and an agent list with emails. If you're in central California then this is the app for you. Even if you aren't, it serves as a good reminder to check for a local real estate broker iPhone app for your area because it is always going to be the most useful for you. In addition the tools such as the loan calculator will be useful anywhere.
(Cost: Free)
References