The Best iPhone Recipe Apps for Any Food Lover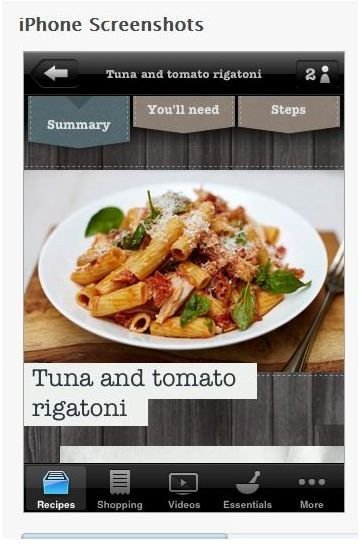 Jamie Oliver-20 Minute Meals
Downloading Jamie Oliver's 20 minute meals app is like having a chef right in your kitchen. This app provides gorgeous food photography, easy to follow step-by-step instructions, and a variety of delicious, mouth watering meals that you can make in 20 minutes.
This is one of the best apps I have ever tested. The recipes are quick and easy and the photos that accompany each step make it very easy to follow. Two of my favorite features of this app are the interactive shopping guide and the ability to toggle the portion size by the number of guests you have.
The only downside to this app is the $7.99 price tag and compared to other recipe apps this one only provides 60 recipes. Overall Jamie Oliver's 20 minute meals is still one of the best iPhone recipe apps mainly because of its step-by-step picture instructions.
Allrecipes.com Dinner Spinner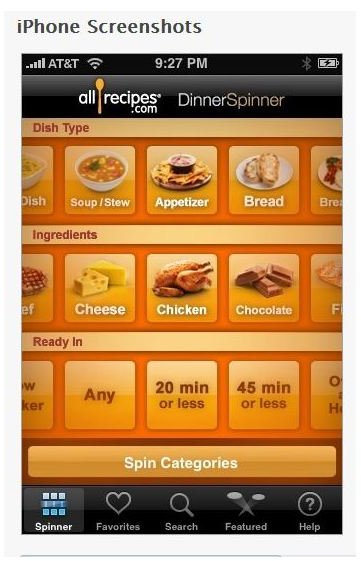 This is by far the most fun recipe app for the iPhone and it's free! There are over 40,000 recipes that let you search by dish type, ingredient, or desired time. If you're like most busy families and need an idea for dinner quick, all you have to do is hit the spin button and the app will come up with a random selection for you. This app is more about using the spinner to find a quick recipe than searching for individual dishes.
Martha's Everyday Food: Fresh & Easy Recipes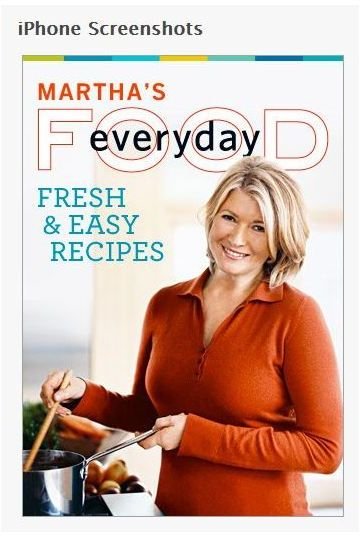 If you love reading Martha's everyday cookbooks and magazine then you will love this app even more for its convenience. You will find thousands of everyday recipes that are well organized into categories. The best features include: scanning barcodes instead of typing in the item, creating shopping lists and saving them, and the ability to save recipes and share them with your family and friends through Facebook and Twitter. The only downside to this app is the ads. If you are paying $3.99 it should be ad free.
170,000 + Recipes-Big Oven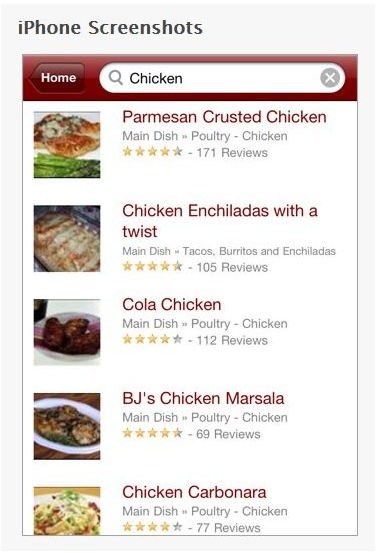 Big Oven is one of the top recipe apps for the iPhone with over 170,000 recipes to choose from. When you open the app you can choose from three categories: get ideas, my kitchen or more. In the background of the app are amazing photographs of the meals that you can create.
My favorite feature of this app is the leftovers category. They prompt you to enter three ingredients and they tell you what you can make with your leftovers. Another great feature is the reviews of each dish. Each meal has a section at the bottom of what people thought of it when they made it. This lets you know if the meal is worth trying out. For a free app, Big Oven definitely gives you a huge selection of recipes to choose from.
How to Cook Everything
Mark Brittman's award winning cookbook is now an app. For $4.99 you can get 2,000 recipes and 400 gorgeous food illustrations. After reading some customer reviews I had to try it out myself. I am not the best cook but I tried several of the recipes and loved the close-up tutorials. This app was easy to use and very convenient for looking up new recipes. I would definitely recommend this iPhone recipe app.
If you want to check out a free sampler of the app download the How to Cook Everything Essentials app. This will give you a taste of 100 of the basic essential recipes from Mark Brittman's complete app.
TasteBook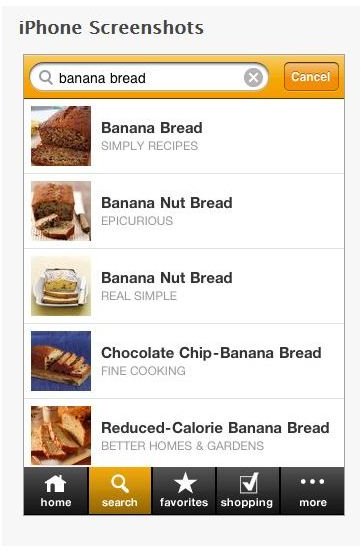 TasteBook.com now offers a convenient new way to access their recipes – with an iPhone app, also called TasteBook. This free app allows you to quickly access recipes from all of the top sites. Here is some of what's on tap: browse popular recipes and save them in your personal collection, share dinner ideas and create shopping lists, and my favorite, search for recipes by organized categories such as, light & healthy and create a meal with only 5 ingredients.
This is one of my favorite free recipe apps mainly because you can tap on an ingredient and it will automatically add it to your shopping list. This feature is what sold me.
SparkRecipes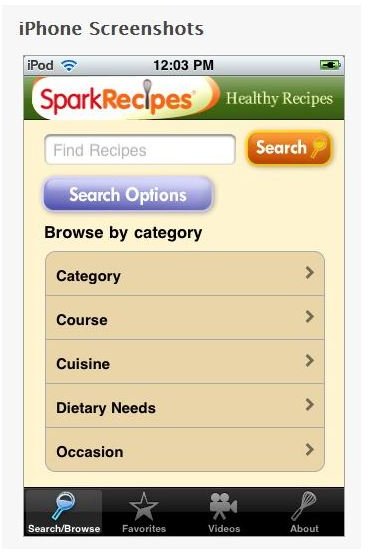 This free iPhone recipe application is for those of you that like to maintain a healthy lifestyle. Each recipe has a nutrition section, and you can browse the app by categories such as, low fat, low carb, gluten free and vegan. Their are over 200,000 user-submitted recipes that you can choose from.
One of the main features of this app is the instructional videos, unfortunately it redirects you to a YouTube video and you have to go to another page to get the ingredients and directions for the recipe. I would have preferred it if the video just played from the app, and the instructions and directions were on one page.
This app may not have the best looking graphics, but for free you can get a variety of recipes, videos and conversion tools and timers to help you create a fantastic meal.
The Betty Crocker Mobile Cookbook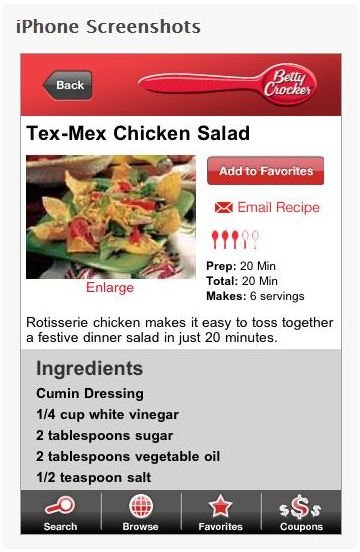 The world famous Betty Crocker Cookbook has been a staple in my home since I was a kid. When I got married it was the first cookbook that my mother bought for me. Since I am not the best cook in the house, I felt a little intimidated when I first opened the book. Now that Betty Crocker has a convenient iPhone recipe app I had to give it a try.
This free app is simple and very easy to use. It has all of the options that a great recipe app should have, a huge variety of recipes with categories to choose from, beautiful food photography and step-by-step instructions that are easy to follow. I would recommend this app to anyone who is learning to cook mainly because of the easy to follow, delicious recipes.
Epicurious Recipes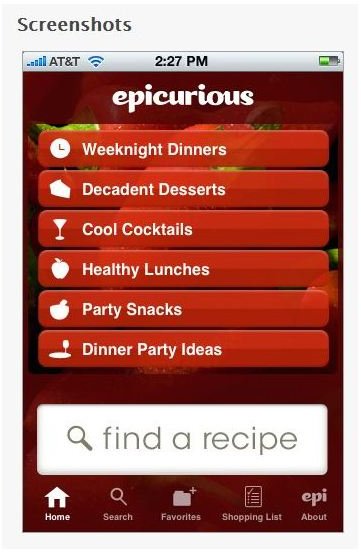 I came across this app when I was searching for party snacks and cool cocktails for a dinner party. This app provided everything I was looking for with an added bonus, it was free! From first glance I liked the sleek look and organized categories. Once I used the app, I was a little disappointed with the advertising and how it kept freezing. Overall for a free recipe app I would use it again for the 30,000 professionally created recipes from the top chefs around the world.
Mario Batali Cooks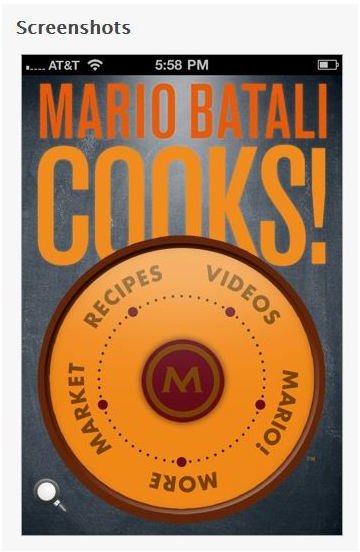 This is one of the most expensive iPhone recipe apps retailing for $9.99, but I feel it was worth mentioning. In addition to its sleek interface and cool features this app is by far one of the best recipe apps out there.
I am certain that once you download this app you will enjoy every feature Mario Batali has to offer. One of my favorite features is the step-by-step instructional video. The best way to view the video is by rotating your iPhone to view it in landscape mode, otherwise it is hard to see. Other exceptional features include, built in timer and Facebook integration. My favorite feature is the food and wine pairings, I never know which wine goes with which meal. I would recommend this application to anyone who loves to cook Italian recipes.
Conclusion
My top pick for the best recipe iPhone app is a toss up between Jamie Oliver's 20 Minute Meals and Mario Batali Cooks. Both apps have all of the features that I was looking for, sleek graphics, a variety of recipes and step-by-step easy instructions. I would recommend downloading both applications. The bottom line is find a recipe app that suits your needs. Any of these 10 recipe apps will be able to help you create a delicious meal through the convenience of your iPhone.
References
Allrecipes.com -https://itunes.apple.com/us/app/allrecipes-com-dinner-spinner/id299515267?mt=8&ign-mpt=uo%3D4
170,000 Recipes-BigOven -https://itunes.apple.com/us/app/170-000-recipes-grocery-bigoven/id294363034?mt=8&ign-mpt=uo%3D4
Epicurious Recipes -https://itunes.apple.com/us/app/epicurious-recipes-shopping/id312101965?mt=8&ign-mpt=uo%3D4
How to Cook Everythin•g -https://itunes.apple.com/us/app/how-to-cook-everything/id367690249?mt=8&ign-mpt=uo%3D4
Jamie Oliver's 20 Minute Meals -https://itunes.apple.com/us/app/20-minute-meals-jamie-oliver/id318926433?mt=8&ign-mpt=uo%3D4
Mario Batali Cooks - https://itunes.apple.com/us/app/mario-batali-cooks/id391029380?mt=8&ign-mpt=uo%3D4#
Martha's Everyday Food -https://itunes.apple.com/us/app/marthas-everyday-food-fresh/id350213975?mt=8&ign-mpt=uo%3D4
TasteBook -https://itunes.apple.com/us/app/best-recipe-finder-tastebook/id397977072
The Betty Crocker Mobile Cookbook -https://itunes.apple.com/us/app/the-betty-crocker-mobile-cookbook/id304132604?mt=8
SparkRecipes -https://itunes.apple.com/us/app/healthy-recipes-by-sparkrecipes/id341637587?mt=8&ign-mpt=uo%3D4
All screenshots remain the property of the respected developers.