Stay On Track With the Best UK Atlas Apps for iPhone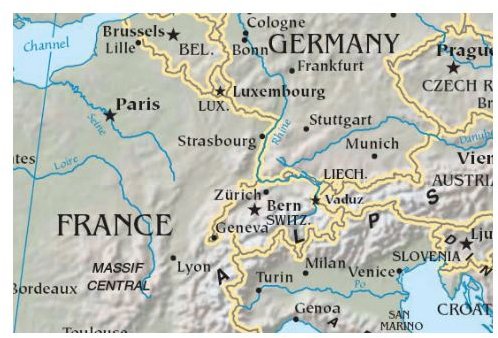 The Many Uses of Atlases
Atlas has quite a few meanings in today's day and age. From representing a type of architecture to being the name of a Greek god, the word "Atlas" is perhaps one that everyone knows. The most helpful iteration of the term, however, comes from the cartographer's definition – a collection of maps – and thanks to Apple's iPhone, it has taken on a whole new meaning in a set of very helpful applications that you can download straight to your mobile device without breaking the bank in the process.
"Pocket World Maps"
If you're more of the "reference" type and less of the "getting lost driving home from work" type, you may appreciate "Pocket World Maps". The idea behind this app is not something that would help with navigation or when you get lost, rather it was built for times when you need to know the location of a specific country or city. While it doesn't allow you to zoom down to street level like some apps do, it's very cheap ($0.99) and can be used without a constant data connection, making it a quick and easy way to solve disputes or bring up some past knowledge once forgotten.
"World Atlas"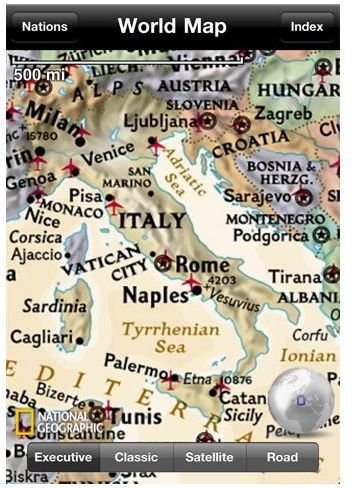 National Geographic has been the leader in world studies and educational software for years and years, and they've always managed to stay on top of all the latest technology, providing experiences that only they can muster. Their iPhone app, "World Atlas", while not the most versatile app in the world, it does take the idea of "Pocket World Maps" to a new level, offering users not only the ability to zoom in and view cities and countries, but also overlay different types of maps like "Executive", "Road", and Satellite".
Not just great when you're in the UK, you can click on countries and cities to get a full overview of things like population, government type, and size; making this app the most versatile atlas you'll ever need to bring with you.
"Google Earth"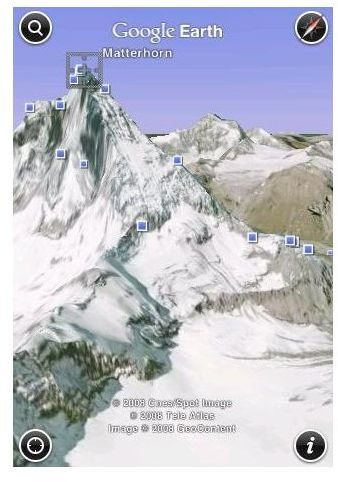 If you follow the golden rule of app hunting (if it's made by Google, download it), then you probably already have "Google Earth" for iPhone, but case you don't, here's the run down: It's free, it does everything that "World Atlas" does, plus it provides views all the way down to street level, allows you to type in two locations and get directions from one to the other, shows 3D views of the world, and did I mention it's free? The features list of "Google Earth" goes on and on, but if there's one thing that you need to know, it's simply that it hands over fist blows every other one of these apps straight out of the water.
Whether you're in the UK, the rest of Europe, America, Africa, or wherever, this app will do everything want it to, and more.
"AA Road Atlas"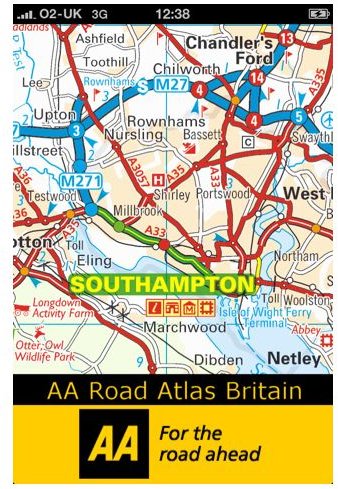 If you're looking for a specific UK atlas app (iPhone), then look no further than "AA Road Atlas". Developed by the Automobile Association Limited, "AA Road Atlas" is the endgame for people looking to get around the United Kingdom without having the spend money on maps of all the various countries, roads, cities, towns, and backways that the land has to offer. Not only will the app run you but £1.79, you also don't need a data connection to use it because all of the maps are built right into it. Talk about convenient and cheap!
References
All information and images are either prior author knowledge from use of the mentioned applications, or were found on each app's respective download pages, located directly below.