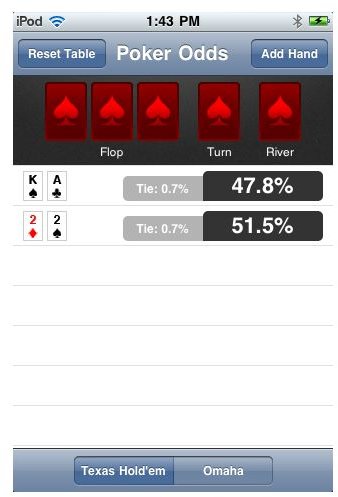 Due to gambling laws in the USA getting apps which allow you to actually play iPhone poker, or any other game for money is difficult or even impossible on the iPhone, but that does not mean there are not a lot of very useful gambling apps that can help you win in real life games or simply have some fun. If you want to gamble with real money almost all the sites now have iPhone friendly mobile websites which do not require approval, but play largely like apps.
Poker Odds (4 out of 5)
There are a few programs that can help you learn the odds of winning hands in poker and any of them can be useful because if you want to make money in poker you have to know the odds. The advantage that this application has over the others is that it is free. This is countered in some ways by the fact that there is some variance in the odds that it gives, even on identical hands. In general this variance is small and the application will still give you a general idea of the odds, so if you want to understand poker better then pick up this iPhone app.
(Cost: Free)
Dogs Playing Poker (4 out of 5)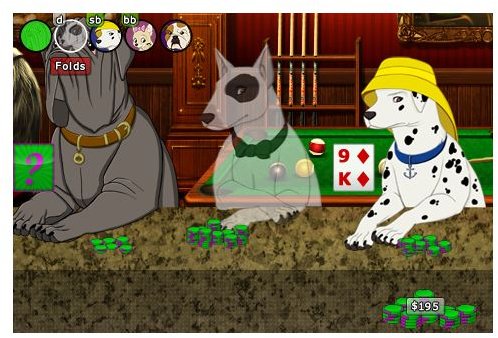 There are many, many, many, Texas hold'em game apps on the iPhone and in general most of them are indistinguishable from each other. That isn't to say that they are not good, but the design is often boring and the players have no real personality. Dog's Playing Poker has far more personality in both the way the characters look and how they play. The interface of this app could be better, but if you just want to practice playing Texas Hold'em try this game.
(Cost: $1.99)
Poker Journal (5 out of 5)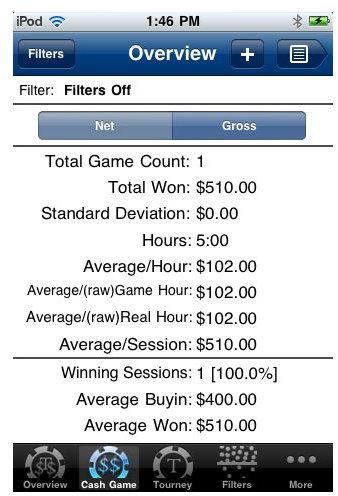 If you play a lot of poker and want to know how you are doing then it is a good idea to keep track of how much money you are spending and how much time you are putting in. You could even calculate how much you make per hour. This is a great bookkeeping app for anyone who plays in a lot of poker tournaments and cash games. The free version allows you a very limited number of games, but both the free and paid versions give you an excellent way to keep track of your money, so if you're playing enough poker that the 13 dollar price tag doesn't scare you, then try this app.
Casino Finder Lite (3 out of 5)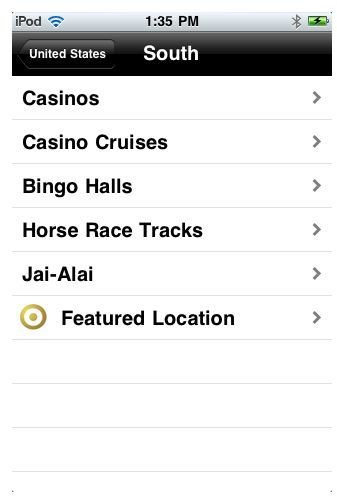 If you enjoy gambling and traveling, or simply want to check to see what casinos are in your area then Casino Finder is the best application to use. This iPhone gambling app can help you to find casinos and will show you the distance from your location. It can also be used to find bingo halls and horse tracks. For most people this is going to be a one time use app and it doesn't have every casino listed, but it is also free and if you travel this could be very useful if you want to play poker with real people.
(Cost: Free)
Sportsbook (4 out of 5)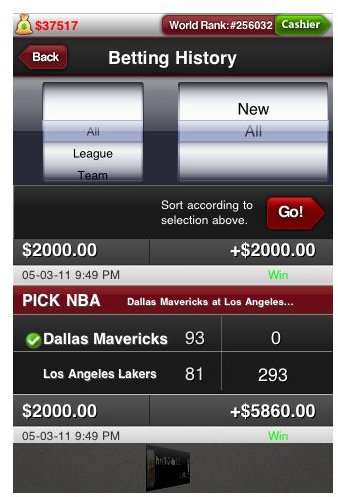 If you enjoy the sport of gambling more than the money then Sportsbook is the perfect app for you. This app allows you to bet on a wide variety of games including hockey, baseball, basketball and football in a worldwide game using virtual currency. It uses the Las Vegas odds so you could also find out if you're good at betting before you spend any real money. There are a few of these apps, each giving you a different amount of money, but all connected to the same worldwide gambling game.
(Cost: Free)
iOdds (3 out of 5)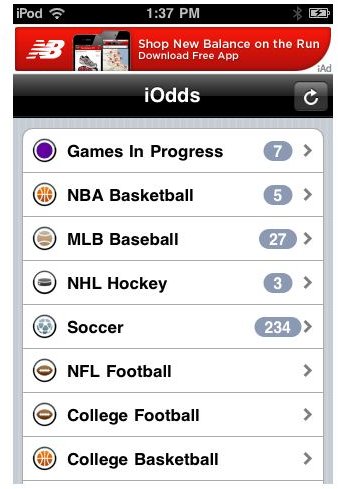 If you want to bet one of the things you need to know are the odds of the game. iOdds allows you to see a large number of different sports odds. Unlike other apps this doesn't allow for betting with virtual currencies, but it does have a wide variety of choices and better information. This is fun to look at and could be useful if you are engaged in betting among friends or co-workers as well. If you gamble or just like to know what is expected to happen in a game then this is a worthwhile app for you. The only real flaw of this app is that it does have video ads and banner ads so if that bothers you then skip it.
(Cost: Free)
References