Top 5 Free iPhone Calling Apps: Best Options to Stay in Touch for Free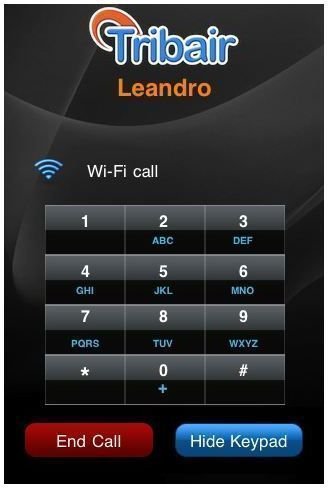 Most of us are familiar with Skype for making free calls, but there are other great options you can get on your iPhone to keep you in touch for free too. Some of these free iPhone calling apps require your friends to download the app so you can benefit from the freebies, but others you can use to contact friends on other mobiles, or even at home.
Tribair
Tribair is a well rounded calling app for your iPhone and your friends don't have to download it for you to enjoy many of the benefits. If your friends do have the app then your calls will be free, if they don't you still benefit from much cheaper calling rates. You can send images and videos, as well as the usual voice and text messages, but no direct video calling.
There are a couple of other nifty features that make Tribair stand out from the rest too, like a Wi-Fi hotspots map. You can also use Tribair in any country you happen to be in – none are blocked.
Sometimes getting a good reception can be tricky, but that's something most of us are used to anyway.
EasyTalk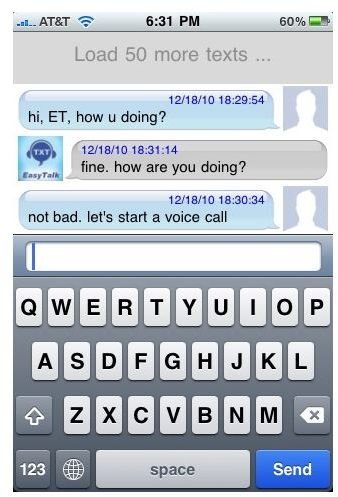 EasyTalk means you can benefit from free international calls and text messages just by using this app – your friends will also need to have the app installed for it to work. Signing up just takes a Facebook account; but none of your information is used for any other purpose than to get you connected.
You can build your contact list using the contacts on your iPhone or from your friends list on Facebook. This one supports Bluetooth, unlike some other calling apps. There is a slight delay when using it for voice calls, but nothing that should put you off and actually the sound quality is pretty good.
Skype
The major advantage of using the free Skype calling app on your iPhone is that it is such a widely recognized name. In itself this isn't a reason to go and download the app, but it's highly likely that most people you know will already have a Skype account. You can use Skype from your iPhone to speak to your friends and family in the same way if they are using Skype on their computer at home. So not only do your friends not need an iPhone to use this app, they don't even need a mobile phone. They don't necessarily need Skype installed on their PC either; you can still call them using Skype and will benefit from low call charges, but not free ones.
You get the usual high quality Skype functionality on this app as you would at home, with instant messaging, voice calls and video calls.
It lacks Bluetooth support, but other than that there is little to grumble about.
Viber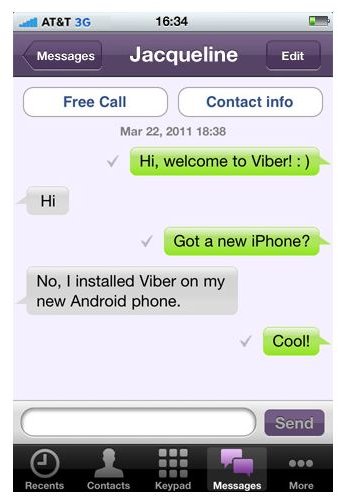 Not only is Viber one of the best free iPhone calling apps out there, unusually for a free app, it doesn't include any ads. Your friends will need to install Viber for you to enjoy free calls and text messages, but you don't have to remember any usernames; your ID is your phone number.
Users have reported high call quality when using Viber; often better than using the regular call function. Viber has now come to the Android platform too, so you aren't restricted to just contacting your iPhone friends.
It's recommended you keep Viber running in the background, but this won't drain your battery. You can't send videos and images, but that is the only downside to this otherwise solid app.
Nimbuzz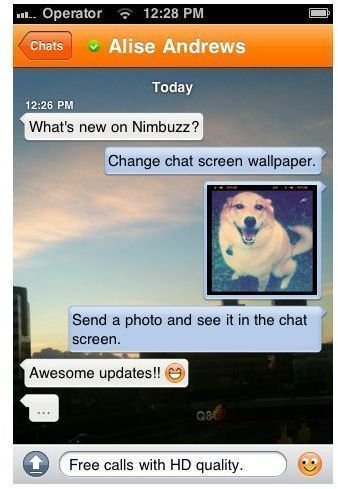 Nimbuzz offers most things you could want in a free calling app, including one of its major advantages – HD voice calls. Another huge plus for Nimbuzz is that all the major smartphones are covered, so you can stay in touch with your friends no matter which phone they have. To contact other mobiles and landlines is easy too, and although it's not completely free, you can benefit from low cost calls.
There is no video call function, but you can add images and videos to your chats. Push notifications keep you updated on new messages even when you don't have Nimbuzz running.
Other than the lack of video call feature, this app is hard to beat.
Conclusion
These free calling apps for iPhone have all been picked because they are high quality so you are getting a great app no matter which you choose. If video calls are important to you then Skype is tough to beat, otherwise the all round functionality of Nimbuzz and the high quality of sound make it a top choice.
References
Screenshots remain copyright of the respective developers.