What's the Best Chinese Horoscope iPhone App?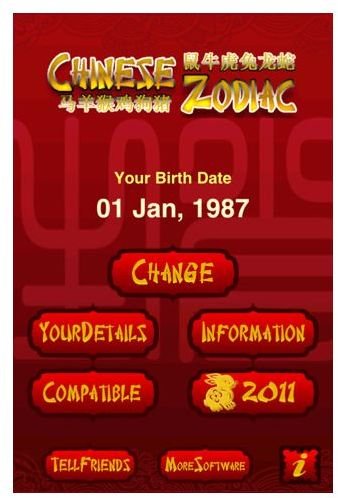 Using the iPhone for Chinese Horoscopes
Most people know the horoscope as the astrological predictions made by people who follow the movement of stars behind the sun. While that is partially true, it is also true that many different cultures have horoscopes based on different aspects of life and not just the stars. One of the more popular horoscopes is the predictions made by the Chinese Zodiac, the calendar based on the year you were born, among other things. These Chinese horoscope iPhone apps follow the Chinese Zodiac to give you predictions as to how your day, week, and life may end up going.
Zodiac - The App for Predictions Based on the Zodiac
Everyone knows what the Zodiac is, and everyone has a Zodiac animal that they may or may not follow. What a lot of people don't know is that these animals are used for more than just yearly celebrations, they are in fact part of an elaborate series of beliefs and customs that date back to ancient China
, and these beliefs and customs are used to make predictions just like the astrological horoscope.
This sort of Chinese horoscope iPhone app has a slew of features, and it gives you a reading on essentially everything that can be predicted: Love, life, happiness, wealth, lucky numbers, lucky dates - you name it, and it'll give you a prediction about it. The app costs $2.99, making it one of the pricier horoscope apps on the app store, but with everything it does, I'd be surprised if people can't put down just $3 for something like this.
Appzilla for iPhone, might be another option for those who are interested in checking out their astrological horoscope.
Chinese Horoscope - The Cheaper, Less Dense Chinese Horoscope App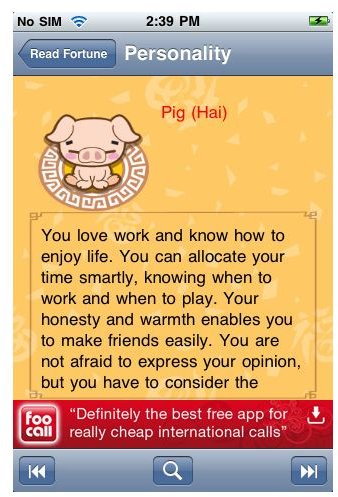 'Chinese Horoscope' is an app that uses the teachings and wisdom of a Master Edwin Ma - a professional and experienced Feng Shui & Astrology Consultant in Hong Kong. Now, I have no idea if Master Edwin Ma is highly praised, or even if he knows what he's doing at all, but I do know one thing: This app is free. That in itself will be enough for many people to go out and buy it, but I urge you to read on.
This app, while free, does not cover everything that 'Zodiac' does. All it gives you are short daily predictions that automatically get sent to your phone, a quick personality analysis, and the ability to connect to Facebook. Of course, while the features are minimal, you aren't paying for them, and I'm sure that many people out there will be looking for a free Chinese horoscope iPhone app.
Only Two Apps? Why Not More?
No matter how much research I do into the subject, there are really and truly only two Chinese horoscope apps that are actually worth looking into on the App store. For whatever reason, the astrological predictions made by other methods seem to be more highly respected and authorized than the Chinese equivalent, and for that reason I cannot list any more apps than these two.
I hope these two will suit your particular needs well, but if they do not, feel free to leave a comment and let me know. In the meantime, why not consult our article on the top five iPhone astrology chart apps to keep you entertained.
References
All information was gathered from either author knowledge, usage of the apps, or gathered from the app store entries on the products.