The Best iPhone Lacrosse Apps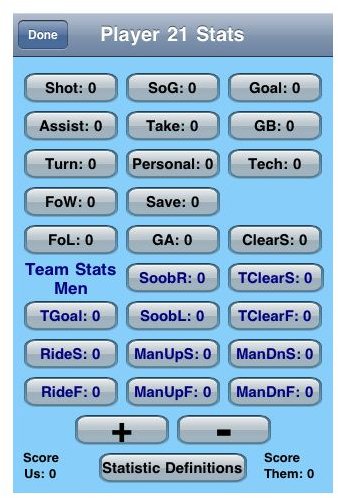 Lacrosse Lite
Keep track of the players on your favorite team with Lacrosse Lite. This iPhone lacrosse app lets you record individual player stats and team stats. Build your roster by filling out the player slots and assigning individual stats to players as they earn them during a game. The date, time, and location of a match can be set with the GPS feature, and player profiles can be enhanced with photos. The Lacrosse Lite app is available at the iTunes App Store for $0.99.
Laxtopia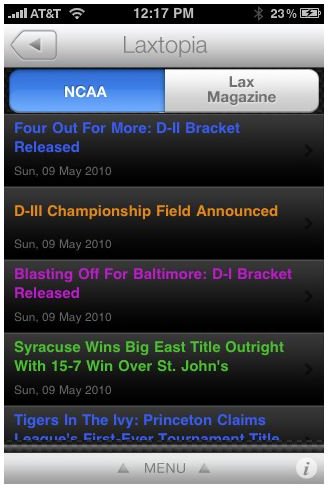 Laxtopia is an app designed for the global lacrosse community. There are four sections including scores, camps, lacrosse life, and gear. You can view scores and news from several leagues and post your attendance at camps. The app features a marketplace where you can buy, sell, or trade lacrosse gear, and it features news feeds from various lacrosse networks. You can take part in discussions by posting comments and share content via social network sites. The free Laxtopia app is available at the iTunes App Store.
Lacrosse Scoreboard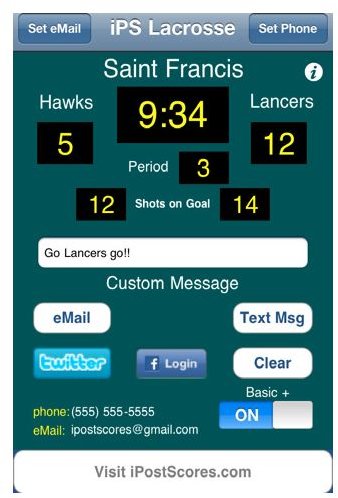 Record the score of a lacrosse match and upload it quickly to the web with Lacrosse Scoreboard. This iPhone lacrosse app features an easy to use scoring interface. Simply touch the screen to increase the score total or shots on goal. The app also records the time and period of the game. Send the game scores to friends through SMS or e-mail. Post the scores online with Twitter or Facebook. The free Lacrosse Scoreboard is available at the iTunes App Store.
Lacrosse Glossary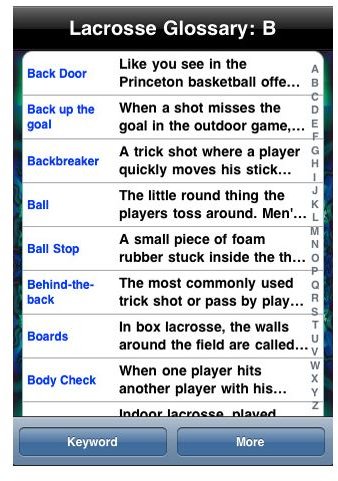 A handy reference guide for all lacrosse fans is the Lacrosse Glossary iPhone app. It contains all the terms you need to know. You'll be able to discuss the game with avid followers of the sport with this app. The glossary is alphabetized, which makes finding a word easy. There is a search function which looks up a specific keyword quickly. The Lacrosse Glossary app is available at the iTunes App Store for $0.99.
iPlayBook Lacrosse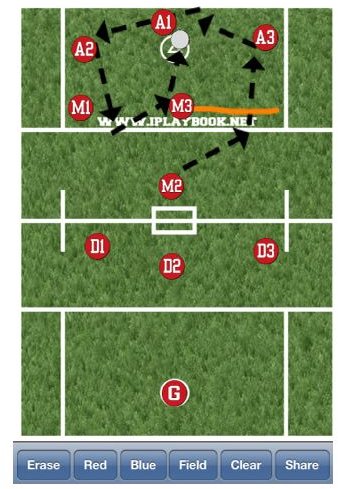 Another great lacrosse app for the iPhone is iPlayBook Lacrosse. It is a virtual playbook that takes advantage of the iPhone's touchscreen. Draw plays and outline formations with your finger. Move player icons to different positions by dragging them across the screen. The app contains several set plays including face off, offensive formation, and defensive formation. You can saved the scripted plays and e-mail them. The iPlayBook Lacrosse app is available at the iTunes App Store for $2.99.
Lacrosse fans will appreciate these apps. Whether you follow professional lacrosse or play in an amateur league, there is an app for you. If you're on a budget, consider downloading the free apps mentioned above. Coaches may want to splurge a little and download the iPlayBook Lacrosse app. Its numerous set plays and touchscreen playbook give it an edge over other apps. For related apps, read the top sports apps for iPhone.
References