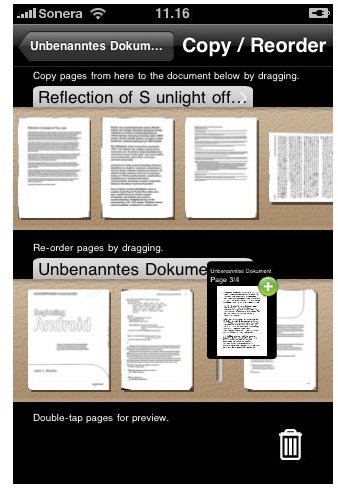 With the many uses of the iPhone, one that definitely impacts the business community is the ability to recognize images and text from documents and photos taken using the iPhone camera. Using OCR (optical character recognition) technology, app developers have come up with some useful iPhone OCR apps that exhibit this great potential use of the iPhone.
DocScanner
The first app on our list of top iPhone OCR apps is DocScanner. This app can turn a photo of a document you captured using your iPhone into a PDF. It's a great app to use if you want to quickly turn a paper document into digitized format for editing later on. You can use it to take photos of documents, invoices, whiteboards, receipts and more. You'll find it amazing that this app allows your iPhone to work like a regular flatbed scanner. Thanks to the use of image processing algorithms, documents you've scanned are automatically recognized within the view finder in real time. A nice feature of this app is its ability to scan not only paper documents but even meeting notes written on a whiteboard or even your notes from notebooks. (Price: $1.99)
Perfect OCR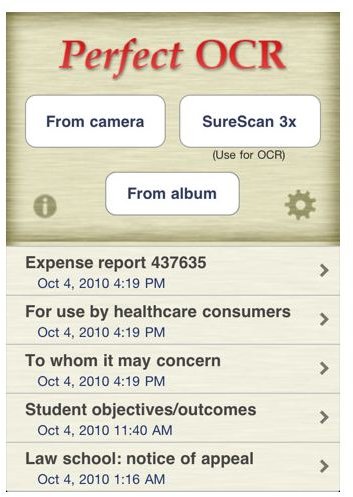 Using advanced image-processing algorithms, this iPhone OCR app eliminates uneven lighting and shadows, as well as improving the contrast, before giving you the clearest and most readable scanned outputs. To make it even better, the app uses SureScan which delivers sharper images minus the jitter or smear produced by the iPhone's camera. One nice feature of this app is its "e-mail to myself" option which allows you to send documents to any e-mail address you specify. You can even upload the scanned documents to Evernote or Box.net. (Price: $3.99)
Image to Search - OCR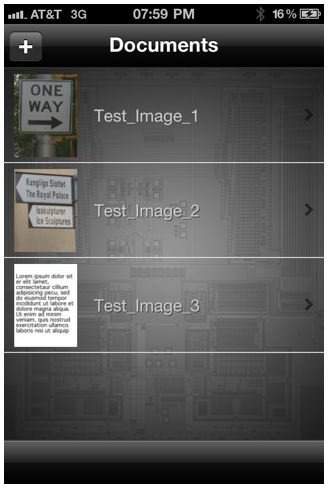 This iPhone app is quite unique among the iPhone OCR apps we have listed for several reasons. First, after taking a photo, the app will let you search the contents of the photo using Google, Yahoo, Bing, YouTube and Wikipedia search engines. Another unique feature is the app's text to speech capabilities. After taking a photo of anything, the app will read out loud the text content of the said photo. The app uses OCR to recognize images and processes accordingly to read the text it recognizes out loud. (Price: $0.99)
ocrNow!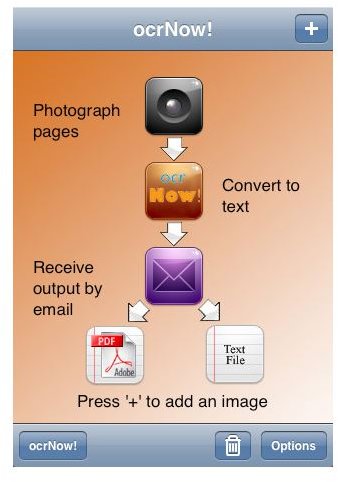 If you're familiar with the ABBYY FineReader Engine, that's what this app uses for converting images to text. So you can have the documents scanned and saved, either as plain text, rich text or in PDF format. As for the source of your documents, the app will accurately recognize even magazine articles and of course other important documents. Another feature of this app that you'll appreciate even more is the fact that it takes only a few minutes to do the OCR conversion. (Price: $13.99)
finarX Scan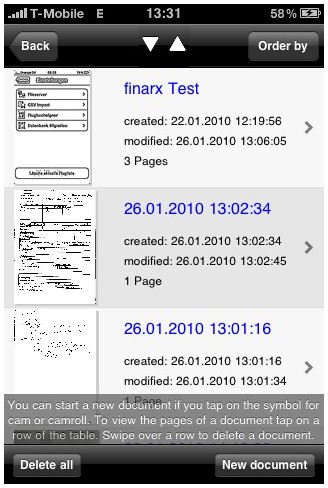 The last app in our iPhone OCR apps list is also quite unique for the simple reason that it not only captures your images but also cleans them up before giving you the final output. The app also lets you improve the colors or even make the background of the scanned notes or images whiter to make the notes stand out. Another nice feature is the ability to download the scanned image to your computer, upload it to Google Docs or even e-mail it to someone. Of course, it also allows you to convert the picture you've taken into a PDF. (Price: $2.99)
There you go folks. Which of these iPhone OCR apps do you think really delivers the goods? It seems all of them are really useful. So it's a matter of choosing which one answers your needs and preferences. As for my choice? Both finarX Scan and Perfect OCR get our nod. But the fact that we've listed the other three apps means they are useful as well.
References