Top 5 Best iPhone Food Diary Apps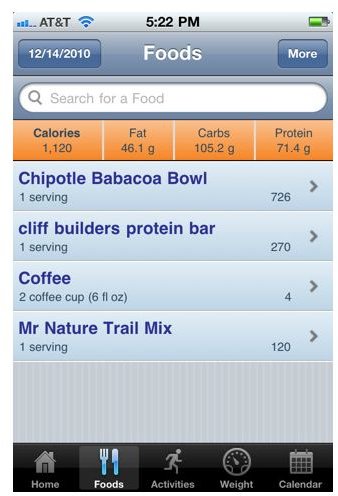 FitDay Mobile
The FitDay mobile app, is a great app for keeping track of your food intake on the go. There are loads of foods already on the system that you can choose from, with detailed nutrition information for each, such as the usual calories and fat, but there are custom food options too if your food isn't in the database. This isn't just a great iPhone app for dieters though, as it also records the carbs and protein in foods too, so is ideal if you are training, especially leading up to a match, or marathon, making sure your preparation is all it could be. You need to sign up for a free FitDay account, and you can then sync your details between your iPhone and the FitDay website.
The only downside to this app is that you have to sign-in each time, rather than it remembering your details which can be a bit of a pain, but not too much of a problem.
Edibles - Food Journal
Like most of the iPhone food diary apps out there, Edibles is an app that is designed specifically for dieters. It concentrates pretty much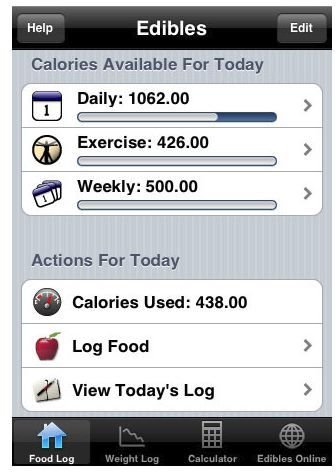 exclusively on calories, which can be a good or a bad thing depending on your needs. The upside of this is that the UI is much quicker and not cluttered with unnecessary details on sodium etc., if that isn't relevant to you. Not only will it keep track of your food intake and the number of calories, it also has the facility to record your exercise too. So you can adjust your food intake, taking into account what exercise you have done that day. There are also some inspirational quotes to help dieters on their road to weight loss. This iPhone app is super easy to use, if a bit limited.
Food Allergy Detective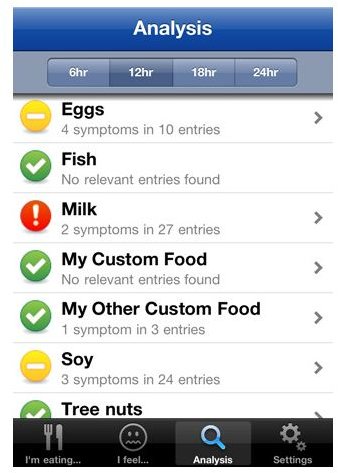 Not everyone wants to use a food diary app as an assistant to lose weight, which is where the Food Allergy Detective comes in. Food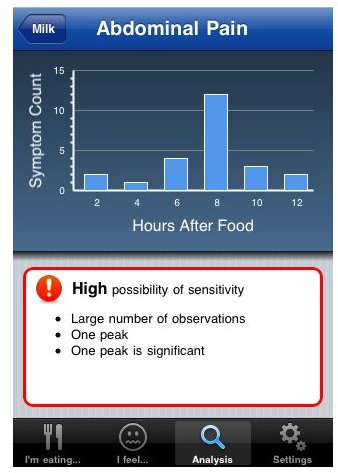 allergies are on the increase; allergy tests can be expensive and can't cover all foods, so more and more doctors are recommending the use of a food diary to see what foods you could be allergic or sensitive to. The app is ridiculously easy to use; you just need to tap on what you've eaten and then later on tap if you've had any symptoms. It can track symptoms even hours afterwards, and these can be anything from abdominal pain to headaches. You don't even need to put in what is in the foods you are eating as the app recognizes what ingredients are present and logs it all. You then have access to a graph which will grade your reactions from mild to serious. The app analyzes all the information to see if any patterns emerge to more fully recognize any food sensitivity or allergies.
Calorie Counter & Diet Tracker by MyFitnessPal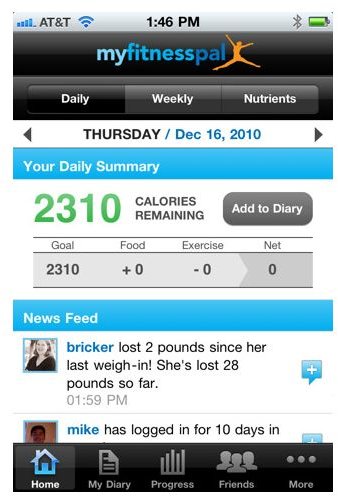 Seen by many as the ultimate in dieting and food journal apps, is the Calorie Counter & Diet Tracker by MyFitnessPal. It certainly has the largest food database of any food diary app on the iPhone, having 750,000 entries, so pretty much anything you can think of will be in there (even fast foods), making using the app very easy. But there are custom options too, even allowing you store entire recipes and related information. You have access to all the nutritional information you need when you want to lose weight, including calories, fat, protein, carbs, sugar, fiber, and cholesterol. Another big advantage of this app is that it works offline too, and you can backup your info to the website, so you needn't worry about losing any info.
You can track exercise and use set exercise programs on the app to help you lose weight, as well as set and track personal goals.
It's hard to find anything wrong with this app, as users rave about how much weight they've lost tracking their food intake this way, and doctors are even starting to recommend it.
Calorie Counter by ShapeUp Club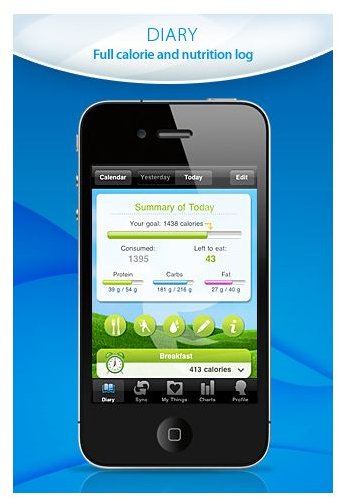 If you are looking for an easy to use food diary app for iPhone, then meet your ideal partner. Extremely user-friendly, this app does exactly what you want it to. Upon starting the app for the first time you'll need to select your preferences in regard to imperial or metric etc. as well as some personal details on height and weight. You then set goals to achieve, and throughout the day as you log your food intake and exercise taken, a status bar along the top will show how well you are doing in terms of reaching your daily goal. You can also take a quick look to see how many more calories you can consume in that day, so you can make more informed food and drink choices. Calories are obviously given the highest priority but it also tracks carbs, fat and protein.
Not a fancy food diary app for your iPhone, but it's easy to use and definitely works extremely well.
Conclusion
There aren't many food allergy diary apps out there, but if that is what you want from a food diary then Food Allergy Detective is definitely the best. For an all round diary app for diet and exercise on iPhone, you can't go wrong with the comprehensive Calorie Counter & Diet Tracker by MyFitnessPal.
References
iTunes App Store, https://itunes.apple.com/gb/genre/ios/id36?mt=8
Image Credit - Images courtesy of the respective app developer.