Atrix vs iPhone 4: Two Smartphones Compared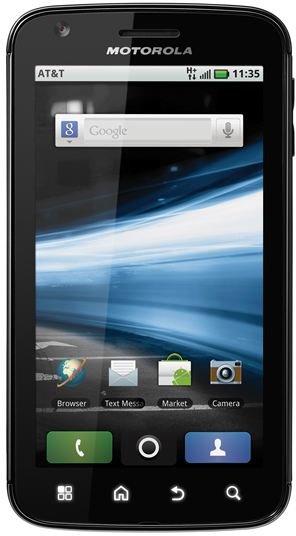 Motorola Atrix 4G vs iPhone 4 - Is it the End of iPhone 4's Reign?
The Motorola Atrix 4G is perhaps one of the most anticipated 4G LTE-equipped smartphones this year. I don't really see any reason why it should not be. I mean it has everything that you would wish for in a highly versatile, very useful smartphone that makes both the business smartphone users and the casual ones happy. The Motorola Atrix 4G has all the advanced features of the new breed of Android smartphones - 4G, Android 2.3 Gingerbread and more.
Should Apple start worrying now? Read our Atrix vs iPhone comparison to find out whether the iPhone 4 will finally meet its match. We compare these two smartphones based on their published features, specs and possible performance.
Design, Form Factor and Screen Display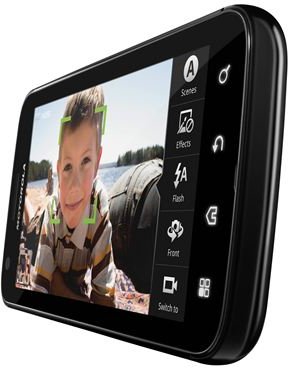 When it comes to design and form factor, Motorola already has the edge for the simple reason that the iPhone 4 has been around for quite some time now. Much has already been written about the iPhone 4's strengths and weaknesses, so much so that the Motorola people already know the do's and don'ts of manufacturing a smartphone based on what consumers want. So, when it comes to design and form factor, do you think the Atrix 4G edges out the iPhone 4? Let's see.
The Motorola Atrix 4G is slightly wider than the iPhone 4, with a width of 63.5mm as against the iPhone 4's 58.6mm. It is also taller than the iPhone 4 as it measures 117.8mm vs the iPhone 4's 115.2mm. The Atrix 4G is also lighter than the iPhone at 136g vs 137g. So which one looks better between these two? That will depend of course on what you deem as a better smartphone. Some may prefer a slimmer, thinner and lighter smartphone, while others will prefer it the other way around. It's still a matter of personal choice and preference.
Since, the screen size is also relative to the phone's overall dimension, the Motorola Atrix 4G naturally has a bigger screen display than the iPhone 4. It's 4 vs 3 inch, so when it comes to a better display and resolution, the Atrix 4G may seem the better smartphone. However, the iPhone 4 has a higher resolution (640x960) as against the Atrix 4G (540x960). Plus, we all know that the iPhone 4's retina display is quite exemplary and so far nothing has beaten it yet in terms of display prowess.
So, it really depends on your preferences - do you want a bigger screen with low resolution or a smaller screen with better resolution?
Operating System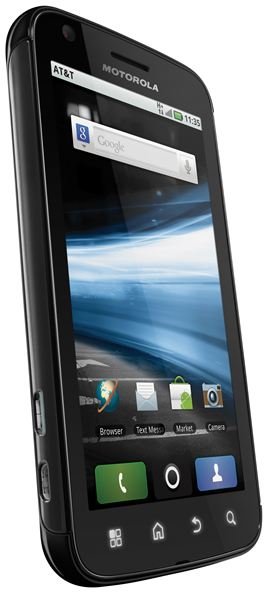 The Motorola Atrix 4G will be released with Android 2.2 Froyo running as its OS. It would have been a good match up if Apple has not releases iOS 4.3 yet. But then Apple already did. And what would have been an equal OS match up (Android 2.2 vs iPhone 4.2) is now an imbalanced competition. iOS 4.3 is bringing a lot of nice new features to the iPhone 4, most notable of which is the faster mobile browsing experience via Safari, more AirPlay support especially for third-party apps and iPhone Mobile Wi-Fi hotspot. Now, with the ATRIX's Android 2.2, both mobile web browsing and Mobile Wi-Fi hotspot are pretty good. But Apple knows this, hence the improvement in browsing speed for mobile web browsing. The good news is that the ATRIX 4G is going to be updated to Android 2.3 Gingerbread later on. And one of its major feature is NFC support which obviously iOS 4.3 does not have yet, or will probably not have at all. So, until Android 2.3 gets ported officially to the ATRIX 4G, I will still have to give the OS battle to the iPhone 4.
Please continue to page 2 where battle continues in the Atrix vs iPhone war.
Camera and Multimedia Support Features - iPhone vs Atrix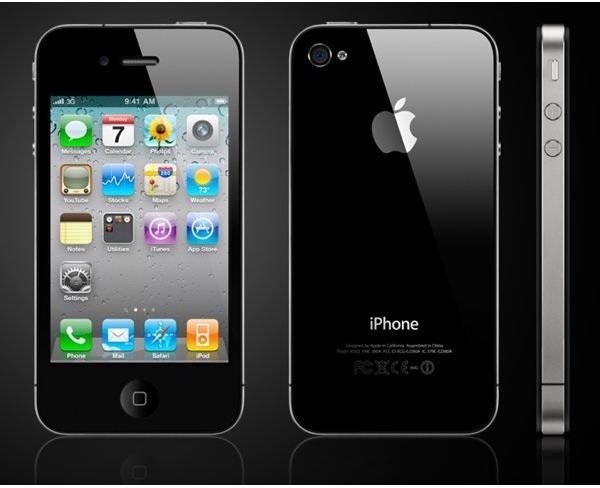 In the iPhone vs Atrix battle, we look at the cameras and support features, where things get interesting.
Both the iPhone 4 and Motorola ATRIX 4G sport 5MP rear-facing cameras. Both can be used for video chat, as well as for taking photos of yourself with the image in decent quality resolution. I have yet to see sample photos taken using the ATRIX camera, but have seen thousands of great photos taken using the iPhone 4. And besides the iPhone 4 has dozens of photography-related apps which let you apply various photo enhancements and effects to your photos. A proof that when it comes to photography, the iPhone 4 can pretty much hold its own. As for the ATRIX 4G, let's see whether there will be a plethora of new photography apps that will take advantage of the phone's camera by releasing cool new photography-related apps for Android.
When it comes to video support, well as you all know, you can pretty much record 720p HD video on your iPhone and have it displayed to your LCD TV or bigger monitor in HD format via iTunes on your Mac connected to your LCD Display. But that was before iOS 4.3 came in. With iOS 4.3, you can now stream 720p HD movie from your iPhone via AirPlay through the Apple TV. If you don't have the Apple TV, well you can grab one for yourself or watch your iPhone movie via the old route.
Now for the Motorola ATRIX 4G, this is something different. The phone has a HDMI port allowing you to directly connect the phone to your HDMI support LCD Monitor or TV. That's direct streaming via HDMI cable. The result? A flawless larger display for your ATRIX 4G movies. Obviously, the ATRIX 4G one ups the iPhone 4 here.
Speed and Performance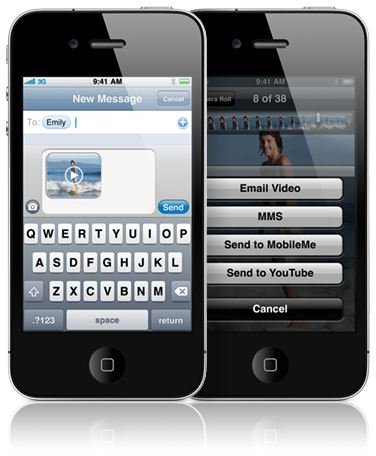 We come now to one of the most important feature of these two smartphones - processing speed and performance. The iPhone 4, as you all know, is equipped with Apple's very own A4 mobile processor with a clockspeed of 1GHz. That's almost the same clockspeed as the ATRIX's NVIDIA Tegra chip. But we're talking here of a dual-core processor which translates to faster speed and performance when performing various tasks and activities. Simply put, the ATRIX 4G is simply more responsive than the iPhone 4.
Again, the Motorola ATRIX 4G beats the iPhone 4 in this department.
iPhone 4 vs Motorola Atrix 4G - Conclusion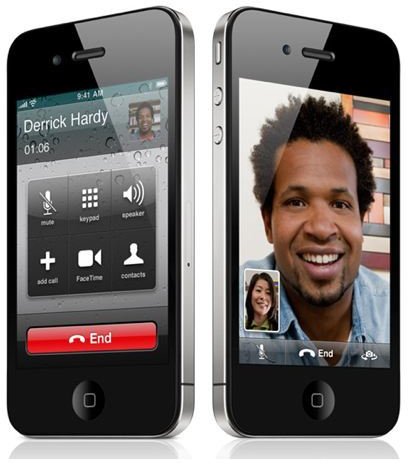 As much as I want to declare a winner in this comparison between the iPhone vs Atrix, I'm afraid I can't do that. That's like putting myself into scrutiny if I declare the Atrix 4G or the iPhone 4 as the better smartphone. That's because I have yet to test the Motorola Atrix 4G. I tried to be as objective as possible when comparing these two phones, basing my comments on my actual experience with the iPhone vs Atrix published specs, features and advanced reviews of those who were able to experience the ATRIX 4G.
The bottom line here is this - if you're a true-blooded iPhone fan, you'll definitely stick to your phone no matter how many new Android smartphones come out. And you will religiously follow Apple's constant update to the features of the iPhone 4 on the software side. But if you're looking for something new, and you're tired of using your iPhone you'll probably be considering getting an Android phone. I will not stop you from doing so and in fact will encourage you to check out the Motorola ATRIX 4G. It's a very good Android smartphone. I'd be a fool to not admit that.
References
Apple: https://apple.com
Motorola: https://motorola.com
Image credits: Official photos courtesy of their respective manufacturers.