How to Backup iPhone Contacts Online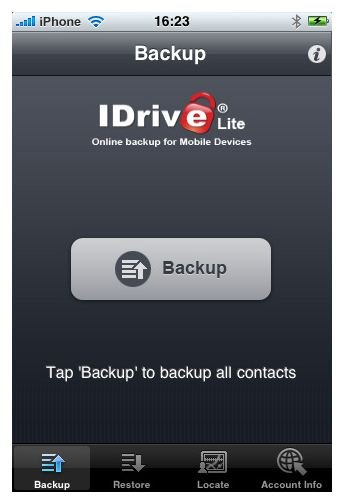 In this day and age, it is common for many of us to keep all of our contact information stored on our phones. Actual address books have been replaced with virtual ones on our cell phones. iPhone has one of the most comprehensive address books in the mobile industry, making it easy to store information about friends and colleagues. If you lose access to your iPhone contacts, it could be disastrous. Whether you accidentally delete all contacts on iPhone or experience some sort of technical difficulty, you can rest assured that there are ways to get your contacts back. Online contact storage is a newer option for backup methods, but we're going to take a look at four different options that there are available.
IDrive Lite for iPhone
IDrive Lite is a free way to backup iPhone contacts online. Downloading their iPhone app to your phone and registering for an account gives you the ability to store your contacts remotely, keeping them safe from accidentally deleting all contacts at once or your iPhone being restored to factory settings. Because you've registered your account with IDrive Lite, your information is saved, even if your device or the information on it is lost or destroyed. After downloading IDrive Lite to your new device, you can easily add all your old saved contacts to it.
To Use IDrive Lite:
Install IDrive Lite onto your iPhone from iTunes - Download Link.
Register for an IDrive Lite account.
Contacts are automatically backed up by the app.
To update the backup at a later time, open the app and press "Backup".
MobileMe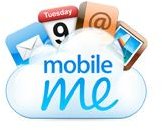 Apple's own MobileMe is another great way to store iPhone contacts online. MobileMe will make your contacts, mail, notes and calendars accessible online. MobileMe will keep your Mac computer, iPhone, iPod and iPad synced to the same account over the air. Any changes made will be automatically updated to all your devices without syncing your wireless devices to your computer. It's convenient and it's a safe way to store all your info and save time, but the cost is a bit much.
To Use MobileMe:
Register for MobileMe. You can start a free trial or purchase a 1-year subscription for $99 - Purchase/Trial Link.
Download or update to the latest version of iTunes.
Update iPhone to the most current OS.
Set up account by going to Settings > Mail, Contacts, Calendars > Add Account > MobileMe. Enter all the information required.
If prompted, press "Merge with MobileMe".
Once the account is added enter the account settings and turn Mail, Contacts, Calendars, Notes and Bookmarks to ON.
Make sure Fetch New Data is set to push. Go to Settings > Mail, Contacts, Calendars > Fetch New Data > Push.
Google Sync

Google Sync works exactly like MobileMe, except it will only sync to your iPhone. It won't keep multiple devices linked at once. Although it doesn't offer as many convenient features, Google Sync does come at a much better price than MobileMe; the service is free. Your contacts, calendars and mail are updated and synced over the air.
To Use Google Sync:
Create a Google account if you don't already have one. This can be done online.
Set up by going to Settings > Mail, Contacts, Calendars > Add Account > Microsoft Exchange. Enter your Google Account e-mail address in the e-mail field. Fill in the rest of the required information, but leave the Domain field blank and enter your full Google Account e-mail address as the username and press next.
When the Server field appears enter m.google.com and press next.
Select ON for Mail, Contacts and Calendars and press done.
Press Keep on My iPhone to keep your existing iPhone contacts while syncing to your Google Account contacts.
Enable push notifications to keep Google Sync updated over the air. Go to Settings > Mail, Contacts, Calendars > Fetch New Data > Push.
Funambol Mobile Cloud Sync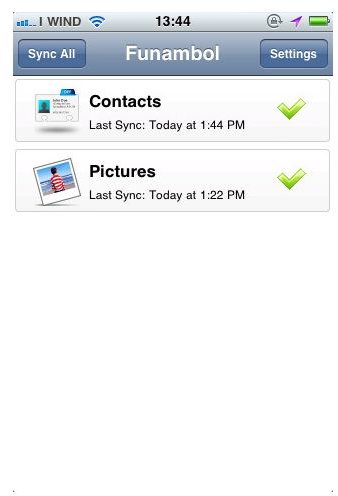 The Funambol app for iPhone allows you to store your contacts and pictures online with their Mobile Cloud Service. You are able to sync with iPhone, Android phones, BlackBerry, Symbian phones, iPad, Android tablets and Mac or PC. Funambol is an easy way to transfer contacts from one phone to another or use it to keep all of your mobile devices consistent.
To Use Funambol:
Create a myFUNAMBOL account online at myfunambol.com.
Download Funambol for iPhone from iTunes - Download Link.
Open the Funambol app, select items that you'd like stored/synced to your myFUNAMBOL account.
Press Sync All.
The Weigh In: Which Online Backup is Best for iPhone Contacts
Now that you know some of your options, how do you pick which is best for you? Well, it's going to depend on what exactly you're looking for.
MobileMe is the most comprehensive online syncing/storage system for Apple devices, but it's spendy and wouldn't be of benefit if all you have is an iPhone. For all you Apple geeks (no offense meant, I'm one myself), I'd recommend MobileMe if you're willing to shell out the yearly fee. It's the easiest, fastest way to keep your iPhones, iPods, Macs and iPads in sync with very little effort.
For a similar service to MobileMe, minus the Apple product focus, Google Sync will perform many of the same functions for backing up and syncing contacts over the air at a 100% cost reduction. Can't argue with free.
On the other hand, if you purely want your iPhone contacts backed up and don't need much more than that, IDrive Lite and Funambol are perfect options. They are free to use and simple to navigate. The only downfall of these apps is that you'll need to manually update them when you add or delete contacts from your list.
Reader Weigh In
So now that you know what I think, let me know what you think. Have you used these services? Or do you know of other similar services that didn't make this list? Comment and let us know what you know about backing up iPhone contacts online.
Sources and Image Credit