Read the Bible on Your iPhone With an App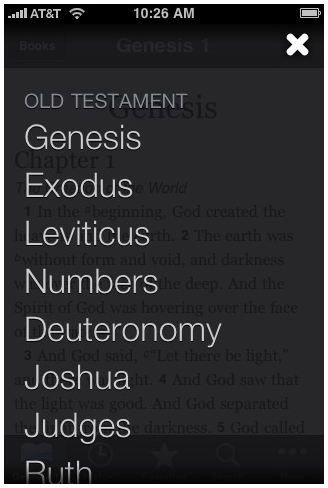 ESV Bible
The ESV Bible app displays text from the English Standard Version of the Bible on the iPhone. Easily find verses by using the search function and read passages either in landscape view or full screen mode. There are footnotes and references which add context and meaning to passages. Highlight verses that are important to you and save them in your favorites list. You can also record notes with this app. The ESV Bible is a free app available on the iTunes App Store.
Bible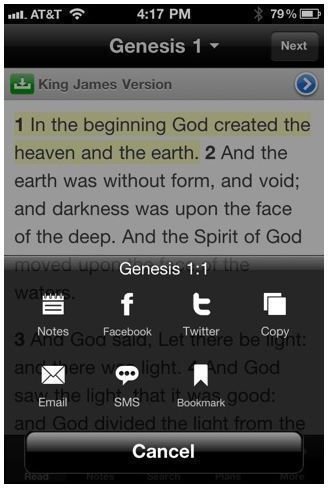 The Bible app developed by LifeChurch.tv is a comprehensive app that contains several versions of the Bible including the NLT, NIV, AMP, ESV, NKJV, NASB, and CEV. Each version has a translated text version that is more understandable. You can search the text by keyword or follow a daily reading plan. As you read, post your favorite Bible verses to Facebook or Twitter and take notes. This iPhone Bible app also contains several Spanish language versions including the RVR60, NVI, LBLA, and NBLH. Also, there are German, French, Swedish, Korean, Japanese, and several other foreign language Bibles available through this app. The free Bible app is available at the iTunes App Store.
Bible Verse of the Day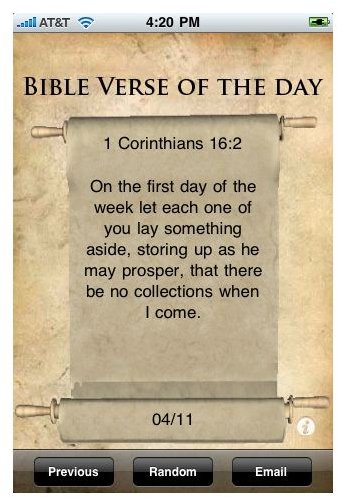 Bible Verse of the Day is another iPhone app that contains passages from the Bible. It is designed to present a new Bible verse each day of the week. You can view previous Bible verses and select random verses. An e-mail option is available to send a verse to friends. After downloading the app, an Internet connection isn't required to access its features. The Bible Verse of the Day app is available on the iTunes App Store for $0.99.
Holy Bible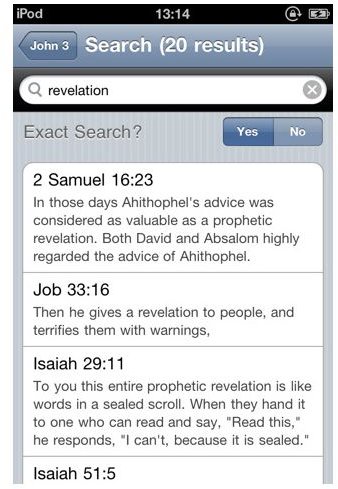 The Holy Bible app features 23 Bible translations. You can read the original text and view the translated text side by side. Highlight individual lines from the text and view them separately. Each chapter is bookmarked and notes are organized by chapter. There is a search function which helps located specific passages. Study the Bible by following one of several reading plans outlined in the app. The free Holy Bible app is available at the iTunes App Store.
Bible: New Living Translation (NLT)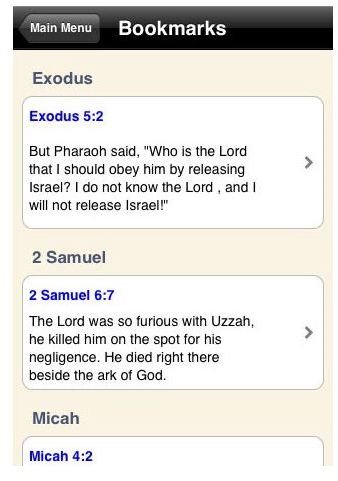 For readers of the New Living Translation of the Bible, there is an iPhone Bible app for you. Search for the passages you want to read and download the book that contains them. You can bookmark specific verses and read them later. Download the Bible New Living Translation (NLT) app at the iTunes App Store for $4.99.
For more religious apps for iPhone, check out the review of the CatholicTV app and the review of iPhone Scriptures.
References