Update iPhone 4 4.2.1 Firmware Without Updating Baseband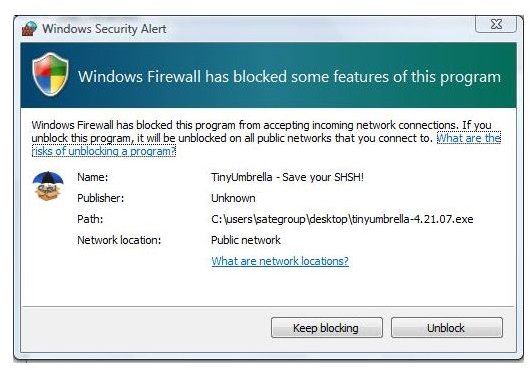 Update 4.2.1 Firmware Without Updating Baseband
With DEV Team releasing the jailbreak and unlock for iPhone 4 Firmware 4.2.1 Windows version, several iPhone 4 users have been facing problems unlocking their iPhone. Some of them managed to jailbreak it, but couldn't unlock, as the Cydia application was either grayed out or not running properly.
This tutorial is meant for iPhone 4 users who want to update their iPhone to firmware 4.2.1 without updating the baseband. After the user has updated the firmware to 4.2.1, they can easily jailbreak and unlock their iPhone. Others, can read the tutorial mentioned below:
How to Jailbreak and Unlock iPhone using RedSnow
Note: This tutorial is applicable to both Windows and Mac users. The images provided in the tutorial have been taken on Windows. Mac images would be similar.
In order to update your iPhone 4 without updating the baseband, continue reading the steps below:
Step by Step Instructions
Step 1: Download the TinyUmbrella application from the links provided below:
For Windows: TinyUmbrella for Windows
For Mac: TinyUmbrella for MAC
The links provided here include the Beta version of TinyUmbrella that also supports CDMA iPhones provided by Verizon. You also need to download the iPhone 4 4.2.1 firmware file from this link:
The firmware file provided here is for iPhone 4 only.
Step 2: Connect your iPhone and double click the downloaded executable file to launch the TinyUmbrella application and click UnBlock when asked by Windows Firewall. This is important in order for the TSS Sever to get connected. If you are unable to connect to the TSS Server, you will not be able to restore your iPhone without updating the baseband.
If TinyUmbrella successfully detects your iPhone, all the details related to your iPhone like iPhone Model, firmware version, baseband version, etc. will appear in the General tab.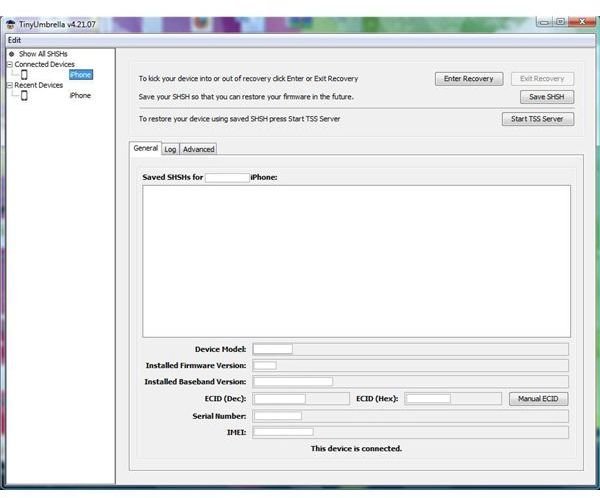 Step 3: As a precautionary measure you should always save your iPhone's SHSH. Click on "Save SHSH" button to save your iPhone's SHSH. When saved, you will see it appearing in the General tab of the TinyUmbrella application.
Instructions Continued
Step 4: After you have saved the SHSH, click on the "Start TSS Server" button. The application will now try to connect to the server and will kill iTunes during the process. If you DO receive any error during the process, you will not be able to proceed further.
Check the Log tab for detailed information about the process. If everything goes well, you should see a message like "TSS Server running successfully." When you see this message, start iTunes. Also, you should notice a green mark along with the message and now the Start TSS Server button should be saying Stop TSS server. Do not click on the Stop TSS Server button.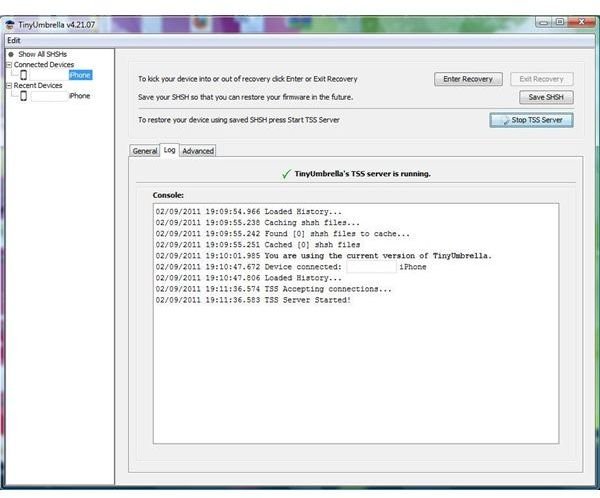 Step 5: Once iTunes has started, your iPhone will appear in the list. Do not update your iPhone when prompted by iTunes. Press the Shift key and click on the Restore button. This should bring up a popup window asking you to select the location of the firmware file.
Select the firmware file that you downloaded and click on the restore button to continue. iTunes will now restore your iPhone with 4.2.1 firmware.
Step 6: You should now get a 1013 error from iTunes. This is desirable and you should close iTunes once you get this error. 1013 means that your baseband has not been updated. Press Ok to continue.
If you get 16XX error, then put your iPhone in DFU mode and follow step 5 again.
If you don't get 1013, it means that your baseband was updated.
Step 7: The next step is to jailbreak your iPhone 4 with firmware 4.2.1. Put your iPhone in DFU mode and follow the tutorial here:
How to Jailbreak iPhone 4 firmware 4.2.1 using GreenPoison
Note: Before following the next tutorial, make sure your iPhone is fully charged as you do not want to brick your iPhone during the jailbreak process. Also, please post your question here, if you encounter some problem or you get stuck with any problem while jailbreaking or updating your iPhone, so that other readers can also read answers for that problem**.**
Images Credit
Tiny Umbrella application screenshots provided by TinyUmbrella
References
Doe, John. "How to Jailbreak iPhone 4 firmware 4.2.1 using GreenPoison". PreciousJohnDoe, Feb 9, 2011
Doe, John. "How to Jailbreak and Unlock iPhone using RedSnow". PreciousJohnDoe, Jan 4, 2011