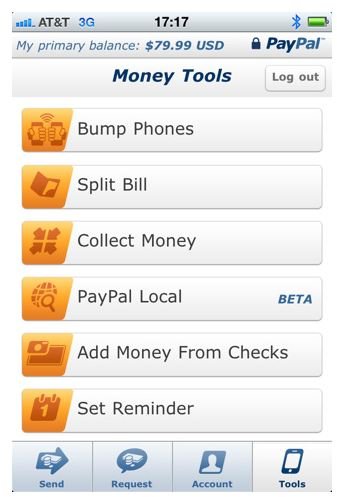 PayPal
PayPal is a convenient way to make payments and transfer money over the Internet. Now you can take advantage of this e-commerce business platform from your iPhone. The PayPal iPhone banking app lets you check your balance, withdraw funds, and view past transactions on the go. With this app, you can easily deposit checks into your PayPal account by simply taking a photo of the check with the iPhone camera. The free PayPal app is available at the iTunes App Store.
Chase Mobile (SM)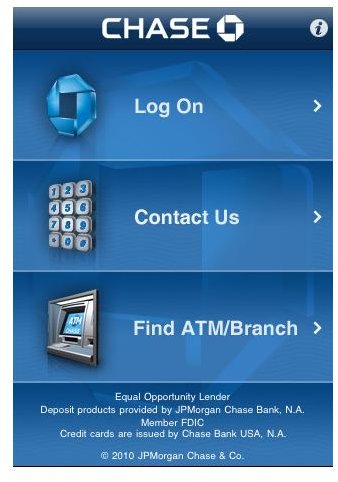 Another mobile banking app for iPhone that lets you deposit a check directly from the phone is the Chase Mobile (SM) app. With this mobile app, you won't need to visit a branch to deposit checks. Simply take a photo of each side of the check with the iPhone camera, and the app will send the information to the bank. A lot of the features of the app require existing Chase account holders to enroll in Chase Online. Once enrolled, account holders will be able to make credit card payments, transfer money between accounts, send wire transfers, and receive account alerts. Chase Mobile (SM) is a free app available at the iTunes App Store.
Bank of America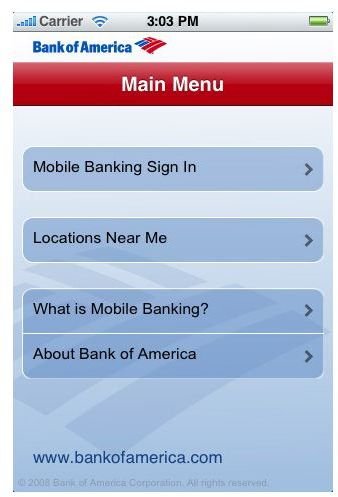 Find ATM locations and banking centers with the Bank of America mobile app for iPhone. The app is designed to bring online banking to the iPhone. To access features such as money transfer and bill pay, Bank of America account holders need to enroll in online banking first. Download the free Bank of America app at the iTunes App Store.
Wells Fargo Mobile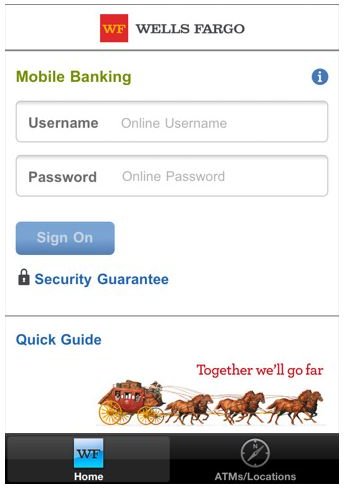 Wells Fargo account holders can access their accounts on the iPhone with the Wells Fargo Mobile app. Simply enter the existing username and password of your Wells Fargo Online account into the app to view the account. As Wachovia customer accounts are converted over to Wells Fargo, they will be eligible for Wells Fargo Online banking and subsequently Wells Fargo Mobile banking. Wells Fargo Mobile is a free app available at the iTunes App Store.
TD Bank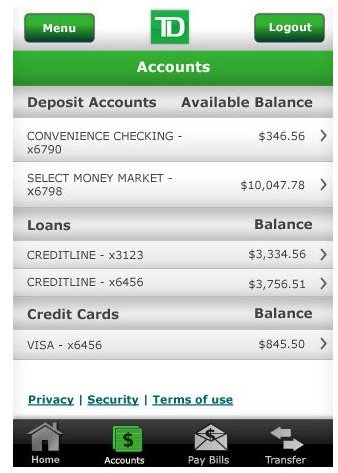 TD Bank customers can access their accounts with the TD Bank iPhone banking app. Check your account balance, transfer funds, and pay bills from your iPhone. Enjoy convenient one-touch calling for customer service 24 hours a day, 7 days a week. The app has a branch and ATM locator that displays the banking centers on a map. The banking hours of each branch are listed, along with the address and phone number. The free TD Bank app is available at the iTunes App Store.
For more financial apps for iPhone, read this top ten list of free personal finance apps for iPhone. Click this link for the top credit card processing apps for iPhone.
Reference
iTunes App Store - https://itunes.apple.com/us/genre/mobile-software-applications/id36?mt=8
Image Credit - Each image is the property of the respective app developer.