Changing iPhone Text Message Tones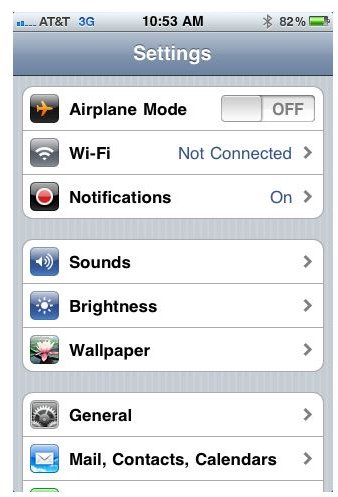 How to Change iPhone Text Message Ringtones
One area that Apple still lacks in is what they have to offer for iPhone text message tones. Despite iPhone's groundbreaking technology in other areas, there are still only six iPhone text message sounds to choose from. Makes it a bit confusing when you're in a room full of people and hear the standard iPhone text message sound. Although it's amusing to watch several people grab for their iPhone's at the same time, it gets old. If that's a pet peeve of yours, I suggest changing the iPhone text message ringtone to one of the other five text tones available for iPhone.
To change your text message tone on iPhone, open your Settings menu. At the top of the second grouping of options you'll see the Sounds menu (see screenshot below). Open the Sounds options.
In the third grouping of options within the Sounds menu you will find ringtone and text tone options. Press "Text Tone" for more options.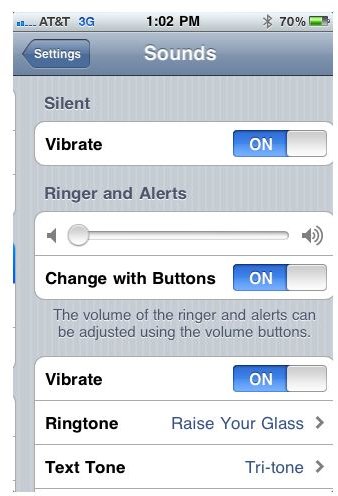 You will find a list of six iPhone text message ringtones: Tri-tone, Chime, Glass, Horn, Bell and Electronic. You may also choose to have no text tone. Tri-tone is the default text message tone for iPhone. Choose one of the other options to change your text ringtone. A check mark will show up next your active text tone.
Creating Your Own Text Ringtones on iPhone
Unfortunately, without a jailbroken iPhone, there is no way to add custom text ringtones to iPhone. We have to continue hoping that Apple will add that capability with a future software update for iPhone.
If you do have a jailbroken iPhone, then there is a way to create iPhone text message ringtones. This method is a bit difficult, so if you aren't tech savvy, I wouldn't recommend trying it. To create custom text message tones on iPhone you will need to have: a jailbroken iPhone, Cydia, iTunes on your computer and iPhone Browser or iPhone PC Suite.
To create a custom text message tone on a jailbroken iPhone:
Choose the music file on your computer that you'd like to be your text message tone. It should be 5 seconds or less.
Add the music file to iTunes music folder.
Convert the file to AAC format.
After the conversion is complete, save the copy that is made on to the desktop. Delete the original music file from iTunes.
From the desktop, change the format to .aif (you will be changing it from .m4r or .m4a to .aif).
Using iPhone Browser or iPhone PC Suite (that gives you remote access to your iPhone), open the SMS Ringtones tab.
Replace an existing ringtone file with the one you have saved on your desktop. The file name must match exactly the ringtone file that you are replacing. You can only replace, not add additional text tones.
After you have completed the steps, test the text tone from the Sounds menu (found in Settings). Know of a new or different way to make a custom text message tone for iPhone? Comment and give us your tips.