How to Get a Second Line on iPhone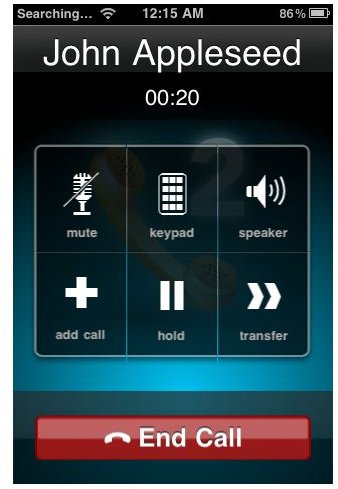 Second Line on iPhone
If you want a second line on your iPhone, there's an app that allows you to have it. The app is called Line2. Before we go in to detail as to how it works, it makes sense to go over some of the advantages of having this app. With Line2 you can save money and make calls in regions where cellular signals are weak but Wi-Fi is present. The amazing thing about this app is that it can even transform an iPod touch into a full-blown cell phone. Line2 literally gives your iPhone a second line with its own contacts list, voice mail, and other features. With its call screening feature you can even route callers to other numbers based on what dials they press in response to your own automated answering service. The app is very useful for anyone who wants to use the same phone to talk to family and friends while having a separate line for business contacts.
More About the App
The Line2 app is easy to use. This is because it is a visual clone of Apple's own iPhone software. It looks like the original software in every sense. You can choose whether you want Line2 to work through AT&T's 3G network or through Wi-Fi signals. Having the option to use both signals is great because it maximizes your total coverage area. Wi-Fi signals are better to place calls than 3G connections (which were really intended for e-mailing and Internet use). Luckily, Toktumi allows you to take advantage of this by enabling Line2 to switch to the more powerful Wi-Fi signal source when you come within its range. It can even do this while you're on a call.
If you're wondering how to get a second line on iPhone for free, there's a small catch; Line2 isn't free. There is a small monthly fee that you must pay after a trial period. If you're a heavy cell phone user you can save. Just downgrade your cell phone plan and spend more time making calls through the Line2 app via Wi-Fi. Many people save money this way. Long distance calls are all covered under the monthly fee, while international calls are an additional few cents a minute.
The Verdict
With the Line2 app, it's no longer a question of how to get a second line on iPhone. Whether it's 3G, Wi-Fi, or cellular signals, Line2 utilizes them all. You don't need to carry two cellular phones either. Monthly fees are billed right to your credit card. While all of this seems too good to be true, what do the critics say?
It is the only VoIP app on the iPhone that won the Editor's Choice Award from PC Magazine.
Entrepreneur magazine named it one of the top 100 brilliant ideas of 2010.
Laptop Magazine named it one of the 25 most innovative mobile apps.
Line2, by Toktumi, is definitely worth looking into if you want a second line on your iPhone.
References
New York Times, https://www.nytimes.com/2010/03/25/technology/personaltech/25pogue.html
iTunes, https://itunes.apple.com/app/line2-unlimited-calling-texting/id319185557?mt=8#