How to Shut Off Alerts on iPhone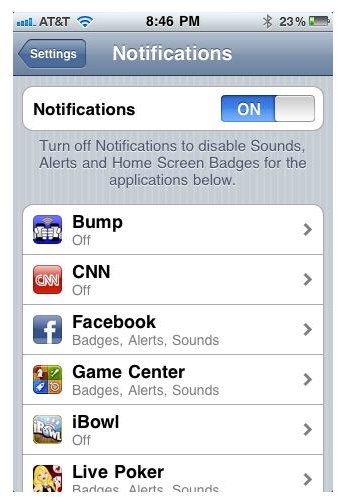 Alerts on iPhone
Having trouble with alerts going off while you are trying to sleep on iPhone or iPhone 4? So many iPhone apps have alerts and notifications built in that they can be overwhelming, especially when you're trying to get some sleep. Different apps have alerts for different reasons, but many work the same. A push-notification is sent from the app to alert you that a particular function has taken place; the reason for the alert depends on the app the notification is sent from. For example, the Facebook iPhone app sends alerts when you would typically receive a notification online for a friend commenting on your status, on your wall or replies to a status that you commented on. Those alerts can become infuriating if they are waking you up at night. Keep reading to learn how to turn off alerts on iPhone 4 when you are sleeping.
How to Shut Off Alerts on iPhone 4 When Sleeping
Lucky for us, and our sanity, iPhone developers made a simple way to shut off all alerts for iPhone at once. If you are plagued with iPhone alerts when sleeping, I'd recommend that you shut off alerts before you go to bed each night. A few quick changes to your settings will give you a peaceful nights sleep.
To Shut Off Alerts on iPhone open your Settings menu. The third option from the top is the Notification options. Open the Notifications options menu. At the very top you will see that Notifications are ON. Press the slide button to OFF to disable all sounds, alerts and home screen badges for the apps that have them. Below the ON/OFF option you will find a list of all the iPhone apps that you have that have alerts. If you'd like to stop receiving alerts from a particular app, just select the app from the list and disable the sounds and alerts.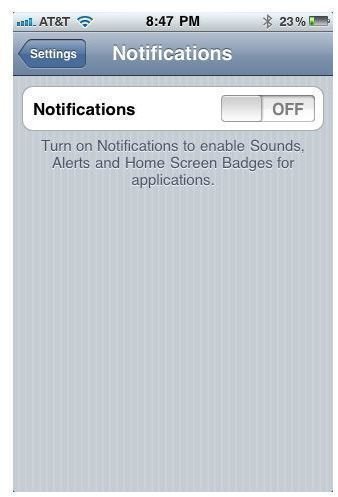 Turning Off Other Alert Sounds on iPhone When Sleeping
If you want a night of completely uninterrupted sleep, you may want to turn off sounds and alerts for email, voicemail and calendar events too. Disabling alerts from the Notifications menu will not disable alerts for email, voicemail or calendar events. To disable these sounds, open the Settings menu. Select the Sounds menu options (located directly below the Notifications menu). Scroll down to find options for New Voicemail, New Mail and Calendar Alerts. By default, all will be ON. Push the slide button to turn them OFF to disable alert tones.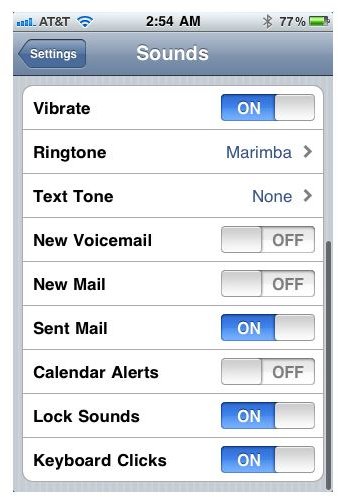 Turn Off iPhone Alarm Clock Before Going to Sleep
The last thing to shut off if you don't want your phone to wake you up is any alarms set on your clock. Any alarms that are set can be turned off from the clock app. If you've downloaded other third-party iPhone clock apps you'll want to check those as well. Make sure all alarms are disabled by making sure that they are OFF. After they've all been turned off, you should be able to sleep in peace without being woken up by iPhone alerts and notifications.