Best Alternative iPhone Browser Apps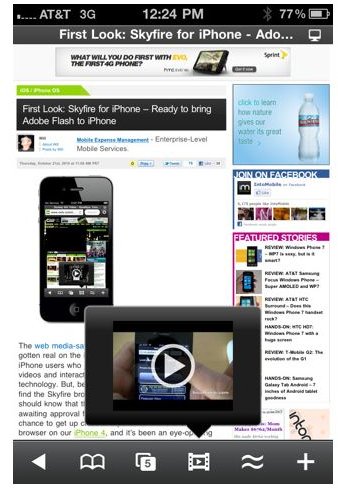 Alternatives & Choices
There are many different iPhone browsers, although many people fail to even realize there are Mobile Safari alternatives. Some of the alternatives run on the same framework as Safari and many use the Webkit, however, they are very different and offer a huge host of different features.
Features between third-party browsers for the iPhone vary greatly and include everything from true tabbed browsing to Flash support (via third party servers). The reality is that Mobile Safari is a good browser, however, it is very basic, which goes against the strong and versatile image of the iPhone. Using a third-party iPhone browser will enable new features and functions for the iPhone and truly open the mobile web experience.
Skyfire (5 out of 5)
Skyfire is a completely new take on web browsing for the iPhone. This iPhone browser actually takes aim at enabling Flash videos on the
iPhone via a very unique method.
Browsing the web with Skyfire is a pleasure as it supports many features including tabbed browsing, desktop/mobile mode, video search and it even lets you see feeds from Facebook and Twitter. When you land on a webpage with a Flash video, Skyfire will notify you if it has the video available for streaming. Clicking the play button will launch the video and allow you to view it as if it were a YouTube video on the iPhone.
Not all websites are supported but there are already millions of videos supported. Skyfire is a good investment for those who are looking for a more serious browser for the iPhone with some casual Flash support (videos only).
Skyfire can be purchased from the iTunes App Store for $2.99. (Download Link)
Perfect Browser (4 out of 5)
As the name of this iPhone browser may infer, it aims to be the perfect browsing solution for the iPhone. Quite a name to choose as it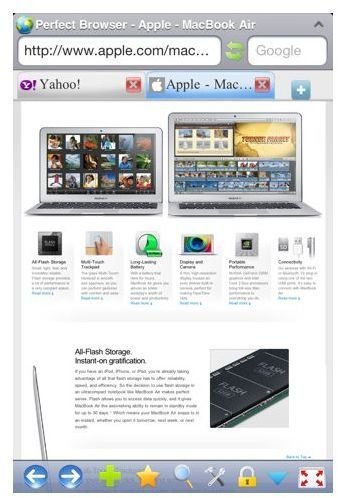 gives this app so much to live up to. The good news it that Perfect Browser for the iPhone does a great job at creating a pleasant, unique and somewhat new browsing experience on the iPhone.
Perfect Browser has a great interface and truly takes advantage of the iPhone's large screen by reducing the amount of clutter and allowing more space to display the webpage. Features include such things as unlimited tabs with background loading, image compression, adjustable font size, video out and even air print support.
All in all, Perfect Browser loads fast, has most of the features you are probably looking for and it comes at a fair price of $0.99 from the iTunes App Store. (Download Link)
FlameNET (3 out of 5)
FlameNET is a free iPhone browser which can be downloaded via Cydia from the ModMyi repo. It is based on Webkit and custom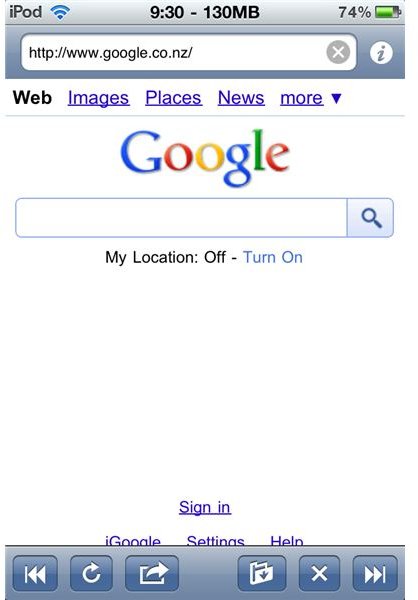 designed to be fast, less intensive and run in full screen mode.
The overall experience is good, FlameNET does feel responsive, loads websites quickly and does a decent job at rendering everything in a stable manner. It does not crash very often compared to the default Mobile Safari however it is still not perfect. FlameNET does not always render login windows properly, such as Java logins.
Overall if you are willing to compromise small amounts of functionality for speed, more screen real estate and stability, FlameNET may be for you.