The Best Grocery List iPhone Apps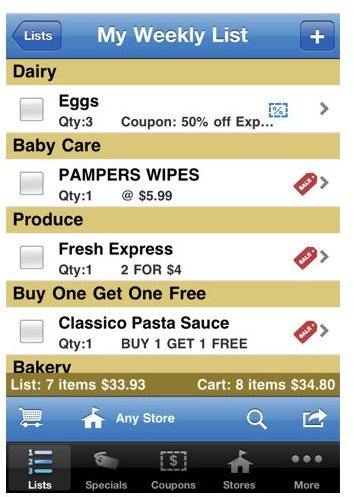 Grocery Pal
Grocery Pal is an iPhone grocery app designed to compare prices at competing grocery stores and supermarkets. It supports over 150 national grocery chains and over 40,000 retail stores. Find which stores have the best deals. Another way to save money with this app is by searching for coupons. Grocery Pal is also one of the best grocery list iPhone apps. You can create multiple shopping lists and individual aisles for selected stores. The app has a product database of over 1.5 million items. Grocery Pal is a free app available on the iTunes App Store.
GroceryZen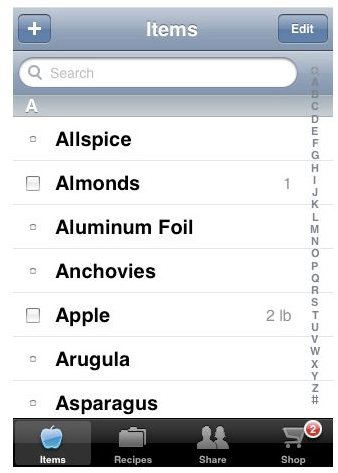 GroceryZen is a helpful app that provides recipes and meal ideas. The app contains pictures of delicious food combinations to inspire your cooking. Scroll through hundreds of common items or add additional items to customize a grocery list. The lists can be ordered by aisle, which prevents backtracking when you are grocery shopping. Notes can be added to the grocery list. Another great feature of the app is that the grocery lists can be emailed. The Grocery Zen app is available at the iTunes App Store for $1.99.
Grocery Lists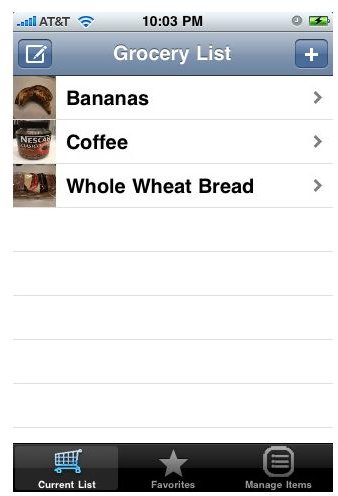 Another iPhone shopping list app is Grocery Lists. It features an easy to use interface for creating grocery lists. Select from 200 common grocery items. For quick selection, use the search feature. Add additional items for new lists or remove items from existing lists. Each item can be edited for price, quantity, and even a picture. The app calculates a subtotal for the groceries on the list. The Grocery Lists app is available at the iTunes App Store for $0.99.
Grocery iQ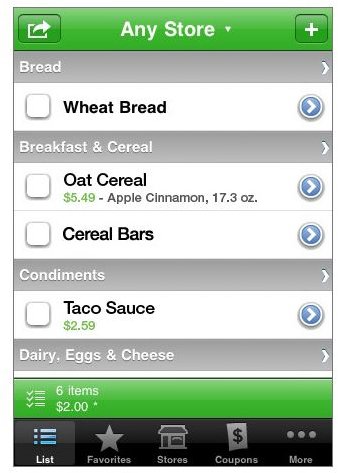 Grocery iQ is a unique iPhone grocery store app with a database of over a million items. It generates shopping lists that are detailed. Information such as the package size, price, and quantity are displayed next to the item. An innovative way to add items to a list involves scanning the barcode of products with the iPhone camera. Each list is divided by section or aisle, and the app saves lists for multiple stores. The app also searches for coupons, which can be printed or stored on the store card. Grocery iQ is a free app available at the iTunes App Store.
Shopping List Generator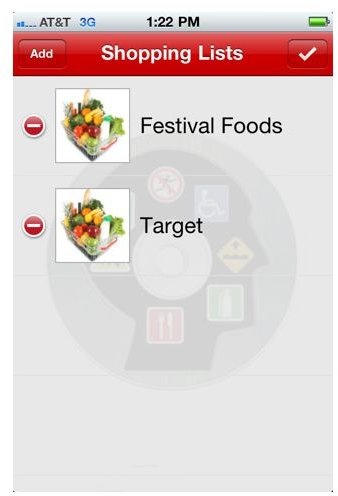 The Shopping List Generator is an iPhone grocery app that displays each grocery item with a corresponding picture. Pictures from the app or pictures taken from the iPhone camera can be used. Each item on the list can be edited for price and location information, such as aisle number. The app is specially designed for individuals with disabilities. Some of the accessibility features include a text to speech function, which reads the grocery list, and easy to read item pictures. The Shopping List Generator app is available at the iTunes App Store for $4.99.
More Apps
You may also be interested in reading about the top ten iPhone cooking apps and the best iPhone wine apps.