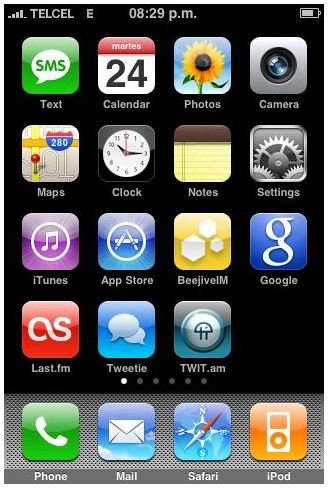 The iPhone calendar is a mini version of iCal which is the calendar of Mac OS X. It lets you view your events in a continuous list and allows you to search them by title, location, or invitee. You also have the ability to subscribe to Yahoo, Google, etc. using CalDAV or iCalendar.
Setting up CalDAV for Google Calendar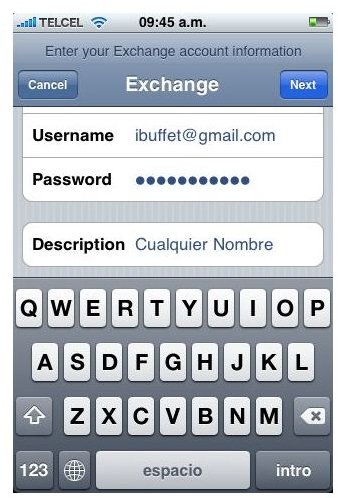 If you want to show up an event on Google Calendar when you add it to your iPhone, you need to configure [iPhone Calendar](/tools/5 Best Calendar Apps for Your iPhone) with Google Calendar. Here are the steps for doing it.
Follow this path on your iPhone. Settings > Mail, Contacts, Calendars > Add Account > Other > Add CalDAV Account.
Add your Gmail email address and password. Add www.google.com as the Server.
Tap Next and verify your information.
If you are unable to verify your information tap Advanced Settings and use the following information.
Use SSL: ON Port: 443 Account URL: (your Account URL includes the sign "@" in your email address.)
Now you have completed the syncing process.
Using the Calendar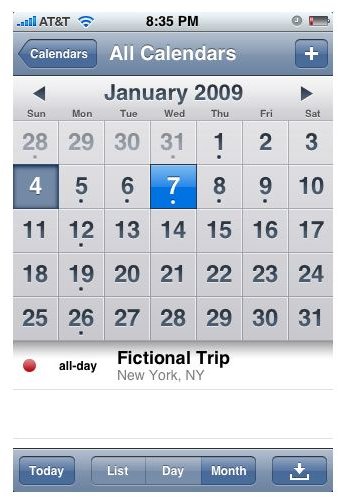 Let's learn how to do main tasks with the iPhone Calendar application. Here are [some tips about calendar items](/tools/Tips for Working With Your iPhone Calendar) like events and alerts etc.
Viewing your calendar:
You can easily view your calendars by tapping Calendars and selecting a calendar. It will be displayed in a list and you are able to view by day or by month.
Adding Calendar Events:
To add an event tap the + (plus) on the top right hand corner and enter the required information like Title, Location, Starting and Ending Time, Repeat Times, and Alert Time.
Alerts
In Settings chose Sounds and turn Calendar Alerts on. This is very handy when you have a very important event to participate. However, if the Ring/Silent switch is off, there will be no sound alerts.
How to Change iPhone Calendar Colors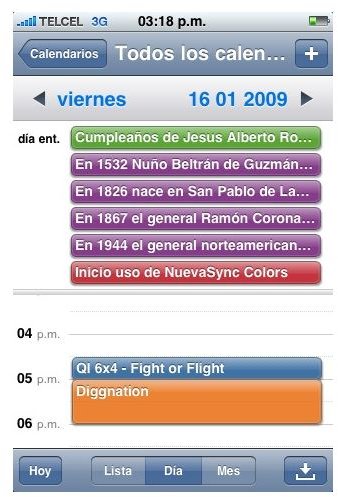 It's nice to be able to change the colors of the iPhone Calendar. However, it has to do with your computer. First you must change the color of the calendar on iCal on the computer. Then you have to re-sync the device to change colors. For syncing use iTunes or MobileMe. Follow these steps to make the changes to the colors of the calendar.
Select the iPhone calendar in which you want to change colors from the menu on the left.
Click on the calendar's name while holding the control key.
Select Get Info from the menu.
There's a drop down menu to the right of the calendar's name - select the color you want to use. You may also use another color by selecting Custom option. Then click OK.
Connect your iPhone to your computer and use iTunes or MobileMe to resync it. Calendar syncing has to be enabled here. Now the colors of your iPhone calendar will be changed.
How to Delete Calendar from iPhone
Sometimes you may want to remove the [sync](/tools/How to Sync Outlook Calendar with the iPhone) from one calendar and delete the information of the old calendar. Here are the steps to do it.
First press the Home button and slide your finger across the screen to unlock it.
Tap the Settings icon.
Tap Mail, Contacts, Calendar tab.
Tap the account that contains the calendar you want to delete. Then slide your finger over the switch and it'll read as OFF.
Tap the Delete from My iPhone button to delete the calendar.
iPhone calendar is a handy utility for organizing our daily tasks. Alerts are particularly important to make things easier. Therefore this is a really good tool to get the maximum benefit for your busy daily schedule.
References
Author's own experience.
This post is part of the series: iPhone Calendar
iPhone Calendar is a handy little utility to get things done and organize your tasks. Learn how to do things with it from this article series.