How to Export iPhone Contacts List as CSV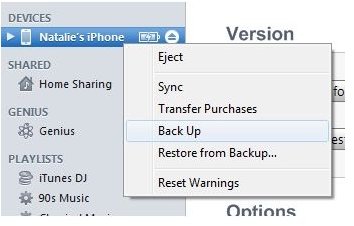 Why Export iPhone Contacts List as CSV?
If anything happened to your iPhone, say you lose it, break it or simply upgrade to a new iPhone, it is always handy to have your contacts close to hand so you're able to sync the information to an existing or new device, or even just to have it as an easy access list on your computer. iTunes also isn't the easiest media to use, so many just want the peace of mind that comes with having crucial information backed up and far away from iTunes.
Backing up
The first thing we want to do is create a back up, which is what you'll most likely be doing regularly anyway so if you've done this recently you can skip this step.
Open iTunes and connect your iPhone via the USB cable.
Once your device is showing in iTunes, right click over it and select 'Back Up' - this is to ensure everything is backed up in case we run into any problems during the process.
Syncing Contacts
Now the back up is complete, keeping your iPhone connected to the computer you need to select your device again, then hit 'Info' from the top menu.

Now select 'Sync Contacts With' and choose 'Windows Contacts' from the drop down menu.

Click 'Apply' and this will start a sync with your iPhone, normally just under a minute will be all it takes.

Once the sync is complete, you need the 'run' window which can be accessed in two ways, either 'windows + R' or your search facility on your start menu and simply type 'wab' and hit 'ok'.
Exporting Contacts as CSV
You should now have a menu showing your contact names and pictures, if you've assigned them. Simply hit the '»' icon and select 'Export'. Windows XP users will see when you open the 'wab' file the address book application is now open. All you need to do here is hit File > Export > Other Address Book and it will bring you to the same place as Vista and Windows 7 users.

Now select 'CSV (Comma Seperated Values)' and hit 'Export'.

You'll get another box here so just hit 'Browse' and choose the location to store your file.

Now all that's left to do is hit 'Next' and choose the fields you wish to export, remember to include every field you'll need for your contact list. Finally hit 'Finish' and you'll see a message to say it has been completed. You're now able to find your file in the selected location and access your contacts with the desired fields.
Mac Users
If you're a Mac user, this guide won't be for you, however, if you're keen to back up in a similar way, check out the free MobileMe application on iTunes.