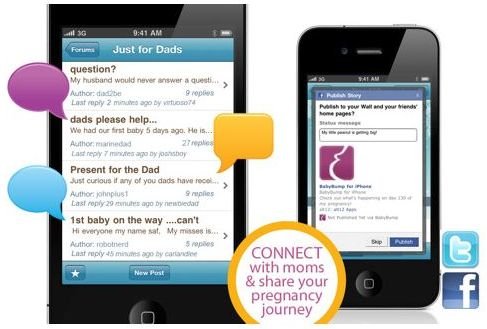 BabyBump Pregnancy Pro
BabyBump Pregnancy Pro $3.99 (UK Version £2.39) is an all round pregnancy companion, with a great look and it is simple to use. When you first open the application the first thing to do is set your due date, if you don't have this it will calculate this for you and set your baby countdown, and you can record any measurements, weight/BMI, you'd like to include.
The menu options will guide you to all of the features it has to offer, so 'Baby' will tell you about your baby's development for that week, show embryo pictures you can share on Facebook and Twitter and you have the option to get reminders sent when you move into a new stage. 'Your Body' explains the physical and emotional changes to expect and craving information. 'Journal' is the place to update your weight information and view charts. The 'Photos' option allows you to take pictures at various stages and create a slideshow of your growing bump. 'Kick Counter' and 'Contractions' are quite similar in they use a start/stop option, allowing you to track movements and contractions respectively. The contractions counter is a great tool to have to track what stage of labour you are at by timing and averaging contractions so you'll know when it's time.
In addition to the features above you'll also have access to 25,000 baby names and birth plan information and planner with the BabyBump Pregnancy Pro app. One other great thing about this app is with the wealth of information you get, you will also have access to a forum where you can actually talk to expectant parents around the globe. So if you're feeling a bit down or aren't sure of something you can always reach out to those going through the same as you.
Overall with its clean look, clear menu, intuitive design and easy to use feature-rich practical applications, which is a must when the 9 month mark creeps up, this app is truly the must have app for expectant parents.
iBaby Feed Timer - Breastfeeding and Nursing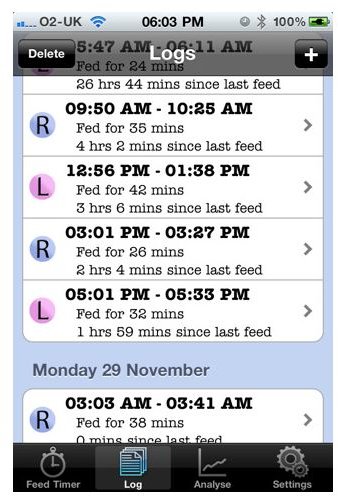 iBaby Feed Timer $0.99 (UK version £0.59) has been designed by and for breastfeeding mothers. It will track when and for how long your baby feeds, with a timer to use when nursing which can be paused for burping. You can manually add a feed if you need to, and it has a reminder for when the next feed should ideally begin and which breast to start on each time, based on a set interval you provide or based on current feeding trends. For easy reference, whether for a midwife or your information you can instantly view a diary of feeds times, length of feeds, and time since last fed.
The app itself is easy to navigate, perfect for those late night/early morning feeds when you're working with sleep deprivation! Overall the best feed tracker available for new mums. The only half hearted criticism I can give is the inability to swap breasts during a feed.
Baby Monitor & Alarm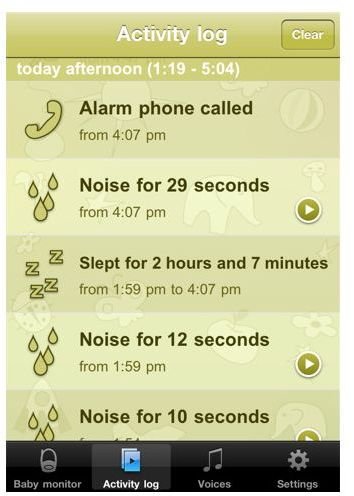 Baby Monitor & Alarm $2.99 (UK version £1.79) does exactly what it says on the tin and more. Firstly you set the sensitivity level, and from there you can choose a calling feature to call any number when the noise reaches the threshold chosen and you can just answer the call to check out if your baby needs you. On the other hand, if you're trying to get your baby to sleep through you can choose the setting to automatically play a lullaby or a recording of your own voice to send your baby back off to sleep.
In addition, a feature which really makes this app unique in the baby monitor stakes is its ability to record all sound in your baby's room for a set period which you can play back or send in an email. You can then look at all activity throughout the period in a log so you can get peace of mind that in your sleep deprived state you didn't sleep through the baby crying!
Baby Tracker: Diapers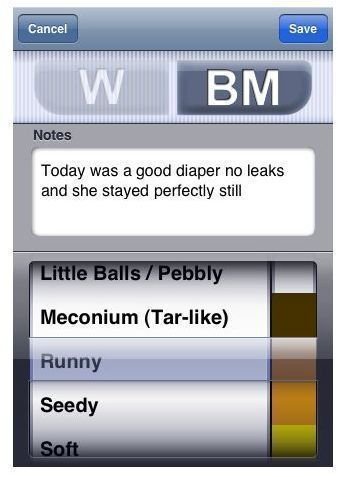 Baby Tracker: Diapers $0.99 (UK version £0.59) is another of those must have apps for new babies. Tracking the nappy habits of young babies is only something a parent could appreciate, and when you have a million other baby related things to worry about toilet habits may not be top of the list. But the baby tracker app makes this easy, at the tap of the screen you can select the type W is wet and BM is bowel movement and then the description and the information is put in a log for viewing any time. You're able to edit changes easily and the app itself is very self explanatory. Very handy, especially for new parents.
Peek-a-Boo Baby Rattle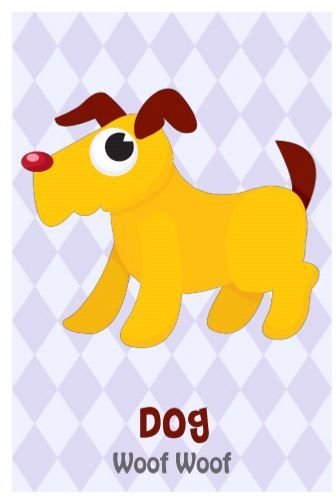 Peek-a-Boo Baby Rattle is a great free educational app for young ones, once activated it has big, bright, smiley face which changes when you shake or touch the screen to animals accompanied by their sounds. To hold their attention further it plays the sounds in real animal noises, changing when the screen is touched or shaken. Aside from accompanying learning and recognition, it may also improve the co-ordination of your youngster. For a free children's app you can't go wrong with this and it will keep the little guys entertained.
Baby sleep : Lullabies to make your baby sleep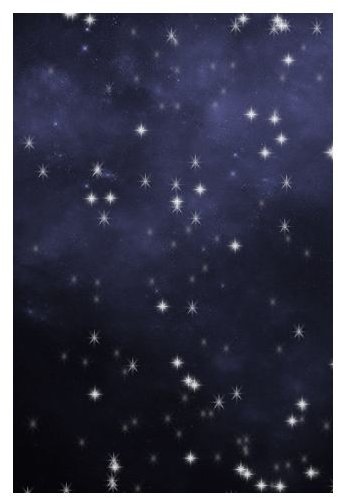 Baby sleep $0.99 (UK version £0.59) is that one app that you can't appreciate until you've seen it work its magic. Playing gentle music to relax your child to sleep, with images including falling snowflakes if you wanted to use them, the track keeps going until you manually stop it so you can relax knowing you won't need to keep getting up if it stops. Don't stop at night though, this app is great at keeping your little ones interested with the graphics and soothing music in the day as well, so if you're out in the car and they get cranky just play this to keep them calm.
Do be aware that if your iPhone is on silent mode the sound will not play as with most apps!
Baby Flash Card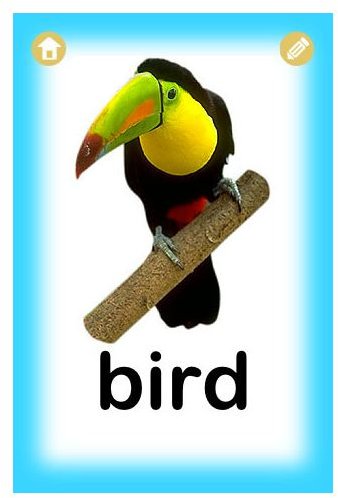 Baby Flash Card $0.99 is a simple but very effective concept. If you're not familiar with flash cards, they are simply an image with the matching word and voice-over to help babies and children connect the sound with the object, and in older children the spelling. With Baby Flash Card you get over 200 colourful engaging images in 10 categories including animals, capital alphabets, small alphabets, body, objects, food, fruits, transportation, number and colors, along with the choice to add your own flashcards using your camera pictures. To improve memorisation there is a repeat option and a foreign language option.
With its engaging graphics, choice to change colours to grab your baby's attention and options to randomize the images or repeat, these baby flash cards are ideal for those starting to get a grasp of language and loving bright, vivid colours. Learning made easy as they say.
All of the apps featured here are designed with you and baby in mind but should be used with supervision where appropriate. If you have any iPhone baby apps which have been a lifeline to you just comment here and share them.