iPhone Airplane Mode Explained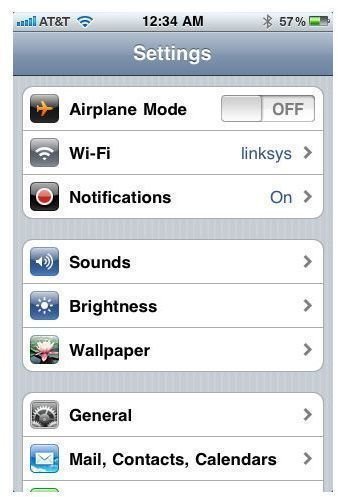 What is iPhone Airplane Mode?
At the top of the settings menu, iPhone has the option for "Airplane Mode". If you're wondering what that means, then you've come to the right place for answers. iPhone's airplane mode was designed to be a fast option to disable all wireless features of the phone. But why would Apple have that option available? The answer may seem obvious enough: for when you are on an airplane. While airlines generally prohibit use of a cell phone, iPhone has many uses besides the wireless features of the phone. Those of us who are iPhone-dependent like to use our phones as an iPod, to play games, to write notes and many other trivial tasks that don't need phone, Wi-Fi, Bluetooth or radio signals. To help us be able to use our phones for those purposes while on a flight Apple created airplane mode to quickly disable all wireless features that airlines might prohibit, while still giving access to the features that don't use any such signals.
Turning iPhone's Airplane Mode On and Off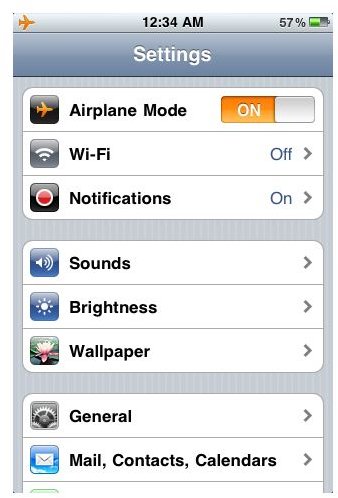 Apple made it very simple to turn iPhone's airplane mode on and off. Locate your settings menu on your phone. When opened, Airplane Mode is the option at the top of the settings menu. As shown on the picture to the far left, Airplane Mode has a slide bar showing it to be OFF. Press the slide bar to switch Airplane Mode ON. Notice a small airplane shows up in the top left corner of the status bar when airplane mode is on. To turn airplane mode back off, simply press the slide bar button again.
Features Disabled While in Airplane Mode
When the iPhone airplane mode is activated, the following services are automatically disabled:
Cellular voice services (phone calls, voicemail, etc)
Cellular data services (text messaging, MMS, safari, etc)
Wi-Fi
Bluetooth
GPS services
Some services that are disabled can be manually re-enabled while still in airplane mode. Wi-Fi and Blue-tooth can be enabled from the settings menu. Be sure that your airline allows these features to be used in-flight before manually enabling them.
Features Available While in Airplane Mode
The following services remain available when airplane mode is activated on iPhone:
Clock
Photos
Settings Menu
Calendar
Notes
Calculator
Voice Memos
Contacts
iPod
Games and other apps that do not require internet access
As noted above, Wi-Fi and Bluetooth capabilities can be re-enabled after airplane mode is enacted. This can be done from the settings menu.
Using Your iPhone on an Airplane
Even though airplane mode was designed to be used when you're on a flight, use caution. Check with your airline before using your iPhone on a plane. To avoid any confusion or misunderstandings, explain to your flight attendant that you plan to use your iPhone with all wireless features disabled. This can prevent you from being told to turn your device off.