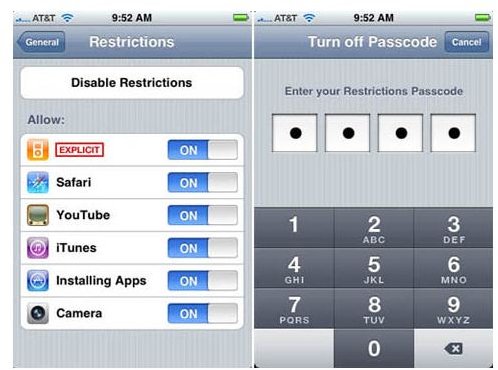 The Need for iPhone Parental Controls
Parental controls can be a godsend if you need to restrict anything on the iPhone. Let's say you bought an iPhone for your teen, they ran up a huge bill downloading apps, you're worried about their Safari activities or they spend hours looking up inappropriate videos on the YouTube app. Now you can restrict their activities and alleviate the stress brought on by children and the iPhone.
Setting Restrictions
First go to Settings > General > Restrictions > Enable Restrictions.
This will prompt you to enter, and re-enter, a 4 digit Restrictions Passcode. This is different to the general passcode which can be used as security to lock the iPhone when it sleeps as we mention later, so select a different memorable code or write this down before you forget.
Do not forget this or give it to the user you are restricting as this will be the key to unlocking, or unrestricting, the apps you've locked. Do remember that if this is lost there is no way to retrieve this, or to get back the restrictions without completely restoring the iPhone.
You will now see a list of everything you can restrict with the iPhone parental controls:
Allow
Safari - the native web browser for the iPhone internet.
YouTube - this is the video browser app where you can search through millions of video clips.
Camera - the default app for taking pictures.
iTunes - this is an app which allows you to purchase music and video to be added to the iPod application.
Installing Apps - this is the App Store so the main one to watch as it allows you to install new apps, the paid ones will be added to your bill each month.
Deleting apps - allows the user to delete apps already installed on the iPhone. The main native apps which came pre installed will be immune from deletion, but any apps downloaded from the App Store will be vulnerable to being deleted. This is one to restrict as apps can be accidentally deleted quite easily.
Allow Changes
Location - this is mainly for the camera application and allows the location to be mapped when a picture is taken so you can view this on a map under Photos and Locations.
Accounts - allows changes to be made on the default mail box used for your email accounts.
Allowed Content
In-App Purchases - for purchases made via an app.
Ratings For - this allows you to view the ratings for your country and will be pre set to your location.
Music and Podcasts - this will allow or restrict explicit content from music and podcasts.
Movies - here you have an option to allow all, or choose the ratings of movies which can be played on the iPhone.
TV Shows - this allows none, caution or all TV shows.
Apps - here you can choose which age ranges your apps are aimed at, so if you have a 14 year old and there are 17+ apps, they cannot access them.
To restrict any of them using the parental controls on the Apple iPhone 4 all you need to do is swipe your finger across the on/off tab until the 'off' option is showing.
To disable any of the restrictions in place you will need the restrictions passcode and you can select the option along the top to 'Disable Restrictions'.
Passcode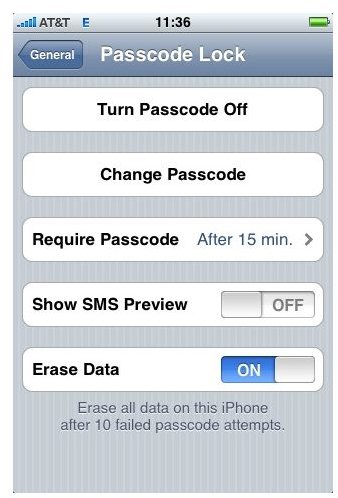 As mentioned earlier, the restriction passcode is different to the general passcode which adds security for when an iPhone is lost or stolen. If you do not have this it is a good idea to create one for the user, it will be needed each time the iPhone is accessed.
Go to Settings > General > Passcode Lock.
This will prompt you to enter, then re-enter, a 4 digit passcode. Do remember that again, if this is lost there is no way to retrieve this without completely restoring the iPhone and setting a new code.