Best Las Vegas Apps for the iPhone: Fun & Useful Travel Apps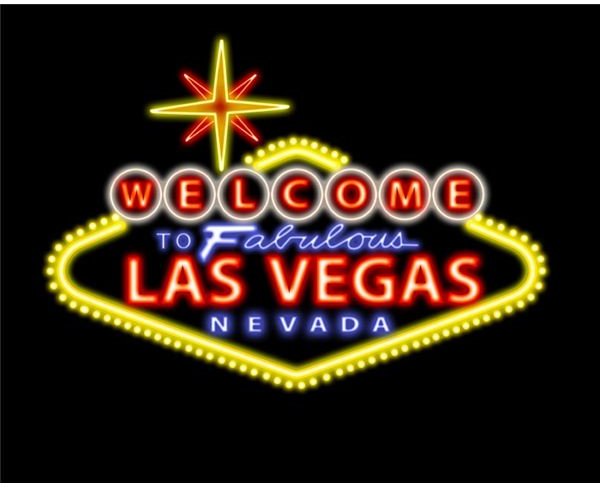 So you're planning a trip to Las Vegas and you want to have your iPhone accompany you? Well we have some good news for you: there
are tons of great iPhone apps.
Of course, you will need to make the tough decision of choosing which apps to purchase, download and take with you to Las Vegas. Obviously you don't want bloatware and poorly designed apps, so read this helpful guide and discover our three favorite Las Vegas apps and what they can do for you.
Below you will find reviews, download links and even screenshots of the most helpful Las Vegas iPhone apps that will make your experience even easier and more unforgettable, remember: "What happens in Vegas, stays in Vegas", just don't leave your iPhone behind!
If you are interested in Vegas iPhone games, be sure to take a look at:
Vegas Mate (4 out of 5)
Vegas mate is the all-inclusive Vegas app, designed to provide information such as hotel rates, poker tournament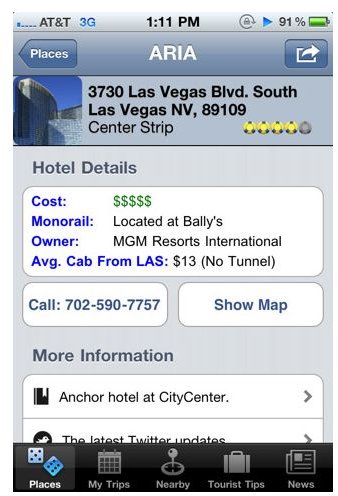 information general tips, weather and even restaurant details.
Essentially any useful information you might need about Las Vegas, can be found in this iPhone app. Under the Places tab you will find useful information about popular locations, including hotels. General information is given as well as detailed information such as the average cab fare from the airport to the selected place. The My Trips tab allows you to plan a trip, save the details and even email it to yourself or friends.
The nearby tab uses the GPS to locate nearby businesses and attractions, it works using Google Maps. Tourist Tips is a handy tab to find great information such as the best place to go to get a view of the city and other such useful tidbits. Lastly the News tab provides general news in Las Vegas in addition to the weather.
Vegas Mate can be downloaded from the iTunes App Store for $1.99.
Vegas Way (5 out of 5)
Quite simply put, out of all the Las Vegas iPhone apps, Vegas Way is one of the most inclusive, unique and generally entertaining apps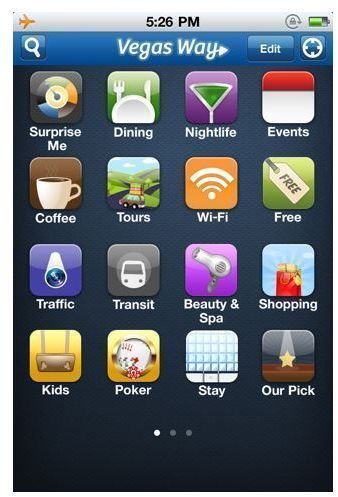 available. Inside the Vegas Way app is a combination of twenty smaller apps which bring a huge assortment of different information to the user regarding Las Vegas and all its wonders.
Inside the Vegas Way app you find options such as Casinos, Shows, Dining, Spas, Taxis, Rental Cars, Mono Rail and so much more. You can even locate Wi-Fi hotspots and Family ideas in Vegas using the Vegas Way app. Each application is a separate icon within the main application and usage is very simple.
Overall Vegas Way is a very impressive iPhone app and best of all, it's free! Download Vegas Way from the iTunes App Store.
Vegas App (4 out of 5)
Vegas App by Zebi Systems is yet another Las Vegas app for the iPhone. While it may not have the same variety of features as the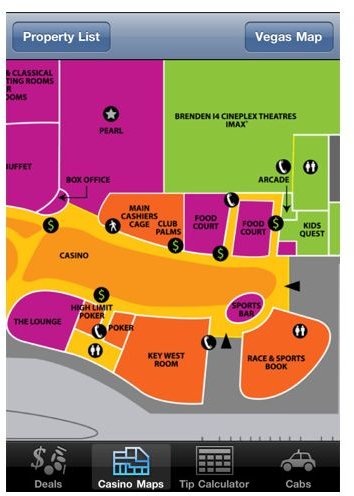 above Las Vegas iPhone apps, it does have some special offerings that make it very useful in its own way.
The key features include constantly updated deals and specials which are downloaded daily to advise users of the best deals in Vegas, a contact directory and list of local cab companies, tip calculator and the most useful feature, Casino Maps. Casino Maps are floor maps of all the major Casinos.
The Vegas App is an overall great app and the Casino Floor Maps really set this app over the top for anyone planning to visit Vegas. Vegas App can be downloaded from the iTunes App Store for $1.99.
References