HTC Wildfire Review : Specifications, Design, Features and Performance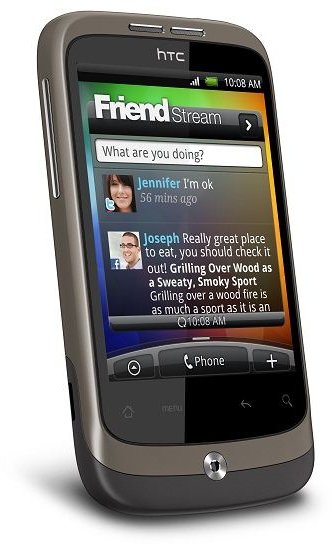 The market for Android smartphones is booming. Android is racing on its way to become the number one smartphone OS and has enlisted many heavyweights like HTC, Samsung, Motorola, and Sony Ericsson to help it in the race for world smartphone domination. Android based smartphones are popping up in every category and price range. The HTC Wildfire is a budget Android smartphone which will compete with the likes of the Huawei Ideos, the Sony Ericsson Xperia X10 Mini, and the LG Optimus One.
The HTC Wildfire is very similar to the HTC Desire, both in terms of features and design, but skips certain features and has a smaller display. It will probably emerge as the king of budget Android smartphones.
HTC Wildfire Specifications
Dimensions: 106.8 x 60.4 x 12 mm
Weight: 118 gms
Display: 3.2 inch capacitive touchscreen display, 240 x 320 pixels with 16 M colors
Memory: 512 MB ROM, upto 32 GB MicroSD support
OS: Android OS 2.1 Eclair
Processor: Qualcomm MSM 7225 528 MHz processor
RAM: 384 MB RAM
Connectivity: GPRS, EDGE, 3G HSDPA, Wi-Fi 802.11 b/g, Bluetooth 2.1 with A2DP, microUSB 2.0
Camera: 5 MP camera, 2592 x 1944 pixels, autofocus, LED flash
Radio: Stereo FM with RDS
GPS: GPS transceiver with A-GPS
Battery: Standard Li-Ion battery, 1300 mAh
Design and Display (4 out of 5)
The HTC Wildfire has a nice compact design. It has dimensions of 106.8 x 60.4 x 12 mm and weighs about 118 gms. It is shorter than the HTC Desire and weighs less. The design will remind you of the Desire and the Nexus one. It is quite stylish and has superb build quality.
It has a 3.2 inch capacitive touch-screen TFT display with a resolution of 240 x 320 pixels and supports 16 M colors. It pales in comparison to the Desire's AMOLED display but the display quality is quite good. It is adequately bright and offers good contrast. The resolution is a bit low and isn't the standard (320 x 480) which may lead to incompatibility with some apps from the Android Market. Also, the sunlight legibility on the Wildfire is bad.
Below the display, there are 4 touch sensitive keys: Home, Menu, Back and Search and the optical trackpad. The left side of the Wildfire sports the volume rocker and the microUSB port. The top houses the power key and the 3.5 mm audio jack. On the back, there is the 5 MP camera and the LED flash as well as the battery compartment.
No complaints from the design or the build quality, and considering the budget, none from the display either.
Hardware and User Interface (3 out of 5)
The HTC Wildfire sports decent hardware specifications. It has a Qualcomm MSM 7225 528 MHz processor and comes with 384 MB RAM. It is definitely on the lower end, compared to the 1 GHz / 512 MB RAM combos coming out but it does the job. It also has 512 MB ROM and supports up to 32 GB microSD cards. It runs Android 2.1 Eclair with the HTC Sense UI on top. It's unlikely to get an upgrade to Android 2.2 Froyo due to its low hardware specs.
The HTC Sense UI is the same as you have seen in other HTC phones. It is probably the best custom UI shell for Android and comes with the usual mix of homescreens, handy widgets, and shortcut options. The display looks good and the interface is very easy to use. It is very responsive and there is minimal lag. However, the low display resolution makes the user interface seem a bit cramped. With the 3.2 inch display, HTC could have easily included a 320 x 480 pixel resolution but they chose to go with the smaller 240 x 320 pixel resolution. It supports Android Market so you can easily download apps and games but the lower resolution may prevent many apps from running on the phone. It also sports the Sense enhanced phone book with social network integration (Facebook, Twitter, Flickr etc).
Features (4 out of 5)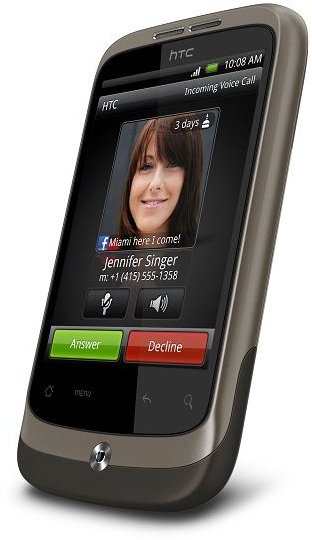 The feature list on the HTC Wildfire is impressive. Despite being a budget smartphone, it comes with a 5 MP camera with a maximum image capture resolution of 2592 x 1944 pixels. It also has autofocus and LED flash. The camera interface is very good and offers access to advanced customization options like White Balance, ISO, Exposure etc. The image capture quality is quite good and will easily handle casual shots. The video recording sucks though, it can record only CIF videos at 15 FPS.
The HTC Wildfire comes with good multimedia features. It has a nice image gallery which you can use to browse through your images. You can view the images as a grid of thumbnails, as a filmstrip and as a slideshow. You can also view your Facebook albums and your images on Flickr. You can use multitouch gestures to browse through the images and zoom into them. The gallery is quite fast.
It also comes with a video player which can play 3GP and MP4 files at low resolutions. The user interface is quite nice and you can view the videos in full screen. It also has the standard HTC music player which allows you to browse music by artists, songs, albums, playlists etc. It offers the basic play/pause and volume controls.
The sound quality is quite good for a budget phone, it can easily double up as an MP3 player. It also comes with an FM Radio with RDS.
The HTC Wildfire comes with a load of connectivity options. It offers GPRS, EDGE, 3G HSDPA and Wi-Fi 802.11 b/g connectivity. It also comes equipped with Bluetooth 2.1 with A2DP and supports the microUSB 2.0 standard. It also comes with a GPS transceiver with A-GPS and Google Maps. The GPS reception is quite nice and gets a lock in around 2 mins. It has voice navigation and Street View too. When it comes to connectivity, the HTC Wildfire is as good as any other smartphone. It has the standard Android Webkit based browser which is very good.
Performance (4 out of 5)
The call quality on the HTC Wildfire is very good. There is no signal degradation and you won't suffer any dropped calls. At least in this respect, it beats the iPhone 4.
The HTC Wildfire is powered by a 1300 mAh standard Li-ion battery which has a rated talk time of about 8 hours. It lasts for about 2 days with moderate usage.
There is occasional lag when loading apps or games because the processor isn't the fastest, but for a budget phone it performs well.
The Verdict (4 out of 5)
The HTC Wildfire is definitely an excellent budget Android smartphone. On release it was probably the best budget Android phone you could lay your hands on but this segment of the market is growing fast. The big drawback for the Wildfire is that screen resolution and so if you can, it is better to go for the newer HTC Wildfire S for an increased screen resolution of 320 x 480 pixels – you will notice the difference.
For a budget device it is still a great option with enough features to satisfy most people.
References