Review of Aldiko Book Reader App for Android
(4 out of 5)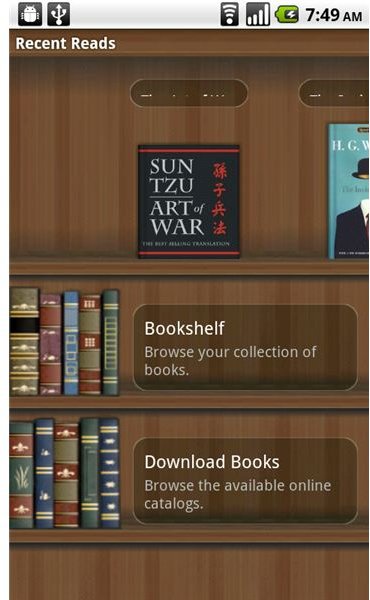 The Aldiko Book Reader is one of the first Android apps that I downloaded and used on my Nexus One simply because there was no other book reader app available for Android back then. I just wanted to try out the large AMOLED screen of my Nexus One and see how it would fare as an ebook reading device. Little did I know that I would actually enjoy using the Aldiko Book Reader app.
Feature-wise, Aldiko Book Reader is a pretty simple and straightforward Android app. It lets you download ebooks to your Android phone and read these ebooks at your own leisure. But since, it would be a boring e-book reader if reading ebooks is all you could get from the app, Aldiko adds some funfare with read progress bars, background themes for day or night viewing, page advance features via swipe or tap, word searching, bookmarking, ebook sharing, dictionary lookup and some settings options to adjust your Android phone's screen brightness. Another nice feature of Aldiko is the way it handles hyperlinks, which you can find in some ebooks. If you long press or select via the Android phone trackball it will fire up the phone's default browser and open the mobile site referenced by the hyperlink. Likewise, for ebooks which contain images, you can view this image in a new window by doing a long press on the image.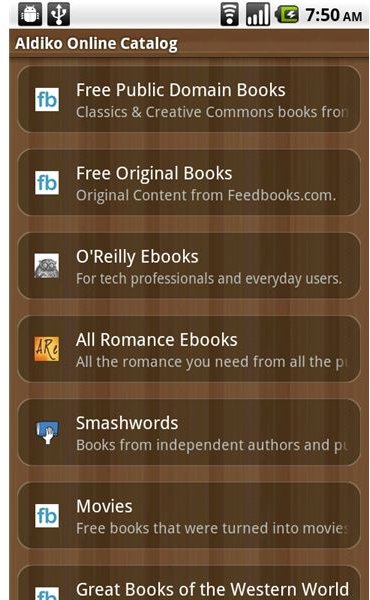 The app also lets you share a page from the ebook you are reading. It supports Facebook, Twitter and other social media sites. While this is a nice feature, you just can't help but wish that the app developer made a built-in browser of some sort so that your phone wouldn't have to open the mobile web browser anymore to open up the site you are sharing to.
Another nice feature of Aldiko Book Reader app is the colorful and well-designed main interface which mimics the look and feel of a nice modern book shelf. The book shelf puts your most recently read ebooks on the top shelf and just below it is the menu for opening up your book shelf which displays your ebook collection. Below this option is another option, this time for downloading new ebooks from Aldiko's online book catalog of both paid and free ebooks.
Finally, Aldiko Book Reader app lets you better organize your ebook collection using pre-assigned tags or by using your own book category. You can also browse your book collection by these tags or categories.
Aldiko is Great
Overall, Aldiko Book Reader App for Android is a pretty robust, well-designed and very pleasing book reader app. If you don't feel like buying ebooks from Amazon and other commercial ebook providers and would prefer to have them the free way, Aldiko is your best bet. The app has all the essential features of a basic or advanced ebook reader app making it perfect for all users. The fact that it is a free app makes it even better and Aldiko really is a must-have app for your Android phone. But that is of course if you are already into ebooks as a way of satisfying your reading needs.
You may download Aldiko Book Reader app on your Android phone from the Android Market or by scanning its QR codes from the Aldiko App website.