Preview of the HTC MyTouch 3G Slide for T-Mobile
Introduction
The MyTouch 3G Slide is an upcoming phone due out this summer, however the exact timing is uncertain. I have heard anywhere from June to October depending on which T-Mobile representative I talk to. I'm excited about this phone because I thought the G1 was a great phone, just a little bulky and now a bit outdated. The G1 is not even able to run the latest version of the Android operating system unless you root and force a completely custom SPL onto the phone, which is not that fun or easy to do - so just upgrade to its new cousin!
Being an HTC made phone we can expect high quality across the board for the MyTouch slide. There are also some new and interesting features that are being introduced on this phone that have not been on previous models. It will be a great phone for anybody that wants the best of both worlds of touch and physical keyboards. I believe now they can truly market the phone as 100% you as they have previously stated.
Also as a side note, currently pay no attention to the ratings in the following paragraphs, they will be better implemented at a later date when the phone may be fully reviewed.
Design (3 out of 5)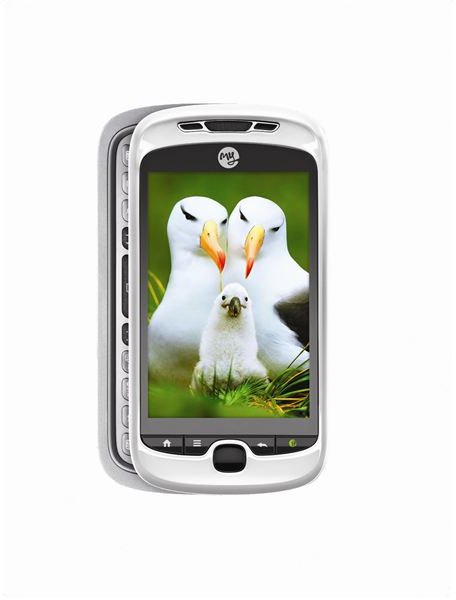 The MyTouch 3G Slide has a very nice 3.4 inch HVGA touch screen that supports a virtual keyboard but also offers the option of a slide out QWERTY keyboard. According to T-Mobile the phone is less than 15 mm thick. Another thing that is quick to catch your eye is the fact that the trackball is gone! Replaced with a touch pad.
It also appears that the camera has a flash now, as well as the rebirth of the camera button on the side of the phone. Standard rocker switch for volume. Looks as though they have kept with using a mini USB plug for the charger on the bottom. This has actually become part of the standard for T-Mobile now. They just issued a press release stating that they will be making all of the phones that they sell conform to using only these standard USB plugs.
As far as changes go, the only other big ones are the fact that the buttons that have dominated the bottom of the MyTouch 3G predecessors are no longer there, gone the way of the touch sensitive buttons that are part of the digitizer now as many phones are doing. The ear piece also has a little bit of flair hanging out from the side of it.
Also announced was that there will be three colors of the MyTouch slide: red, black and white. The dimensions of the phone: 4.55" x 2.37" x 0.6"; and the weight: 5.8 ounces
User Interface (3 out of 5)
All that is known about the interface so far is that it will in fact be Android 2.1, I would be interested to find out if it will come with the Sense UI or if it will be another customized interface. This picture looks not quite like standard Android 2.1 or the Sense UI though.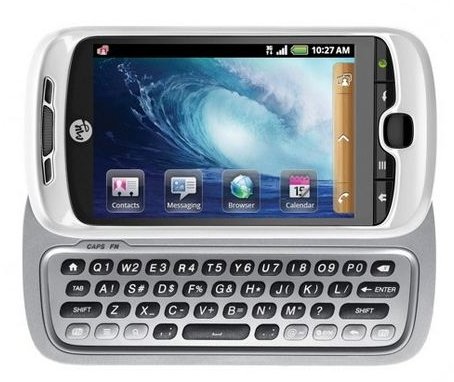 One thing that has been released about this version though is the that there will be a 5-pane home screen with the option to increase it up to 7 screens. With T-Mobile focusing on this phone being extremely communication friendly I would assume that there will be a MyFaves function as well as another connectivity option similar to the MotoBlur technology found on the Motorola phones.
Features (3 out of 5)
There do seem to be many new features that T-Mobile have been showing off. These are from the T-Mobile press release:
Genius Button: This new button found only on this new MyTouch Slide has quite a few interesting functions. By pressing it once it will allow you to do many things by simply telling your phone what it is you want to do. The Genius
Button is powered by Dragon Dictation. Accessible from the lower right hand corner, this button allows the use of voice
commands to control the phone and its features including making calls, composing and sending texts
and e-mails, searching the web or your surroundings. It will even read text messages aloud, and lets
you dictate responses naturally as if you were speaking directly to a person.

Faves Gallery: Life is hectic, so it's easy to miss opportunities to connect with loved ones. Faves
Gallery presents up to 20 of your favorite people and the different ways to communicate with them —
calls, texts, e-mail, instant messaging, social networking updates — in a dedicated application
accessible through a soft button and an easy-to-use widget complete with photos, contact information
and one-touch ability to respond. All of your Faves® get special status on your myTouch 3G Slide™;
any time they communicate with you or update their social network you get a notification in the
notification pane. Even if you're not using your phone, a custom green light lets you know you've got
a communication waiting from one of your Faves. And you can respond directly from the Faves
Gallery, without launching e-mail or other applications, so you connect more quickly and more often
with the important people in your life.

myModes: myModes helps you draw the line between work and home by creating different themes
with home screen apps, widgets and wallpapers to empower people in the different roles they play each
day. You can set myModes to switch at a designated time, by location, or manually with the option to
create and store up to 10 customized modes. myModes removes clutter and makes you more efficient
both at work and at home. Want to forget about work on the weekend? No need to hide your work
phone or switch to another device; just put away your work tools, like e-mail and your calendar by
switching modes, and bring forward all the things you love to do on Saturday.

The MyTouch Slide also has a 5 megapixel camera (with flash?), is Wi-Fi accessible, has Bluetooth and comes pre-installed with and 8 gigabyte micro SD card.
Performance (3 out of 5)
This section will have to wait until the phone is out and I have had the ability to use it (T-Mobile ran out of units for review) but just by seeing some of the upgrades that have been made as far as processor speed and RAM I would have to guess that it will perform admirably, although it still probably wouldn't hold a candle to the Nexus One speed.
The Final Verdict (3 out of 5)
This will also have to wait for just a couple of weeks but I, for one, am excited for this new edition to T-Mobile's line-up. It seems to be more of the customizable experience that the first MyTouch 3G promised to be.