HTC Droid Incredible Review
Incredible! So the phone claims to be, and in all actuality it passes with flying colors. A lot of that has to do with the fact that the Droid Incredible is essentially a re-packaged Nexus One. I believe HTC would like to make some money from the design of that motherboard and since the Nexus One isn't selling as well as everybody hoped it looks like they took another course of action. This is a beautiful phone in many respects though, from its beautifully simple look, to the extremely well put together Android 2.1 with HTC Sense. I only wish this phone was available from my carrier! Then it would be even better!
Design (5 out of 5)
One of the first things that you will notice on the phone is the beautiful screen on it. It may seem familiar and if so it's because it is the same screen on the Nexus One (3.7-inch AMOLED touch-sensitive screen with 480 X 800 WVGA resolution). The beautifully vibrant colors are well represented on the display. However one notable difference is the fact that the touch response is better on the Incredible than on the Nexus.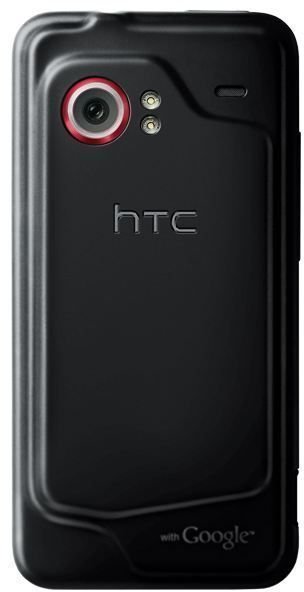 The next thing to notice is the odd back piece, HTC mixed things up a little and instead of the normal flat back that many phones have it has a contoured futuristic looking back side. While you are checking out the Incredible's backside you will also notice the nice big camera eye with the dual LED flash next to it. I think that the red highlights around the phone are a good touch as well.
The Droid Incredible is a nice, slim phone (4.63 x 2.30 x 0.47 inches) that fits easily into your hand. It also doesn't overwhelm you with numerous buttons all over it. There is a volume rocker switch on the side as well as a micro USB port, a power/sleep button up top and then a 3.5mm headphone jack on top as well. Other than that on the front you have an optical track pad that takes the place of a trackball and then there are also four buttons along the bottom of the display. One button that would be nice though would be the inclusion of a dedicated camera button, I can't figure out why it has been one of the buttons to disappear on many of the new phones. As far as the design of the phone goes, that is my only big complaint.
User Interface (5 out of 5)
Android 2.1 with the HTC Sense UI is a force to be reckoned with. The first phones that had the Sense UI on them didn't have the power behind them to show it in all of its glory. It is a very slick-looking interface. To top it off, there are 7 home screens on this version of the software! That is a lot of room for widgets and icons indeed! HTC even throws in a few of their own proprietary widgets to go along with the Sense UI. Now, since they designed both the widgets and the UI, it all looks great and works very well together. That is part of the stream-lined experience. It is a very nice and very polished user experience. It is hard to find anything in the interface that seems out of place. Even with the added homescreen, HTC managed to add in a way to quickly pick and choose where you want to go. When you are on any of the home screens simply make a pinching motion and small icons of all your homescreens pop up, just click on which one you want to see.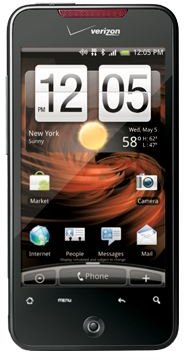 The software is also extremely fast, even when running lots of widgets there is no hesitation when scrolling through screens or opening the app drawer or any number of things. The only thing that seemed to slow the phone down at all was the Live Wallpapers, which are really just for show, not a necessity at all in my opinion.
HTC has also improved the feel of the music, video, and photo viewers as well as greatly improving on the virtual keyboard accuracy. This phone shows what the Android OS can really do and just what the competition is going to have to deal with.
Features (5 out of 5)
Features Galore! This phone has many great things going for it:
A blazing fast Snapdragon 1Ghz processor!
8GB built in flash memory! Plus a micro SD card slot.
Proximity Sensor.
Ambient Light Sensor.
Digital Compass.
3G speeds with the ability to download up to 3.1 Mbits a second.
Bluetooth 2.1.
Wi-Fi.
3.5mm Headphone Jack.
MicroSD card slot.
8 megapixel camera with auto focus and dual LED flash. Including the ability to capture video in high resolution 800x400.
1300 mAh battery.
This phone packs a lot of power and features! I don't think you could want much more other than maybe recording in HD or a physical keyboard for those that like feeling a good solid click every time they hit a button. Sometimes you just need more than haptic feedback I suppose.
Performance (4 out of 5)
As stated earlier the performance of this phone is incredible. The HTC Droid Incredible also has great call quality and fast connection speeds. The only hope would be that your network can support that speed for downloads. It loads and keeps multiple apps running (yay for Android multi-tasking) with ease. The 1Ghz Snapdragon and 512Mb ram definitely make the phone a powerhouse.
The battery life of the Incredible is one of the things on the phone that doesn't quite help its namesake though. It is average battery life, but nothing to wow yourself over. With normal usage you can make it through around a day or so, but it will definitely need charging that night. According to HTC you should get up to 313 minutes talk time and up to 146 hours standby time, obviously depending on usage. Not all of the usage can be helped though, there are many background services and features that run a lot, causing a bit of a strain on the battery. They could have probably afforded just a slight bit more thickness and gone with a 1600 mAh battery to make it last just a bit longer.
HTC makes marvelous phones though, and this is definitely a shining example of just what they can do.
Overall (4 out of 5)
The verdict, in my humble opinion of course, is that if you have Verizon then this should be your next phone! Honestly this is probably one of the most capable phones in the U.S. market right now. It has much more to offer than the Motorola Droid (unless you want the physical keyboard) and even one-ups the Nexus One with the 8 megapixel camera and the beauty of the Sense UI. The Droid Incredible can beat many phones across the board though, not just its Android predecessors. So grab this phone as quickly as possible and hope if you don't have Verizon that your phone carrier has this phone coming to them soon!