HTC Magic Review (MyTouch 3G)
Introduction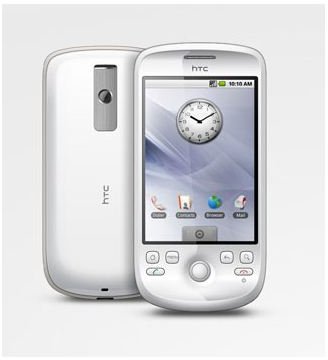 The HTC Magic also known as the MyTouch 3G was introduced around the world in 2009 between the months of April and August depending on where you live. It is a very capable phone that has been marketed at pretty well everybody. It is advertised as the fully customizable phone that you can make your own. There are a few different versions of this phone now though. It was originally introduced without a 3.5mm headphone jack which has since been added. There are also two different versions of the motherboard, once again depending on where you live. Most of the European countries ended up with the better version. The MyTouch 3G in the U.S. was one of the few that used the 32B version of the motherboard, which has less RAM and a different frequency processor that supports a different radio. As of the newest release of the MyTouch (the Fender edition and the new 3.5mm headphone model) in the U.S. however, they have switched to the 32A version of the phone, increasing functionality.
Design (4 out of 5)
The HTC Magic has a solid and very aesthetically pleasing design. It also comes in a number of colors such as white, burgundy or black to satisfy those that buy the phone based on color. It is a fairly light phone weighing in at only 4.09 ounces. The HTC Magic has a nice 3.2 inch TFT LCD that supports a native 320 x 480 HVGA display. The overall size of the phone is 4.45 x 2.19 x 0.54 inches, making it fairly small and unobtrusive in your pocket. On the front face of the Magic you will only see six buttons and a trackball (which can be used as a button as well and also lights up to show new notifications) on the lower portion of the phone. The only other button is the volume up/down rocker switch located on the left-hand side of the phone. It is very well built, I have had this phone for many months and dropped it A LOT and other than a few scratches it still works amazingly. The HTC Magic is a very comfortable phone to use as well. My only big complaint about the design is the lack of a camera button, it can make taking a self photograph interesting if you have to search for the right place to touch on the screen.
User Interface (5 out of 5)
The HTC Magic currently runs Android 1.6 but is supposed to be getting updated to 2.1 soon. Android 1.6 is a great experience as well though, just not quite as pretty as they have made 2.1. You have your three home screens to fill with apps and widgets as you please, and the pull up menu for your full app list. Also, all of your notifications can easily be seen at the top of the screen with the notification bar, it too can be pulled down to expand on on all of your notifications. It will also display current actions for some programs such as, if you are playing music, what song is playing among other things. Here is an example of what could be on your three home screens.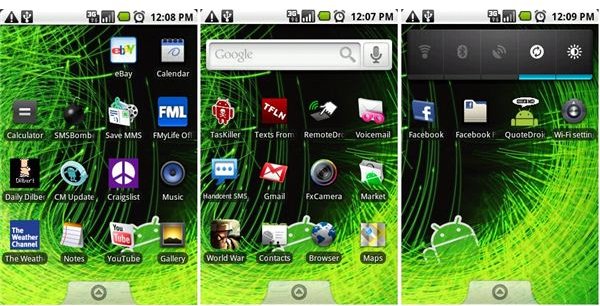 There are various apps and widgets there. A couple of the pre-installed widgets are the Google search bar and the power manager widget that gives you quick access to turn some power hungry features on and off. Note that the power manager widget on this screen may look slightly different than your pre-installed one due to some modifications from Cyanogen. Something else that is of note is another feature called Live Folders, they stay up to date and can include RSS feeds or other items such as your contact list. There is one from Facebook that allows you to call your friends using their number stored on Facebook.
Another neat feature is the ability to multitask and run multiple apps at the same time. There is even an easy way to switch between them by simply holding down the Home key. When you do that it shows your six most recent applications.
The settings menu is very accessible as well, just press your Menu button from the home screen and you will have access to the settings on the Magic. You can hit the Menu button while running any other program for that program's options and settings.
All in all, Android is a very easy to learn and intuitive operating system. It has many great features and many great ones on the way in future updates for the HTC Magic.
Features (4 out of 5)
The HTC Magic or MyTouch 3G is packed with enough features to keep most customers happy. One thing that is lacking is an FM radio. Here is a list of some of the standard options straight from HTC:
GPS
Bluetooth 2.0
Wi-Fi IEEE 802.11 b/g
Mini USB port that will allow your phone to be mounted as a jump drive to copy files to and from it
3.2 Megapixel camera with autofocus that can also be used as a Camcorder
1340 mAh battery that will allow up to 450 minutes of talk time
Micro SD memory card support up to 16 gigabytes
Complete integration with your Gmail account
Lots of Apps
Music Player (supports AAC, AAC+, AMR-NB, MP3, WMA, WAV, AAC-LC, MIDI, OGG)
Video Player (supports MP4, 3GP)
The HTC Magic boasts a lot of features, even more so on the newer models that support the 3.5mm headphone jack, at least in my opinion. The HTC Magic will definitely keep the average user extremely happy. Sometimes when multitasking with lots of resource hogging apps, it will lag. One note would be listening to music and surfing the web at the same time, sometimes it goes a little bit slow. Over all though it is a solid phone.
Performance (4 out of 5)
The every day performance of the phone is superb. I've not had any issues with 3G dropping out unless it simply is not present. The music player is straight forward and great for the gym. Google Maps Navigation is extremely handy when driving around. The multitasking is great for many things, especially if you are playing a game and get a call, the game pauses and you can take your call without worry. As I mentioned in the previous section though, occasionally it will lag if running some of the heavier resource users. One other thing is having a huge number of apps installed, sometimes when the phone refreshes itself it can take a little bit of time. The touch screen is great though as well as the accelerometer usage. The camera works good, but a little slow, and the lack of a flash can be irritating whenever the lighting isn't the best.
Over all, the performance is better than some other phones in it's category, but unfortunately it has already been dated with new phones coming out all the time the Magic's 528 Mhz processor just cant stand up to other phones like the Nexus One or the HTC Desire which are both packing a 1 Ghz processor.
The Verdict (4 out of 5)
All in all, the HTC Magic or MyTouch 3G is a great phone for the average customer. There are those that would definitely prefer either more or less than it has to offer but such is the case with any product. For those that type a whole lot, then a phone with a physical keyboard may be beneficial. The virtual keyboard does work great, but sometimes it is really easy to fat-finger a whole word and the autocorrect not catch on to what you wanted to say. This is a great phone and I would suggest it to just about anybody.