HTC Desire Review: An Awesome Android Smartphone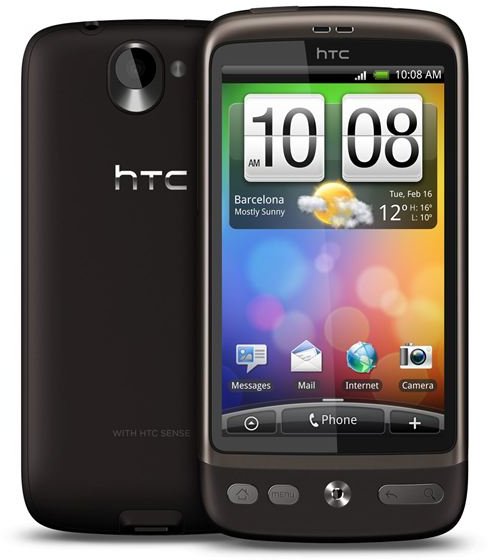 They just keep getting more and more powerful. Each new model is slimmer, more ergonomic and incrementally more attractive than the last. Mobile phones have truly achieved a level of excellence that makes them highly desirable. The aptly named HTC Desire is just gorgeous and so packed with features that you'll hardly believe it.
This smartphone is a strong candidate for the best mobile phone on the market today (April 2010). It offers some real competition for the iPhone 4 and it runs on the Android operating system. Better than the Google Nexus One (also manufactured by HTC), faster and more feature rich than all the competitors, still affordable to buy unlocked or pick up as part of a contract deal – what more can you ask for?
The HTC Desire is the perfect smartphone for everyone and so it's no surprise to find that they're flying off the shelves. Let's take a closer look at what the HTC Desire has to offer.
Design (5 out of 5)
A large touch screen with controls at the bottom and rounded edges is a fairly standard look for mobile phones nowadays. The HTC Desire measures 4.7 inches x 2.36 inches and it is just 0.47 inches thick. It weighs in at 135g with the battery. It is a very comfortable device to hold and the plastic casing is easy to grip. The screen itself has a metallic surround which comes in different colours (brown, silver or black). You can operate it one handed quite easily by using your thumb on the screen or controls. It is svelte but since the screen is quite large it feels fairly bulky if deposited in your jeans pocket.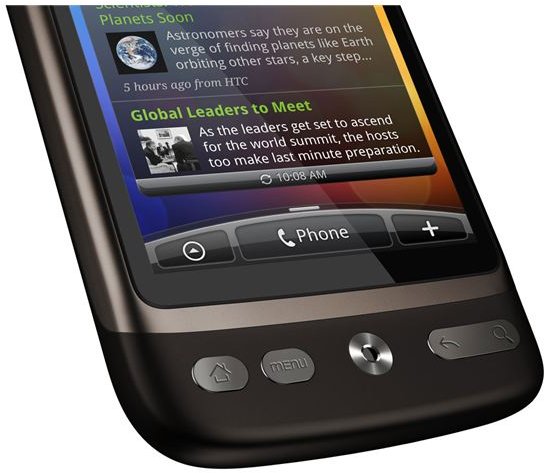 The touch screen is a 3.7 inch AMOLED with multi-touch capability which means you can pinch and zoom. The resolution is 480 x 800 WVGA (Wide Video Graphics Array). It feels beautifully responsive to use and you can flick through your home screens, tap contacts to call and keep up with your social streams with ease. If you look at it side by side with the Google Nexus One you'll see they are almost identical in profile. The HTC Desire just has a few extra controls at the bottom and a touch sensitive trackpad. They are a welcome addition and very handy for quick navigation. The Menu button gives further options on the currently selected screen. The Home button, predictably enough, returns you to the home screen. The trackpad is nice to use especially one handed and once you get used to it you can scroll through options at speed. The button on the right allows you to go back one level or you can bring up a quick search function.
Overall the design is well thought out and intuitive to use.
User Interface (5 out of 5)
Smooth and stylish is the best way to describe this user interface. The HTC Desire runs Android version 2.1 (Éclair) and it also features the excellent HTC Sense user interface. This is perhaps the main reason that the HTC Desire beats the Nexus One. HTC Sense takes the rough edges off Android and makes everything look and feel a little more polished.
There are seven home screens, three either side of the main screen, and you can set them up however you like. We'll run through the default here. Starting on the far left is the Weather widget which lets you pull in local weather reports. The Friend Stream widget is next and it allows you to sync up your Twitter and Facebook accounts and check up on the latest ramblings from your mates. Just one touch away from the main screen is your email account, which is very easy to set up.
On the right side you have a Favorites section where you can add your most commonly used contacts. You can even set up a default action, like call mobile number, so that two simple touches are all it takes to call them up. Next up is your News feed and you can add whatever you like to subscribe to in there. The final screen on the right is blank by default.
To check on notifications you simply drag the top of the screen and a notification panel rolls down. There are also quick icons for Messages, Mail, Internet and Camera but you can set this up however you like. You also have full access to all the apps and games on Android Market. The onscreen keyboard features predictive text and it throws up a choice of words as you type so you can quickly tap the right one. It is easy to use and, even when typing one handed, mistakes are rare.
Features (5 out of 5)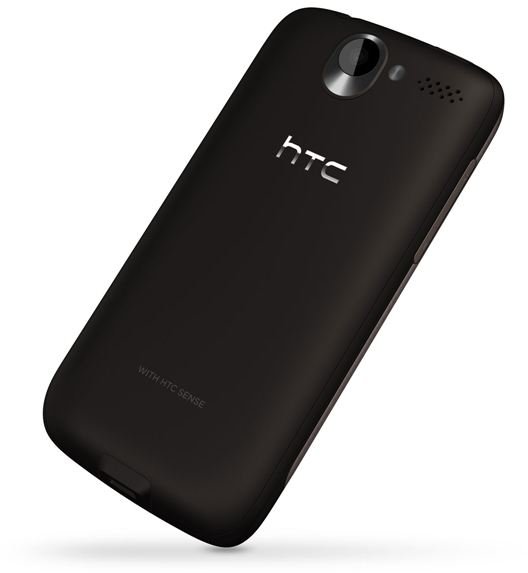 You would never guess from the understated exterior that this smartphone is capable of so much. It is ideal for browsing the web, checking email and watching YouTube videos. On 3G you can get speeds up to 7.2 Mbps (2Mbps upload), on GPRS you're looking at 114 kbps and on EDGE 560 kbps. It also supports Wi-Fi on the 802.11b or g standards. If you're worried about using the Internet and incurring charges then you can tell it to only use Wi-Fi rather than connecting to the web via your mobile service.
It has a 5 megapixel camera with face detection, auto focus and flash. You can capture widescreen photos and you can geotag them. To focus on a subject you can simply tap on the screen, which is awesome. You can also capture video. The quality is good but noticeably suffers in dark conditions.
There is support for Bluetooth 2.1 and you can use a wireless stereo headset to listen to music. The audio player can handle AAC, AMR, OGG, M4A, MID, MP3, WAV, and WMA formats. For watching video it supports 3GP, 3G2, MP4 and WMV formats. It also has a built in FM radio.
The HTC Desire also has GPS and you can use Google Maps for turn-by-turn directions absolutely free. This makes your phone into a Sat Nav and there's no need for an expensive standalone navigation device.
A digital compass, accelerometer, proximity sensor and light sensor are all onboard as well. The ringer volume lowers automatically when the phone is picked up and you can flip it face down to mute in a hurry.
If you plan on buying an HTC Desire then get a plan with a good Internet allowance so you can really make the most of it. The onboard widgets are convenient but there are also loads of available options to download and Android Market is packed with useful apps and fun games.
Performance (5 out of 5)
The call quality is absolutely superb. The audio is crystal clear. You'll probably want to invest in some earphones to replace the basic set supplied but music sounds great through this phone. The video playback is also good and the screen is big enough to enjoy watching TV or movies.
Tap the power button at the top and a swift gesture unlocks the phone (this ensures no accidental switching on in your pocket). The system starts up immediately and apps and games are very quick to load thanks to the 1GHz processor. Web access is also pretty much immediate although it will depend on whether you are using Wi-Fi or a mobile network (and whether it is 3G, EDGE or GPRS).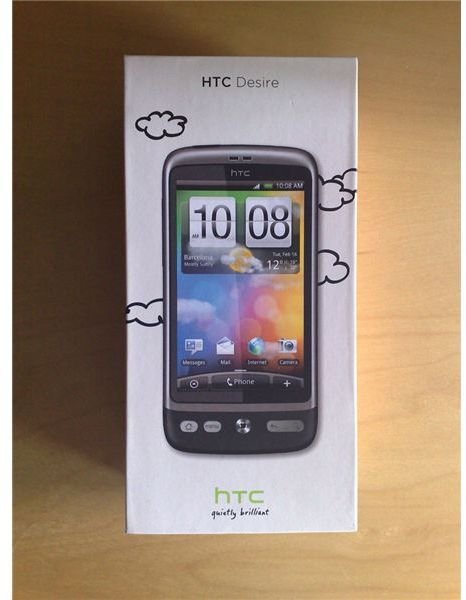 If you are in the middle of something and have to switch off in a hurry, or a call comes through, you'll find yourself back on the same screen when you return. The general performance is great and since the user interface has been thought out thoroughly you can perform actions with the minimum of effort.
The HTC Desire has a 1400 mAh capacity battery. You should get something like 400 minutes of talk time and 340 hours of standby but you'll use so many of the other features that this is unlikely. There is a pop up reminder to charge the phone when it is running low and it is also capable of charging through the USB if it is hooked up to your computer. Using it frequently for web browsing, GPS, games, movies and music you'll probably need to charge the battery daily.
The Verdict (5 out of 5)
If you are currently shopping around for a smartphone then you'll be hard pressed to find a better option than the HTC Desire. Right now (April 2010) this is one of, if not, the best mobile phone available, and easily one of the best Android smartphones. You can pick one up for just £30 per month in the UK (500 minutes, unlimited texts, 500MB Internet) or buy it unlocked for around £400. In the USA you can get the HTC Desire on US Cellular for $199.99 on a two year contract.
This is a smartphone with the same broad appeal as the iPhone. It is attractive, packed with features and highly enjoyable to play around with. Android Market is fast catching up to the Apple App Store in terms of choice and the HTC Desire is well placed to capitalize. Great value for money, top quality performance – this is the mobile phone you've been waiting for.
You might also want to take a look at our HTC Desire User Guide.
References
Additional box photo by author.